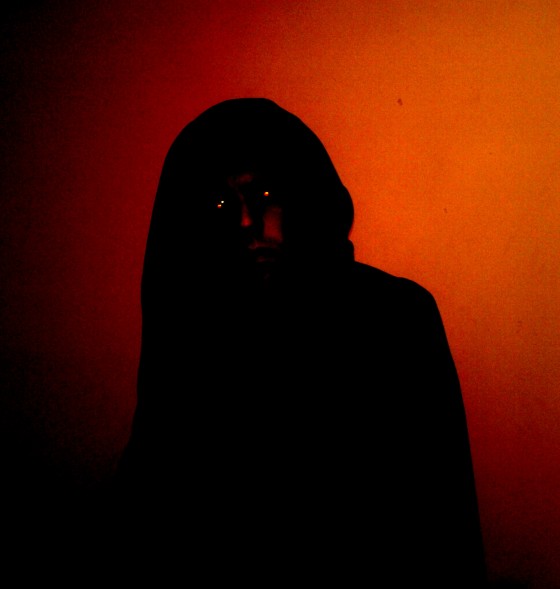 Following several years of unavailability, this week Crucial Blast has officially re-released Spectre Music Of An Antiquary, by uniquely and incredibly bizarre UK-based ambient/black/noise/soundscape entity, EMIT.
As with EMIT's previous output, the ten movements on Spectre Music Of An Antiquary are lyrically more focused on the occult lore and hidden history of the British isles rather than simply uttering Satanic shock value clichés, an element which heightens the curiosity level of unsuspecting listeners and adds a completely innate, sinister vibe to the entire set of tales. Initially released in a supremely underground limited cassette run on Glorious North in 2012, Spectre Music Of An Antiquary now sees official distribution in a revamped digipak and digital delivery, bringing the bizarre and incredibly intriguing disharmony of EMIT to more listeners than ever before. Combining harsh electronics, droning keyboards, wrecked and fractured black metal guitars, and bizarre vocals that push music into a strange realm of hallucinatory, ghastly psychedelia, these surrealistic, murky hymns of nocturnal delirium are transmitted from beyond the veil and steeped in the mysteries of old Britain through drifting blacknoise darkwave with ritualistic effects and soundtrack qualities.
Spectre Music Of An Antiquary's creepy, synth-heavy, deformed, post-black metal madness is now permeating reality, the collection now available for public intoxication, streaming in full and available for physical and digital containment at THIS LOCATION.
"…often as sublimely beguiling as it is ominous and perpetually unearthly. There is often a sense of being transported back in time through the mists to a mythical Albion – just as there is a sense in other parts of the album that some of your spirit companions have an insatiable hunger, maybe for you." – No Clean Singing
"This album is essential for those who delve into the bleak, ambient past of black metal, thick with atmospherics." – Ghost Cult Magazine
"EMIT is very unsettling to say the least. It has though distant grim black haunting vocals and odd key and strange toned guitar riffs. It's almost some like a mix of Vond, D.H.G and Lustre with 90s underground drift and electronic movements… Is there a style such as Black Industrial Drift??? If not EMIT have been crowned." – Absolute Zero Media
http://www.crucialblast.net
https://www.facebook.com/CrucialBlast
https://crucialblast.bandcamp.com