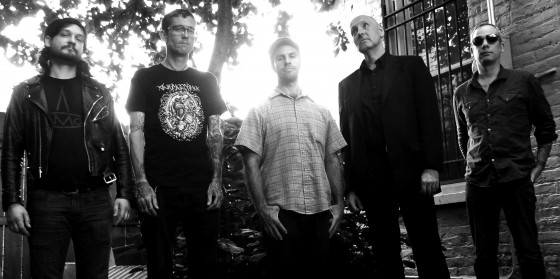 With the release of Ciphers + Axioms, the latest full-length from Chicago post-metal/noise rock collective, ANATOMY OF HABIT, now less than two weeks away, today Cvlt Nation delivers a sample of the hauntingly hypnotic timbre of second movement, "Then Window."
Manned by the ingenuity of noise prodigy Mark Solotroff of Bloodyminded, ANATOMY OF HABIT features iconic drummer John McEntire (Tortoise, The Sea And Cake, Gastr Del Sol etc.), guitarist Will Lindsay (Indian, Wolves In The Throne Room etc.), percussionist Theo Katsaounis (Joan Of Arc) and bassist Kenny Rasmussen (ex-Radar Eyes). Together they composed the awe-inspiring Ciphers + Axioms full-length. Tracked at Soma Studios with sound sage, Sanford Parker (Minsk, Twilight, Corrections House), the record delivers two gripping, twenty-plus minute epic compositions fabricated by tense, walls of guitar, distortion and percussion nuanced by Solotroff's dark, chilling, baritone vocal poetics. Ciphers + Axioms is a true genre-defying master work, at once traumatic and terrifying; ugly yet cathartic where the use of space and time is as much an instrument as sound itself. In a first impression of the record, Exclaim notes of opening track "Radiate And Recede," "It starts off with a greyed-out death rock arrangement of grim guitars, slim hi-hat work and gloomy ejaculations on 'unnatural responses.' The track ebbs and flows between dour and distorted noise passages into skull-slamming metal and back into the quieter, though no less disturbing moments."
In anticipation of its impending release, today Cvlt Nation offers up a sample of "Then Window." Says Solotroff of the hymn, "When we started playing a shorter version of 'Then Window' live, a very close friend of mine used the term, 'boogie rock,' to describe it, which quite frankly made me a bit crazy. But after thinking about it, I had to agree that core elements of this song made it the most straightforward rock and roll thing we've done, which may partially explain why we obliterated the rock structure and let the second half of the song soar into outer space.'
Adds Cvlt Nation "Over the course of two unique soundscapes, the band takes the listener on an excursion into a universe where one's imagination is never ending!"
You can also sample the controlled paranoia of "Radiate And Recede," still streaming at Heathen Harvest at THIS LOCATION.
Called "…astoundingly powerful and unique… definitely deserving of your attention" by The Inarguable and commended by The Chicagoist for their knack of engaging listeners, "by lulling them into gothic ambiance one minute, and then snapping them out of it with whiplash-inducing fury on loan from metal and hardcore the next," ANATOMY OF HABIT was forged in Chicago in October 2008. Incorporating the prime essentials of doom metal, post punk, death rock, noise rock, and shoegaze, their boundless sound manifestations have earned the band consistent praise from a wide swath of listeners, be they people who experience the band for the first time, diehard fans who attend almost every show, or fellow musicians with whom ANATOMY OF HABIT has shared stages. A fitting sonic journey for fervent followers of Joy Division, Killing Joke, Bauhaus, My Bloody Valentine, Black Sabbath, Fields Of The Nephilim, Neurosis, Death In June, and Locrian.
Ciphers + Axioms will be released on CD, LP and digitally via Relapse Records on November 10th, 2014. Preorder you copy today at THIS LOCATION. For iTunes preorders, point your browser HERE and for BandCamp preorders, go HERE where you'll also find streams of previous ANATOMY OF HABIT recordings.

http://www.anatomyofhabit.com
http://www.facebook.com/anatomyofhabit
http://www.relapse.com
http://www.facebook.com/RelapseRecords