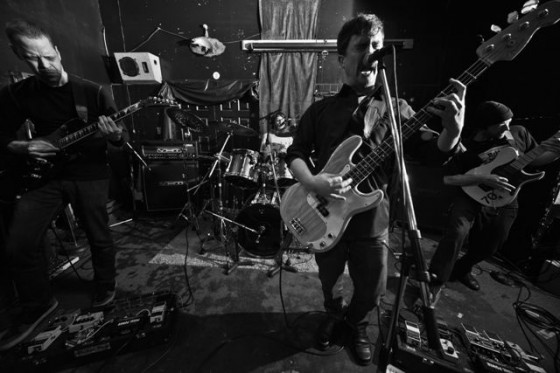 Oakland, California-based DIMESLAND has recently completed construction of their first full-length, and, will sear the name Psychogenic Atrophy into the consciousness of thrill-seeking music fans abroad.
With members' musical past and contemporary placement in a divergent array of bands including The Residents, Wild Hunt and more, abstract metal quartet, DIMESLAND produces a sound that is the result of a blend of controlled chaos and musical mutation, heavy tension and dark psychedelia. As DIMESLAND, guitarists Nolan Cook and Drew Cook, drummer/vocalist Harland Burkhart and bassist/vocalist Greg Brace create a place where aggression and imagination merge harmonically, rhythmically and lyrically to explore the terrain of psychological havoc and mental fracture. The band's live performances are frantic and dense and feature songs woven together with shorter pieces and textures for an almost nonstop presentation of sound.
DIMESLAND's debut LP, Psychogenic Atrophy deploys an incredible barrage of spastic and snarling but dexterous and deliberate experimental metal precision through a crushing analog recording recorded by Justin Weis at Trakworx in South San Francisco (Ludicra, Cormorant, Slough Feg). Staggered through a multifaceted media bombardment over the coming months, the band will independently release their latest work in several formats, beginning with digital delivery in late Autumn, a CD version to follow thereafter, and ultimately a deluxe vinyl release by mid-2015.
Forward thinking explorers of the more daring, progressing end of extreme metal citing the likes of Voivod, Gorguts, Loincloth, Deathspell Omega and Portal should keep DIMESLAND on the center of their radar as the band deploys further information and audio from Psychogenic Atrophy in the coming weeks. Tour actions regionally and abroad are also imminent.
DIMESLAND's debut recordings came to light as an EP entitled Creepmoon, released on Vendlus Records in 2012, the unique brutality of the songs drawing critical praise immediately. "DIMESLAND make their very own brand of jarring racket. The contrast between barbed riffs and melancholy sound manipulation plays beautifully," issued purveying metal webzine, Chronicles of Chaos, while Music Emissions published, "Creepmoon displays an easy but nasty mastery of the metal and hard rock riff, as well as a trust in their chops to stray beyond those limitations, sometimes way beyond." Absolute Zero Media called their output, "Sci-fi thrashing avant metal that will get your blood racing with the very creative way the noise and blur of sounds and layers are presented. I hope to hear more from this band soon," and Metal Review came in strong stating, "their sound incorporates elements of thrash, progressive, sludge, and ambient while refusing to stay within the boundaries of any of them… their approach is a collective that's as neurotic as it is psychotic, and that's something many of us in the metal world are encouraged by.