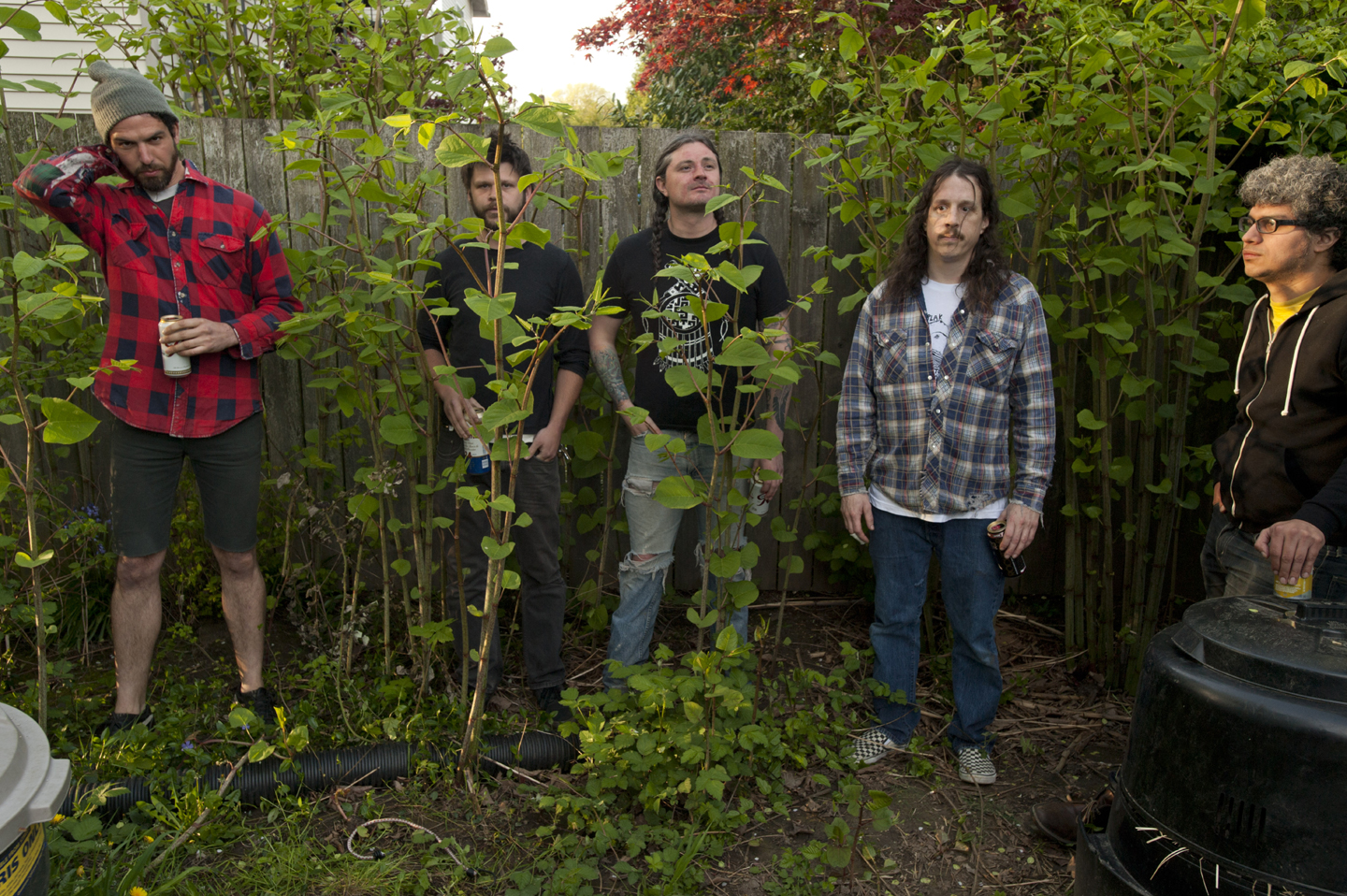 Revolver Magazine is today dishing out a new dose of depravity from Ripper Killer, the maiden full-length release from Portland-based filth-metal brutalizers, DRUNK DAD.
The newest one-hit-wonder from these scuzzcore nihilists bears the moniker "Life's Work," the second of the album's eight tracks falling directly between "Five Pack" and "Fuck In Garbage," perhaps giving off the vibe to otherwise unsuspecting musicgoers that DRUNK DAD is here to fuck you up, not be pals. Revving right up with a high-octane, whiskey-slammin', chord-burner of an opening, the salvo of battle-ready drumming builds into a mangling whirlwind of blasting rolls and the lunacy swirls every faster until mid-track, and that's where the blackout hits… and the band's local harsh noise cohort REDNECK jacks-in his feedback-laden intoxication… it's all a drunken back-alley beating from there. Ever wanted to hear what Kurt Cobain throwing the Butthole Surfers and Melvins in a wood chipper sounds like?
Crawl into the gutter with DRUNK DAD and check out their "Life's Work" at Revolver RIGHT HERE.
Also check the track "Light A Fire" playing at Noisey HERE.
DRUNK DAD is currently scheduling an East Coast-bound full US trek with fellow Eolian scum, Honduran, which will be finalized and announced in the coming weeks. In the meantime the band will continue pillaging their Northwestern turf (once they literally get back on their feet) including a one-off in Seattle this weekend when they raid KEXP 90.3FM for a full Seek And Destroy session; RSVP for a reminder to tune-in and witness the shit literally hit the fans live on-air HERE. The band also has a record release show on July 11th at the 411 Warehouse with Honduran, Big Black Cloud, Tyrants, and Health Problems.
DRUNK DAD Happenings:
6/14/2014 KEXP On-Air session – Seattle, WA [info]
7/11/2014 411 Warehouse – Portland, OR record release show w/ Honduran, Big Black Cloud, Tyrants, Health Problems
Portland outsider label, Eolian Empire, will release Ripper Killer on July 1st via digital delivery and heavyweight 180-gram LP in a run of 475 copies, each including a 12″ x 24″ poster/insert and digital download code. Preorders are live; send a small fraction of your beer fund HERE.
Portland's one and only fuck-you-all-wave group, DRUNK DAD, and their art-fucked sludgy hardcore free-jazz noise rock is as unclassifiable as it is enthralling, the splendid result of a rare new band that not only knows what it wants but how to get it. Not known for going easy, in the past year DRUNK DAD went at it even harder, culminating in their first full-length and gnarliest, most inventive, expansive record yet, with their first LP, Ripper Killer. Here, DRUNK DAD breaks down the stifling genre walls of yore and rewires the wreckage into a megaheavy alloy of scuzz, filth, and noise in a knock-down, drag-out war of ill will wrapped in a nasty bow. It's a caustic cocktail of influential Pacific Northwestern alumni spiked with ipecac and bits of glass and bone, dredging out noise-infused chaos like a plane crashing into your face during the worst hangover ever, in part courtesy of local harsh noise cohort and labelmate, REDNECK, who helps soil the majority of Ripper Killer and even has a track of his own.
http://www.facebook.com/drunkdadsagainstmothers
http://www.drunkdad.bandcamp.com
http://www.eolianempire.com
http://goods.eolianempire.com
https://www.facebook.com/eolianempire