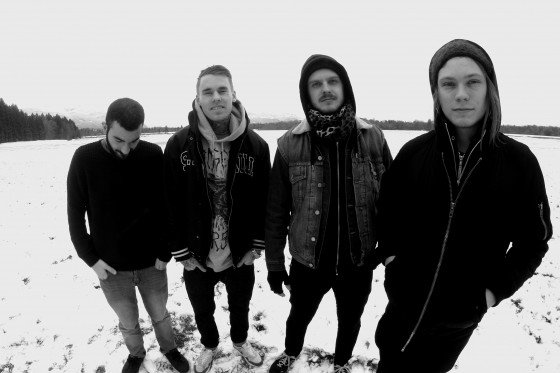 Southern Lord reveals the latest addition to their raging Summer schedule; enter progressive hardcore band GUST, hailing from Trollhättan, Sweden.
The fierce four piece skillfully combines pounding d-beat rhythms with a classic hardcore punk directness, and bring forth a maelstrom of metallic riffs, amalgamating into a brutal and arresting sonic assault fans of Cursed and Rise And Fall will swarm to. With one demo, one LP and four European tours already under their belt, and with a fifth tour running from June 24th through July 17th, GUST will release their brand new, self-titled album through Southern Lord Recordings this August. This second LP was self recorded at Fvck Life Studios, and mastered by Brad Boatright (Warcry, From Ashes Rise, Deathreat, Audiosiege Engineering), who supplies guest vocals on the track "Humility In Disguise."
GUST's incoming ten-track LP explodes with lyrical angst and musical fury from the get-go, bombarding the listener with catchy riffs and spot-on political statements. From this second LP, it is clear that GUST is a force with which to be reckoned.
Further info and vinyl preorders can be located HERE.
Gust Track Listing:
1. History Repeats
2. Always The Same
3. Reality Chokes
4. Unease
5. Crack The Skies
6. From Cradle To Grave
7. Humility In Disguise
8. Hollow Faces
9. No Concern, No Remorse
10. Restless Hands
GUST Tour Dates:
6/24/2014 Tiefgrund – Berlin, DE
6/26/2014 Przychodnia – Warsaw, PL
6/27/2014 Ultra Chaos Piknik – Zelebsko, PL
6/28/2014 Rozbrat – Poznan, PL
6/29/2014 Private Apartment – Krakow, PL
6/30/2014 TBA – Lepzig, DE
7/02/2014 Biograffs – Decin, CZ
7/03/2014 Music Bar Jam – Opava, CZ
7/04/2014 Radhostem – Roznov, CZ
7/05/2014 Muszi – Budapest, HU
7/06/2014 Klub Fest – Belgrade, RS
7/07/2014 Klub Fest – Subotica, RS
7/08/2014 Somborkse Ruze – Sombor, RS
7/09/2014 TBA – Zagreb, HR
7/10/2014 Point – Enga, IT
7/11/2014 Klubi – Zurich, CH
7/12/2014 Schöner Wohnen – Cologne, DE
7/13/2014 TBA – Brighton, UK
7/14/2014 TBA – UK
7/15/2014 TBA – Newcastle, UK
7/16/2014 The Unicorn – London, UK
7/17/2014 AJZ – Neubrandenburg, DE
GUST:
Tommie Ek
Carl Persson
Fredrik Forsberg
Ibrahim Shabo
https://www.facebook.com/gustswe
http://gustswe.bandcamp.com
http://gust.bigcartel.com
http://www.southernlord.com
http://southernlord.bandcamp.com
https://www.facebook.com/SLadmin
http://twitter.com/twatterlord