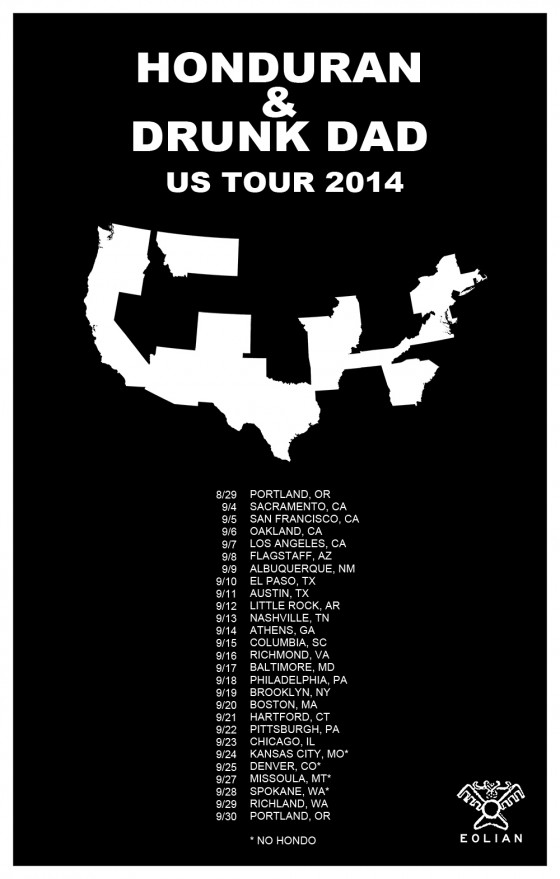 You can tell from the Eolian relation that's it's already going to be an ugly tour in its inception. But no, this upcoming DRUNK DAD and HONDURAN US trek is just a really ugly looking tour based upon the new flyer, the image resembling a mangled W-shaped grin where every tooth has been reworked with the outline of a boot… an appropriate if not totally accidental visual metaphor of said trek. From August 29th through September 30th, this Portland-based duo will plow through a counter-clockwise arc of the American colonies, with twenty-seven municipalities on the shitlist for the scummiest beatdown of the season, including shows with Same Sex Dictator, Godstomper, Stapled Shut, The Drip, Rabbits and tons more.
Additionally, both bands will perform matinees at the Eolian Empire-organized D.I.Y. "anti-fest" dubbed Festicide this weekend, a celebration of the heavy, noisy, and weird featuring Eolian artists Rabbits, Diesto, Towers and Big Black Cloud in addition to DRUNK DAD and HONDURAN, among non-label friends including Thrones, Stoneburner, Hungers and Sloths. The three-day, seven-show, twenty-five-band gathering will raid Portland, Oregon from August 15th through 17th, featuring shows that are all either $5 or free. A note to fest-goers: The East End had a fire and is out of commission for the festivities, so the show with HONDURAN, Rabbits and more this Saturday the 16th has been moved to Slabtown.
DRUNK DAD & HONDURAN US Tour:
8/29/2014 Club 21 – Portland, OR w/ Same Sex Dictator
9/04/2014 The Colony – Sacramento, CA
9/05/2014 Hemlock – San Francisco, CA w/ Disastroid
9/06/2014 Oakland Metro – Oakland, CA w/ Godstomper, Sete Star Sept, Gods America
9/07/2014 MDM Studios – Los Angeles, CA w/ Stapled Shut, Actuary, Vulva Esser, Shitbrains, Putasos
9/08/2014 TBA – Flagstaff, AZ
9/09/2014 The Launchpad РAlbuquerque, NM w/ Ro̱oso, Doomed to Exist, My Man Mike
9/10/2014 The Grynde – El Paso, TX w/ Communion of Thieves
9/11/2014 Holy Mountain – Austin, TX w/ The Unmothered, The Dead See
9/12/2014 Vino's Brew Pub – Little Rock, AR
9/13/2014 The East Room – Nashville, TN w/ Sheepshifter, Realeyes, One Beggar Sun
9/14/2014 Ten Pins Tavern – Athens, GA w/ Toxic Ass Implant
9/15/2014 Foxfield Bar and Grill – Columbia, SC
9/16/2014 Gallery 5 – Richmond, VA
9/17/2014 TBA – Baltimore, MD
9/18/2014 Motel Hell – Philadelphia, PA w/ Heavy Medical
9/19/2014 The Gutter – Brooklyn, NY w/ Heavy Medical, Law$Uits
9/20/2014 Obrien's – Boston, MA w/ The Proselyte, Jack Burton vs David Lopan
9/21/2014 Whitney House – Hartford, CT w/ Weald
9/22/2014 Certain Death – Pittsburgh, PA w/ Crappy Funeral
9/23/2014 TBA – Chicago, IL
9/24/2014 Vandals – Kansas City, MO
9/25/2014 TBA – Denver, CO
9/27/2014 TBA – Missoula, MT
9/28/2014 Underground 15 – Spokane, WA
9/29/2014 Rays Golden Lion – Richland, WA w/ The Drip
9/30/2014 The Know – Portland, OR w/ Rabbits
With HONDURAN jacking their mangled Northwestern flair to a crushing barrage of Bay Area-style crusty sludge/powerviolence and a cavalcade of cynicism, they'll deliver damaging jams from their July 2013-released debut LP, Street Eagles, a dark, dangerous trip through Rip City, a labyrinth of blasted beats, chunked-up chug-a-lugs, and warrior cries with nary a solo in sight; all meat and bone, recorded by Fester (Rabbits, Nux Vomica, Stoneburner) at Haywire Studios. Experience a brutal, sonic bludgeoning in all its fine detail where Pitchfork says "racing and breaking powerviolence collides with down-tempo metal, while mathematical shifts interconnect passages of uncomplicated blitz," and hometown publication Portland Mercury puked, "a powerviolence three-piece that create a whirlwind of noise." " Terrorizer hailed, "Distilled from the various subgenres of punk, powerviolence grind and hardcore, HONDURAN have thrown down a hefty slab of pissed-off noise, with even a hint of Unsane thrown into the mix and a touch of Melvins/Prong too, just enough to give it a sidesipe of oddness against the Converge/Napalm Death-style riffs." Three of the album's songs are also featured in the 2014 low-budget metal malcontent scammer pic film, Buzzard.
DRUNK DAD will be tackling audiences with their raucous brew of sonic grunge-core depravity — the kind of thing you put on to watch your neighbor's plants wilt — while the country is still trying to air out after being ravaged by the band's debut LP, Ripper Killer, at the beginning of July. Invisible Oranges said Ripper Killer is "like a triple word score for 'noise rock' and 'grunge.' Where other wearers of those styles are content to do a community theater approximation of danger, DRUNK DAD go right for the jugular." Zero Tolerance printed a raging review which included, "DRUNK DAD do that ugly rot-that-walks sound with a pair of still-functioning bull-sized testicles." And Vice Magazine's music channel, Noisey, championed the band "a bunch of irreverent, whiskey-swilling noisemakers, roaming the streets of Portland's nightlife in an effort to refuel their Jim Beam tanks," continuing, "when they tell you their genre is 'fuck you all' wave, they mean it. Really. Fuck you all, and fuck you for asking."
Stream all of DRUNK DAD's Ripper Killer LP at Invisible Oranges HERE and sample live footage of some of the LP's carnage HERE. Watch HONDURAN's official video for "Yawnmower" HERE and get the full Street Eagles experience HERE.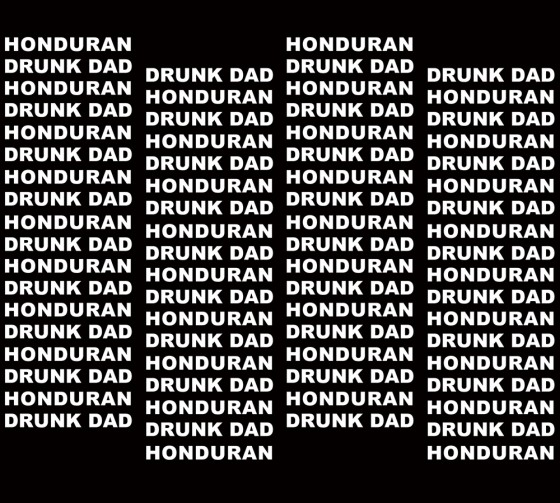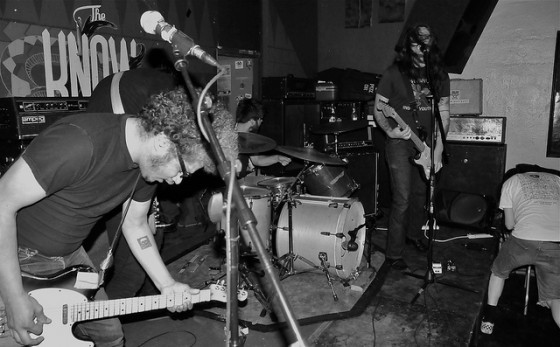 http://www.facebook.com/drunkdadsagainstmothers
http://www.drunkdad.bandcamp.com
http://honduran.bandcamp.com
http://www.facebook.com/honduran
http://eolianempire.com
http://facebook.com/eolianempire
http://twitter.com/eolianempire