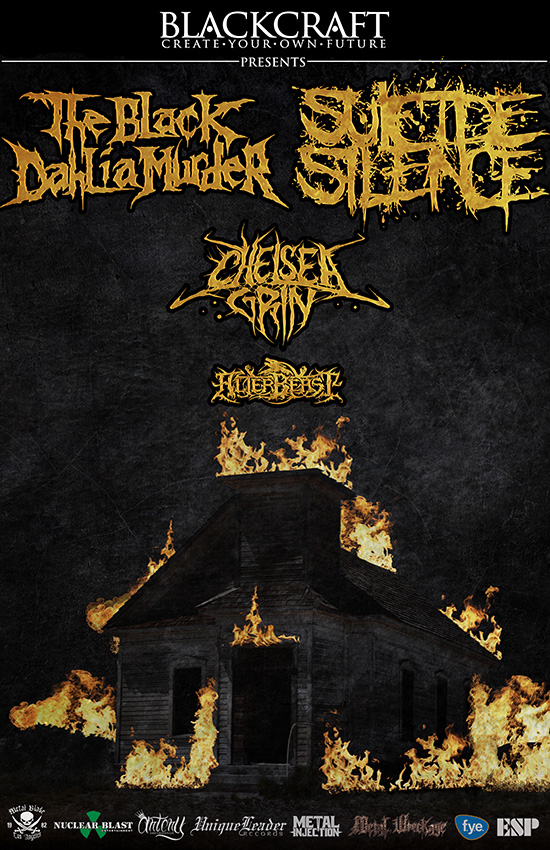 California based extreme metal titans, SUICIDE SILENCE, and Michigan's unstoppable sons of molten melodic death metal, THE BLACK DAHLIA MURDER, will combine forces this Fall on a heavy metal campaign across North America presented by Blackcraft! Joining them are Salt Lake City deathcore merchants Chelsea Grin and Sacramento based tech-death proprietors, Alterbeast.
"It has been way too long since we headlined in the good ol' US of A and it's an honor to be co-headlining with our friends in BLACK DAHLIA," comments SUICIDE SILENCE guitarist Mark Heylmun. "It doesn't matter how long your hair is, what your girlfriend looks like, or if you make it into work the next day… Come out and party with us!"
THE BLACK DAHLIA MURDER vocalist Trevor Strnad adds: "We are very excited to finally be able to let the big secret out… our final US tour on the Everblack album will be with none other than California titans
SUICIDE SILENCE. The guys have been homies of ours since we toured together with Cannibal Corpse in South America. We are extremely glad they've chosen to persevere all of the hardship and tragedy and we are proud to call them tour mates and friends. The magic 8 Ball says we're going to party our asses off together and have an awesome, successful tour. Cheers to SUICIDE SILENCE and we'll see you all in October!"
SUICIDE SILENCE + THE BLACK DAHLIA MURDER
w/ Chelsea Grin, Alterbeast
10/03/2014 Bottom Lounge – Chicago, IL
10/04/2014 House Of Blues – Cleveland, OH
10/05/2014 St. Andrew's Hall – Detroit, MI
10/06/2014 Opera House – Toronto, ON
10/07/2014 Club Soda – Montreal, QC
10/08/2014 Paradise – Boston, MA
10/09/2014 Irving Plaza – New York, NY
10/10/2014 Theatre Of The Living Arts – Philadelphia, PA
10/11/2014 The Fillmore – Silver Spring, MD w/ Machine Head
10/13/2014 Revolution – Ft. Lauderdale, FL
10/14/2014 The Orpheum – Tampa, FL
10/15/2014 Masquerade – Atlanta, GA
10/17/2014 House Of Blues – Houston, TX
10/18/2014 House Of Blues – Dallas, TX
10/19/2014 Backstage Live – San Antonio, TX w/ Whitechapel, Beartooth
10/21/2014 Club Red – Phoenix, AZ
10/22/2014 House Of Blues – San Diego, CA
10/23/2014 Yost Theatre – Santa Ana, CA
10/24/2014 San Manuel Amphitheater – Devore, CA (Knotfest Pre-Party)
10/25/2014 Ace Of Spades – Sacramento, CA (no Suicide Silence)
10/26/2014 The Fillmore – San Francisco, CA
10/28/2014 Knitting Factory – Boise, ID
10/29/2014 In The Venue – Salt Lake City, UT
10/30/2014 The Summit Music Hall – Denver, CO
SUICIDE SILENCE's new You Can't Stop Me full-length debuted at #16 on the US Billboard Top 200 Chart and at #30 on the Canadian Billboard Top 200 Chart, making it their highest first week sales ever and charting release to date! Produced and mixed by Steve Evetts (Sepultura, The Dillinger Escape Plan, Warbringer), You Can't Stop Me marks the vocal debut of new frontman Eddie Hermida (ex-All Shall Perish) and features guest appearances by George "Corpsegrinder" Fisher (Cannibal Corpse) and Greg Puciato (The Dillinger Escape Plan). Artwork is by Tim Minarzik of Throne Media & Design.
THE BLACK DAHLIA MURDER's most recent studio offering, Everblack, debuted at #32 on the Billboard Top 200 in June of 2013. The album earned the #3 slot on the Billboard Current Hard Music Albums chart (behind Black Sabbath and Queens Of The Stone Age). Additional chart debuts included #3 on the Billboard Hard Music Albums, #9 on the Billboard Independent Albums, and #30 on the Hits Albums Chart. Everblack also peaked at #15 on the iTunes album chart, and #2 on the iTunes Metal chart, second only to living legends Black Sabbath.
http://www.facebook.com/SuicideSilence
http://www.facebook.com/theblackdahliamurderofficial
http://www.metalblade.com