photos by Brian Do
Oakland, California-based crossover assassins DOOMSDAY will release their Depictions Of Chaos EP through Creator-Destructor Records tomorrow. On the eve of its release, MetalSucks is today hosting an exclusive stream of the entire incinerating record.
DOOMSDAY is a crossover/thrash band that draws influence from the likes of Sepultura, Slayer, Iron Age, Metallica, and Power Trip, boasting a triple-guitar threat within their lineup. Formed in 2018, the band includes members from different parts of the Bay Area metal and hardcore scene. The band has previously released several singles which have been re-recorded for Depictions Of Chaos, as well as the 2022 promo tape Riff City which featured an Iron Age cover, and has shared the stage with bands like Gulch, Ripped To Shreds, Municipal Waste, Creeping Death, Omerta, Speed, Dead Heat, Spinebreaker, Earth Down, and more.
The drums and guitars for Depictions Of Chaos were tracked and edited by Charles Toshio at The Panda Studios with additional vocals, guitars, and bass tracked at Nu Tone Studios. All tracks were mastered by Zack Ohren at Sharkbite Studios and the EP's cover art was created by Selena Rodriguez. The EP also features several guest vocalists, including Gus Villaroel (Beg For Death) on "Depiction Of Chaos," Ben Murray (Darkness Everywhere, Light This City) on "Agony Blossoms Fear," and Justin Martinez (Field Of Flames) and Andrew Lee (Ripped To Shreds, Houkago Grind Time) on the new single, "Attaining Heaven By Force."
DOOMSDAY's vocalist Carlos Velazquez reveals, "Growing up, I never thought I'd be able to make music. I really saw it as this pipe dream that was far out of reach so releasing Depictions Of Chaos is a humbling experience for me. Ryan and I spent a lot of time wondering when the hell we'd finally release this so it's a little surreal we have all this support alongside it, too. I'm beyond grateful to anyone who's taken the time to check us out and is looking forward to new shit, and also to Creator-D for taking a chance on us. Riff city, baby!"
Guitarist Ryan Calaveras adds, "We are beyond excited to finally release this EP for everyone. It's been quite a journey and a process, but we finally feel like these songs truly demonstrate what DOOMSDAY can do as a band. It is definitely a premonition for more things to come and we are very grateful to have people giving it a spin. This one is for Bay Area hardcore and metal."
MetalSucks writes with their advance stream of the EP, "You ever find a new thrash band that takes no prisoners and demands your attention from the moment you hit play? Have you ever found a new thrash band that makes you want to kick down every door on your way to punching God in the solar plexus? If the answer is no, then I may have just the band for you… They're fast, they're heavy, and they take no shit."
Listen to DOOMSDAY's savage Depictions Of Chaos EP in its entirety early only through MetalSucks now at THIS LOCATION.
Depictions Of Chaos will be released on 12" vinyl, CD, and all digital providers this Friday, November 18th. Find preorders and merch at Bandcamp HERE and the Creator-Destructor webshop HERE.
Stand by for new live performances and more to be announced in the weeks ahead.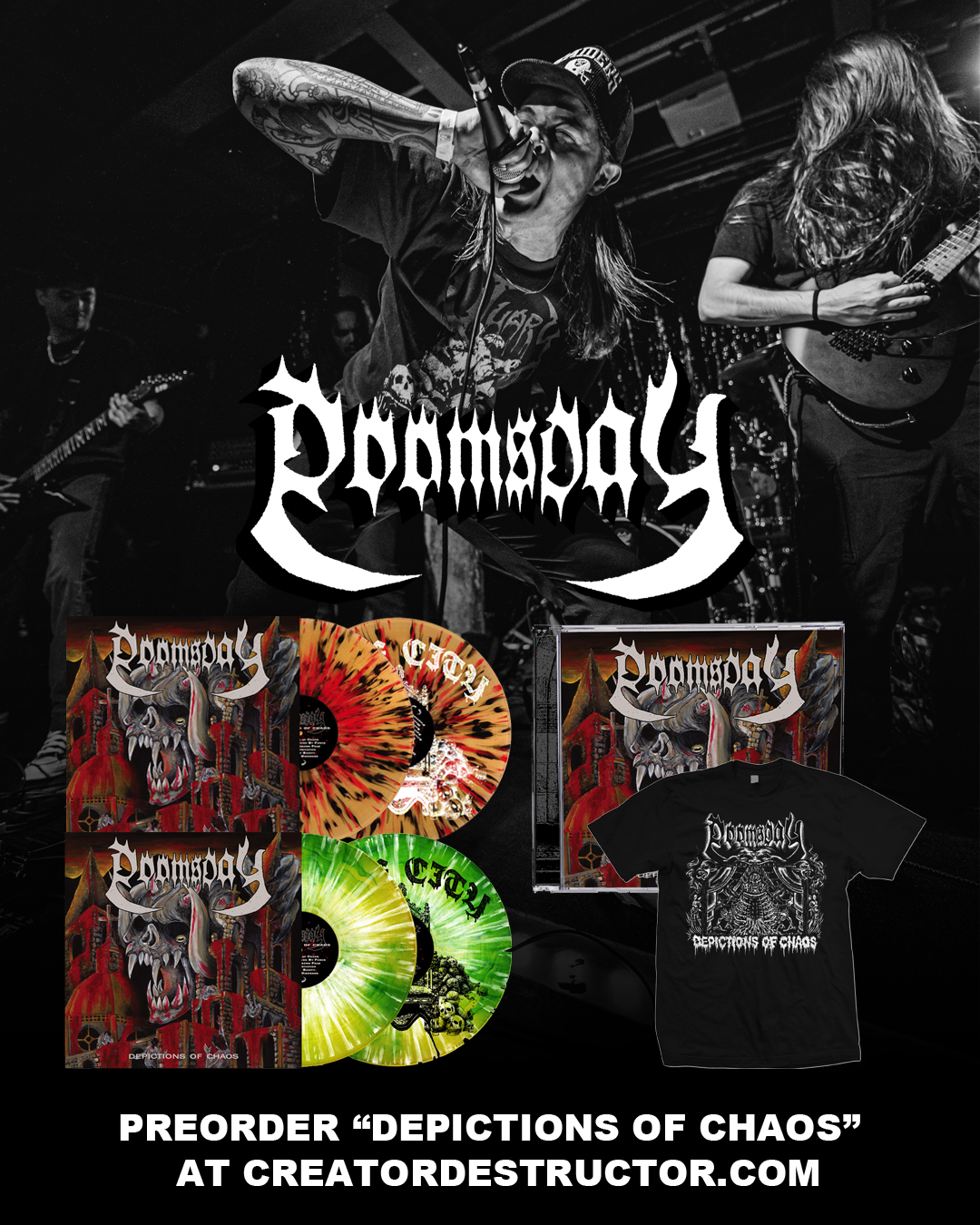 https://doomsdaycahc.bandcamp.com
https://www.instagram.com/doomsday.ca
https://twitter.com/doomsdayca
https://www.creator-destructor.com
https://www.facebook.com/creatordestructorrecords
https://www.twitter.com/CD_Records
https://www.creator-destructor.bandcamp.com
https://www.instagram.com/creator_destructor_records