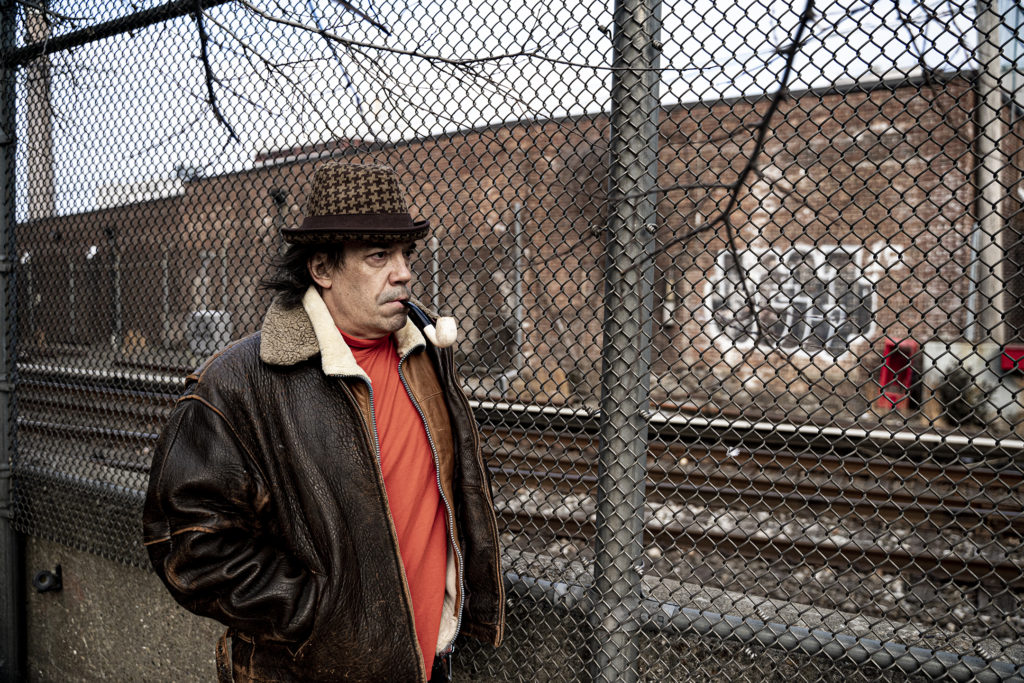 World renowned New York City jazz/pop trumpeter/multi-instrumentalist MAC GOLLEHON presents two new videos, for "As Your World Burns" and "Sackett Street Racket," both songs found on his gritty, avant-jazz/film noir solo record, The End Is The Beginning, out now on Nefarious Industries.
MAC GOLLEHON has toured the planet and recorded in studios everywhere with an endless roster of rock, pop, and jazz artists since the 1970s, including David Bowie, Blondie, Onyx, Madonna, Billy Ocean, Hall & Oates, Chaka Khan, Buddy Rich, Al Jarreau, Sheena Easton, Nile Rodgers, Patrick Adams, Mick Jagger, Grace Jones, Hector Lavoe, and hundreds of others, including his decade-plus run in Duran Duran. From Onyx's Slam album, Blondie's The Hunter LP, and Billy Ocean's "Get Outta My Dreams, Get Into My Car," New York City-based GOLLEHON has performed on thousands of albums, including over two-hundred gold and platinum albums.
On The End Is The Beginning, GOLLEHON works as a multi-instrumentalist, providing trumpet, cornet, trombone, percussion, keyboards, guitars, bass, vocals, and more. Infusing the sounds of Miles Davis' and Elvin Jones' most outer works with the influence of 1970s film noir scores. The End Is The Beginning was engineered, recorded, and mixed by David Brenner (Gridfailure) who adds field recordings, samples, and visuals. The record was mastered by Dan Emery at Black Matter Mastering (Kool Keith, Lost Dog Street Band, Dälek) and completed with photography by Tyler Adams and layout by Brenner.
The new video for the record's opening track, "As Your World Burns," was filmed by Tyler Adams and David Brenner, the video for the searing "Sackett Street Racket" was filmed by Mac Gollehon, Frank Wood, and David Brenner, and both were directed/edited by Brenner.
Watch MAC GOLLEHON's new The End Is The Beginning videos where five prior videos from the record are also playing at the Nefarious Industries website/shop RIGHT HERE.
The End Is The Beginning is out now digitally and on limited gold cassette through Nefarious Industries RIGHT HERE.
MAC GOLLEHON also performs on the third Gridfailure & Megalophobe collaborative album Harbinger Winds, out now, as well as on Gridfailure's impending Sixth Mass-Extinction Skulduggery III which sees release in early 2023 alongside the new LP from MAC GOLLEHON & THE HISPANIC MECHANICS, all through Nefarious Industries. Stand by for more on these upcoming releases over the weeks ahead.
"This collection of fleeting, gripping brass and dense atmosphere amounts to the lost score for the '70s-'80s noir film we've longed for, as nasty in its perfection as was the Manhattan of those years. GOLLEHON's trumpet soars above the fray, offering a mind's eye view of urban decay, violent crime, and rooftop fisticuffs in the cold light of day or through the endless continuum of a midnight alley… The End is the Beginning in its entirety seems to have been raised in darkness, much like the noir genre itself. 4.5/5" – All About Jazz
"…each piece on The End Is The Beginning is not only the music of the film but the sounds of the set as well. It's a strange film no doubt, but not one beyond the listener's capacity to imagine. The vision culminates with the title track, which closes the album. Here, the music is reminiscent of instrumental versions of late-era Scott Walker, but with the sounds of the brakes on a subway train underpinning the score. Perhaps it is the protagonist escaping a surreal cityscape via the train, or the antagonist falling in front of the aforementioned train, or given the feel of the album, something much weirder. But it is this sense of abstraction which gives The End Is The Beginning its allure. One can return again and again and try to decipher the non-existent plot or re-imagine their own. Either way, MAC GOLLEHON has provided more than enough material to allow the intrigue to live on." – Burning Ambulance
"…a sound that helps to conjure up a 1970s New York in terminal decline with streets piled high with garbage and out of control crime rates. The longest track on the album at six and a half minutes, 'Enigma' takes the listener down a more Karlheinz Stockhausen musical concrète route alongside GOLLEHON's periodically disjointed trumpet interventions. Had Miles Davis chosen an electronic format instead of a rock one, Bitches Brew would have sounded not too dissimilar to what is presented here." – The Sleeping Shaman
"…pairs a chaotic noise element with noir jazz, reminiscent at times of John Zorn's Naked City project, or Bohren And Der Club Of Gore with even more cacophony… showcases different aspects of the project, drawing on the likes of noise rock and Angelo Badalamenti-style cinematic jazz alike." – Treble
https://www.instagram.com/macgollehon
https://www.facebook.com/mac.gollehon
https://twitter.com/gollehonmac1
https://nefariousindustries.com
https://nefariousindustries.bandcamp.com
https://facebook.com/nefariousIndustries
https://instagram.com/nefarious_industries
https://twitter.com/nefariousInd