photo by Brian Do
Creator-Destructor Records presents the incinerating Depictions Of Chaos EP, the latest output from Oakland's DOOMSDAY, confirming the record for November release alongside its cover art, track listing, preorders, and lead single, "Mask Of Sanity."
DOOMSDAY is a crossover/thrash band that draws influence from the likes of Sepultura, Slayer, Iron Age, Metallica, and Power Trip, boasting a triple-guitar threat within their lineup. Formed in 2018, the band includes members from different parts of the Bay Area metal and hardcore scene. The band has previously released several singles which have been re-recorded for Depictions Of Chaos, as well as the 2022 promo tape Riff City which featured an Iron Age cover, and has shared the stage with bands like Gulch, Ripped To Shreds, Municipal Waste, Creeping Death, Omerta, Speed, Dead Heat, Spinebreaker, Earth Down, and more.
The drums and guitars for Depictions Of Chaos were tracked and edited by Charles Toshio at The Panda Studios with additional vocals, guitars, and bass tracked at Nu Tone Studios. All tracks were mastered by Zack Ohren at Sharkbite Studios and the EP's cover art was created by Selena Rodriguez.
Stream DOOMSDAY's Depictions Of Chaos track "Mask Of Sanity" now at THIS LOCATION.
Depictions Of Chaos will be released on 12" vinyl, CD, and all digital services on November 18th. Preorders are available now at the band's Bandcamp HERE and the Creator-Destructor webshop HERE.
DOOMSDAY continues to perform live with regularity and has shows booked this month alongside the likes of Ghoul, Ripped To Shreds, and others.
DOOMSDAY:
10/12/2022 X Bar – Cupertino, CA w/ Diztort, Firewalker, Game Of Life
10/22/2022 Vet's Hall – Santa Cruz, CA w/ Ghoul, Ripped To Shreds, Wolf King
Watch for additional audio previews of the EP, live dates, and more to post over the days ahead.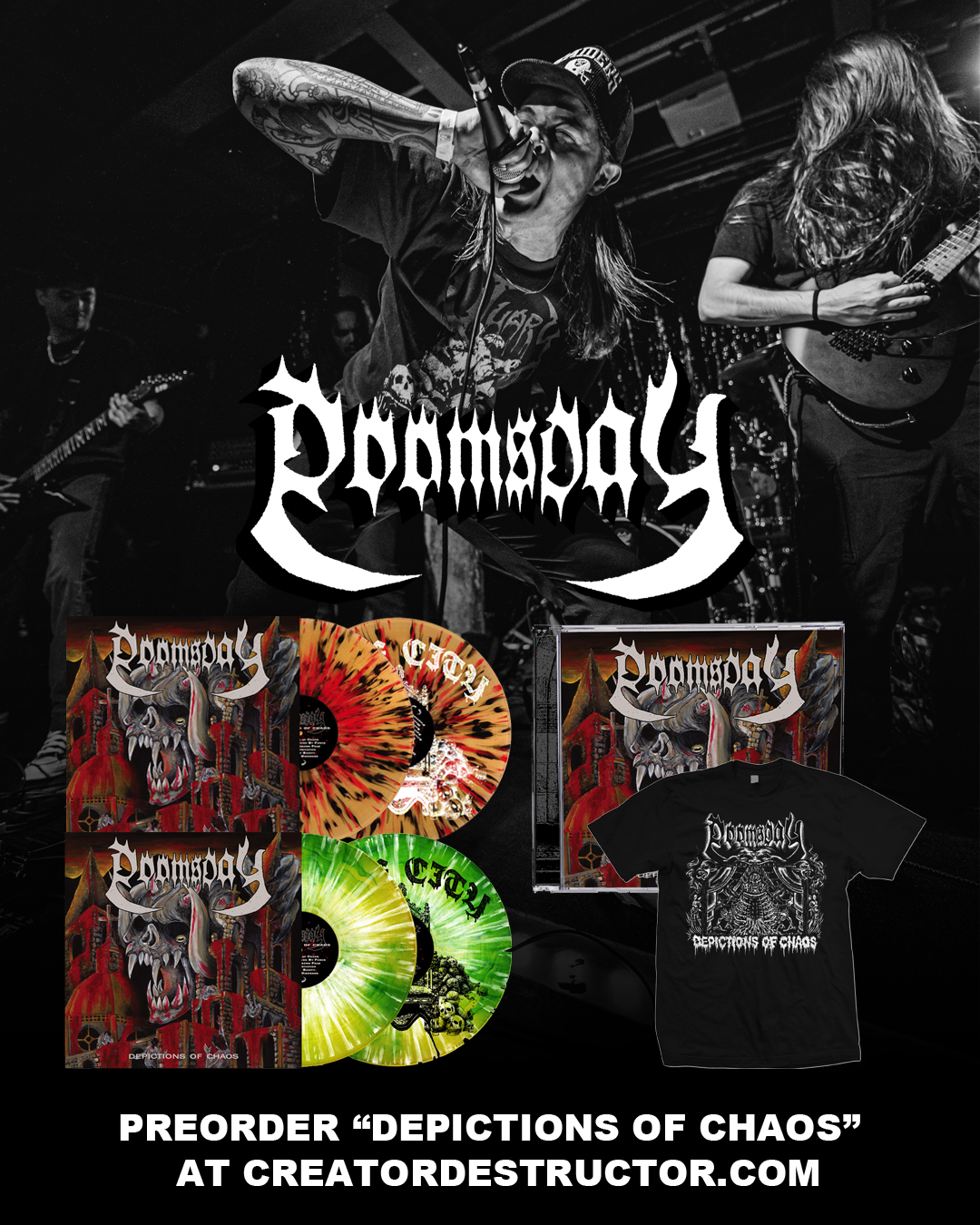 Depictions Of Chaos Track Listing:
1. Depictions Of Chaos
2. Attaining Heaven By Force
3. Agony Blossoms Fear
4. Soul Deprivation
5. Mask Of Sanity
6. Poisoned Disorder
DOOMSDAY:
Carlos Velazquez – vocals
Marc Estabillo – drums
Glendon Diaz – bass
Ryan Calaveras – guitar
Michael Chavez – guitar
Robert "Big Rob" DeLorenzi – guitar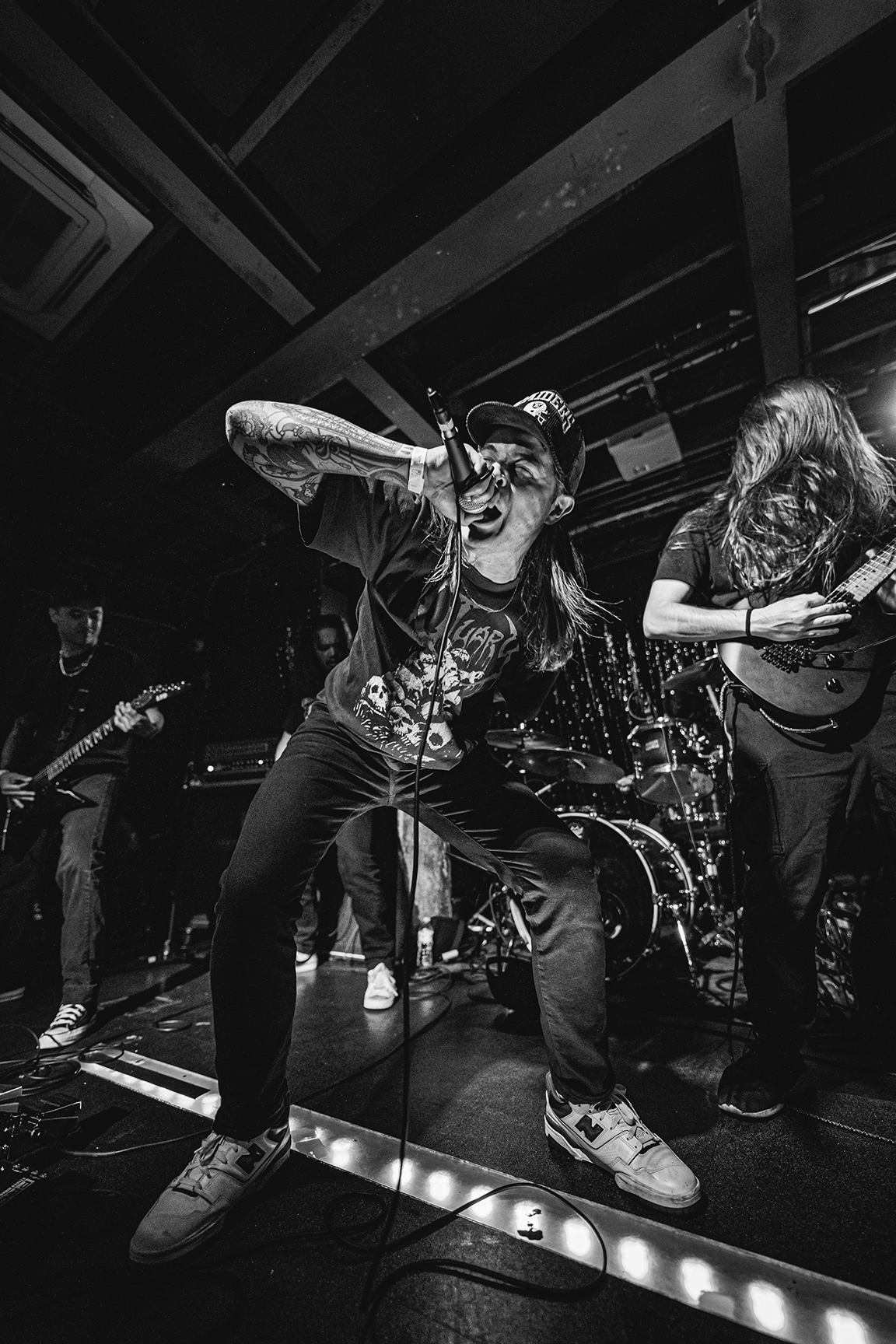 photo by Joshua Alvarez
https://doomsdaycahc.bandcamp.com
https://www.instagram.com/doomsday.ca
https://twitter.com/doomsdayca
https://www.creator-destructor.com
https://www.facebook.com/creatordestructorrecords
https://www.twitter.com/CD_Records
https://www.creator-destructor.bandcamp.com
https://www.instagram.com/creator_destructor_records