In Vaults, the dynamic third studio album from Chicago's progressive/alternative rock outfit, DISTRICT 97, is out today through Laser's Edge, and in conjunction with its release the record is now streaming in its entirety.
With nine brand new tracks delivering over an hour of DISTRICT 97's energetic progressive, alternative, metal, pop crossover, the immaculately produced In Vaults shows this young, diversified rock outfit in their most impressive form yet. Their third album for Laser's Edge, In Vaults boasts the band's evocative and powerful songwriting and musical deliverance, as well as a searing performance from American Idol Top 10 Female Finalist, Leslie Hunt. The album was recorded at IV Lab Studios in Chicago, engineered by Chris Harden with additional engineering by Shane Hendrickson, mixed by Jeff Fox and Rich Mouser (Spock's Beard, Transatlantic) at The Mouse House Studio, mastered by Grammy winning engineer Bob Katz, and dons stunning imagery by Björn Gooßes of Killustraitions.
In celebration of its release, DISTRICT 97's In Vaults is now playing in its entirety at Progstreaming.com RIGHT HERE
In Vaults is out today worldwide through US progressive powerhouse Laser's Edge. The CD version is available at THIS LOCATION and the digital HERE.
Following the first of two In Vaults record release shows last week in their hometown, a second performance will take place on July 10th in Milwaukee, Wisconsin, with additional live shows to be announced in the coming weeks.
DISTRICT 97 Live:
7/10/2015 Cactus Club – Milwaukee, WI *record release show w/ Cheer Accident [info]
8/21/2015 Reggie's – Chicago, IL
DISTRICT 97 was formed in the Fall of 2006 initially as an instrumental outfit until the introduction of 2007 American Idol Top 10 Female Finalist, Leslie Hunt, whose dynamic performances pushed the band into a new direction that forged a unique marriage between accessible, catchy vocal melodies and an adventurous instrumental prowess. Capturing the attention of Laser's Edge, the label signed DISTRICT 97 for the 2010 release of their debut album, Hybrid Child, followed in 2012 by their follow-up, Trouble With Machines. Both albums balance meticulous attention to detail and studio-craft with the visceral power of a rock band that is firing on all cylinders, and run the gamut from Meshuggah-inspired metal, the epic majesty of Yes, and the melodicism of The Beatles. Heavy bouts of live performances surrounding both records included a number of high profile festivals, opening support slots for prog icons Kansas, and even European and North American tours with John Wetton (King Crimson/Asia/UK), the latter of which saw DISTRICT 97 also back Wetton for a full King Crimson set, as memorialized on their 2014 live album, One More Red Night: Live in Chicago. 2013 also saw the band nominated for a Breakthrough Artist Award by Prog Magazine. Rather than rest on their laurels, DISTRICT 97 took to the studio in 2014 to record the new material they'd been honing at home and on the road. The resulting album, In Vaults, continues and accelerates the upward trajectory of great songwriting and incredible musicianship that's been evident since the band's debut. One listen perfectly illustrates why John Wetton says, "I've said it before, and I maintain that D97 is the best young progressive band around right now. Gifted players, great material, and a brilliant, charismatic singer in Leslie Hunt."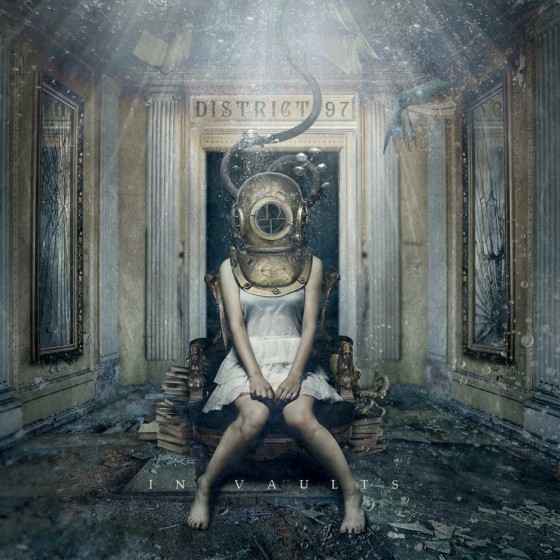 http://www.district97.net
http://www.facebook.com/District97
http://twitter.com/District97
http://www.youtube.com/user/D97Music
http://www.lasersedgegroup.com
http://www.facebook.com/TheLasersEdge
http://twitter.com/thelasersedge