Following the very recent Free Electric Sound release of Tea Time For Punks, the mighty sixth studio full-length from French rock/fusion trio, MORGLBL, the band has just issued an official video for the album's title track.
The madcap "Tea Time For Punks" video, which was directed by Enguerran Prieu, is just as screwball, unpredictable and engaging as MORGLBL's energetic output as a whole, literally bringing its title to life. As the band serenades a highbrow brunch crowd with their rambunctious tunes, the multiple personalities reflected in their music unapologetically heave themselves upon the unsuspecting diners.
Come for the scones, stay for the riot; dine to MORGLBL's "Tea Time For Punks" video RIGHT HERE.
Released on May 26th through Laser's Edge Group's instrumental division, Free Electric Sound, Tea Time For Punks is available on CD HERE and digitally through BandCamp HERE and iTunes HERE.
In support of their new album, MORGLBL will begin to tour sporadically across Europe in the coming weeks with several massive festival performances confirmed through the Summer months, including headlining the Crescendo Prog Festival in St. Palais sur Mer, France in August. Additionally, the band will return to North America this Fall, with a tour set to consume most of October with several shows already being announced. Stand by for many other tour dates on multiple continents to be announced in the weeks ahead.
MORGLBL Tour Dates:
7/18/2015 Guitare En Scene Festival – St. Julien en Genevois, FR w/ Scorpions, Sting, Marcus Miller, Steven Wilson, Mark Knopfler [info]
8/01/2015 La nuit de la guitar – Agde, FR
8/13/2015 Le plongeoir – Jonzac, FR
8/14/2015 Kiosque à  Musique – Royan, FR
8/15/2015 Place de l'océan – St. Palais sur mer, FR
8/16/2015 La pinède – La Palmyre, FR
8/17/2015 TBA – Breuillet, FR
8/18/2015 Théâtre de verdure – Vaux sur mer, FR
8/20/2015 Crescendo Prog Festival – St. Palais sur Mer, FR w/ Atoll, Arabs In Aspic, Psycho Praxis, Kaipa Da Capo [info]
9/18/2015 Amperage – Grenoble, FR
9/24/2015 Promzona's Club – Bishkek, KGZ [info]
10/09/2015 Roxy 'N Dukes – Dunellen, NJ @ NJ Proghouse
10/24/2015 Orion Studio – Baltimore, MD
MORGLBL's virtually vocal-free exploratory musical concoctions and nutty jazz/jam metal fusion energy have been infiltrating the airwaves for over eighteen years, and while Tea Time For Punks doesn't deviate from their standard formula, the album delivers it all with more astounding creativity than ever. The album was recorded during December 2014 — drums by Vincent Thermidor at Studio TF, guitars at Gnõ-Gnõ Studio and bass at Van's Studio — mixed by Enzo d'Agostino at Elia Studio and mastered at Conkrete Studio by Mobo, and delivers over an hour of nonstop freakshow entertainment fit for virtually any open-minded rock fan. Envision equal parts vocal-free fusion and crushing metal power chords, then inject a healthy dose of tongue-in-cheek humor, like Primus, Steve Vai, Allan Holdsworth and Frank Zappa in a high-speed blender, and you've got a grip on what Tea Time For Punks beholds.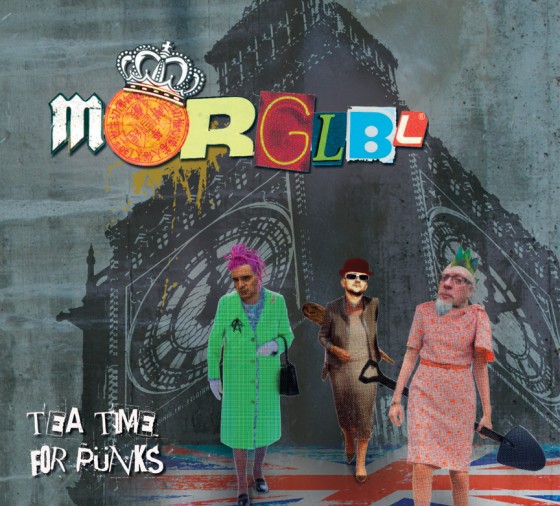 http://www.morglbl.com
http://www.lasersedgegroup.com/labels/free-electric-sound
http://www.facebook.com/TheLasersEdge
http://twitter.com/thelasersedge