Relapse today released the second in a trio of videos documenting the construction of Dallas-based goretraders DEVOURMENT's pending Conceived In Sewage LP. The newest clip shows the laying-down of guitar and bass tracks, filmed in the revered Mana Studios with producer Erik Rutan (Morbid Angel, Hate Eternal). Check it out via the Relapse Youtube page now.
The first in-studio clip is also posted at the Relapse Youtube, in addition to an exclusive listen to the album's "Legalize Homicide" anthem at MetalSucks as well as the gruesome lyric video for "50 Ton War Machine".
DEVOURMENT this week also announce that they've scheduled a video shoot with director Lior Spirer for the song "Parasitic Eruption," with filming set to commence in the coming weeks.
DEVOURMENT Live Carnage:
3/15/2013 The Place Bar and Lounge – Brooklyn, NY w/ Internal Bleeding, Malignancy, more
3/16/2013 Gunners Run – Philadelphia, PA @ The Philly Infest w/ Brutal Truth, Phobia, Master, Malignancy, Embalmer, Cannabis Corpse, more
6/15/2013 The Cheyenne Saloon – Las Vegas, NV @ Las Vegas Deathfest w/ Defeated Sanity, Regurgitation, Infernal Dominion, Embalmer
Captured at Mana Recordings in St. Petersburg, Florida with Erik Rutan (Hate Eternal, Morbid Angel), Conceived In Sewage proves to be DEVOURMENT's most eviscerating release yet, gushing with over thirty-three minutes of the band's hate-fueled, monstrous brutality. The record will see release on February 19th in North America, February 22nd in Benelux, Germany, Austria, Switzerland and Finland, and February 25 in the UK and rest of the world. Stay tuned for further DEVOURMENT announcements over the next several weeks.
"…death metal of the highest order… 5/5, Album of the Month" – Terrorizer
"Conceived in Sewage is an album you want to listen to if you're in the mood for brutality. These guys don't fuck around and will take you to the bowels of hell if you aren't ready for it. 5/5" – Headbang or GTFO
"This album feels bigger, better, fatter, heavier, more balanced, more thoughtful and just really NEW! 5/5" – Guttural Death
"This is by far one of the heaviest records I've ever heard. There isn't a single band I can think of that has even a snowballs chance of dethroning Devourment this year and it's only January. 5/5" – Stereokiller
"…a pure assault on your auditory senses. 5/5" – Stereokiller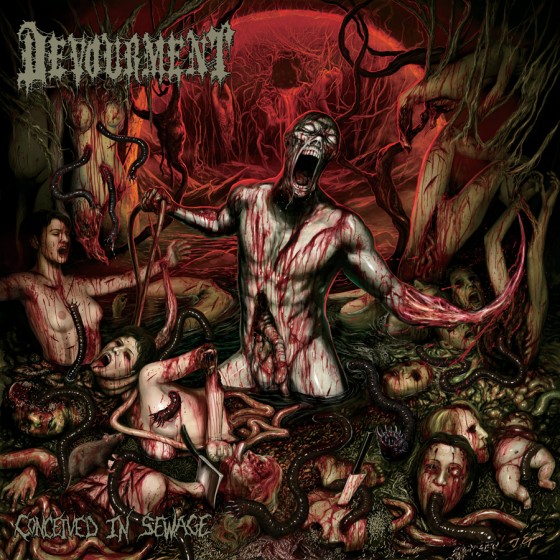 https://www.facebook.com/DevourmentOfficial
https://twitter.com/DevourmentBand
http://www.relapse.com
http://relapserecords.bandcamp.com
http://www.facebook.com/RelapseRecords