The first full single from, Endsville — the split 2xLP release from GODHUNTER and DESTROYER OF LIGHT — has been released through a lyric video for DESTROYER OF LIGHT's "Electric Shadows," premiered by The Obelisk.
Austin-based quartet, DESTROYER OF LIGHT, has taken a straight forward approach to tempering the disparate and harmonious parts of their influences into a total sum of slow motion tidal heaviness that bows to no altar but that of the riff. With the smoky flavors of hazed out doom and the stomping cadence of rock's heyday, the band both tickles and deafens the ears with the theatrical flashes of Mercyful Fate, the ominous tones of Electric Wizard, and the ferociously feral feedback of a Sleep dirge. Following their 2012-released self-titled debut album and 2014's Bizarre Tales Vol. II EP, DESTROYER OF LIGHT contributes four tracks to their half of Endsville, totaling nearly twenty-seven minutes of brand new material mastered by James Plotkin. Leading things off is "Electric Shadows," which now sees release through a video created by Erik Bredthauer, with a premiere at The Obelisk, who issues of the track, "Guitarist/vocalist Steve Colca, guitarist Keegan Kjeldsen, bassist Jeff Klein and drummer Kelly Turner have their Sabbath worship down pat, but there's more to the track for those who'd dig in, and over the course of its six minutes, they're able to smoothly shift between wrenching doom and '70s-style shuffle, a catchy boogie of a guitar lead taking hold in the second half to steer toward a surprisingly upbeat, if somewhat sudden, finish."
Crank up DESTROYER OF LIGHT's "Electric Shadows" lyric video with The Obelisk RIGHT HERE.
View the layered Endsville cover art installation come together via Gear Gods HERE.
Endsville sees a joint release through GODHUNTER co-owned Battleground Records and DESTROYER OF LIGHT's Heavy Friends Records on July 28th, a 180-gram gatefold 2xLP with each bands' platter on a different color of vinyl; GODHUNTER's on translucent green and DESTROYER OF LIGHT's on translucent red. Preorders are now live for the wax HERE and the digital HERE.
GODHUNTER and DESTROYER OF LIGHT will collaborate on the twenty-five city Endsville tour together, which will include a performance at Death To False Metal Festival in Hamden, Connecticut on August 14th and 15th with Whiplash, Krieg, Secrets Of The Sky, Valkyrie, Imperial Triumphant, Nightbitch, Immortal Bird, Secret Cutter and more.
GODHUNTER vs. DESTROYER OF LIGHT Endsville 2015 Tour:
7/29/2015 Club Congress – Tucson, AZ
7/30/2015 Yucca Tap Room – Tempe, AZ
7/31/2015 The Sandlot – El Paso, TX
8/01/2015 The Launchpad – Albuquerque, NM
8/02/2015 Seventh Circle – Denver, CO
8/03/2015 TBA – Omaha, NE
8/04/2015 Triple Rock – Minneapolis, MN
8/05/2015 Liveweire – Chicago, IL
8/06/2015 Fat Guy Fest – Kalamazoo, MI
8/07/2015 Fifth Quarter – Indianapolis, IN
8/08/2015 Magnolia Bar – Louisville, KY
8/09/2015 Pour House – Raleigh, NC
8/10/2015 The Empty Glass – Charleston, WV
8/11/2015 Gooski's – Pittsburgh, PA
8/12/2015 Mohawk Place – Buffalo, NY
8/13/2015 Saint Vitus Bar – Brooklyn, NY
8/14/2015 KoTo – Salem, MA
8/15/2015 The Outer Space & Ballroom – Hamden, CT @ Death To False Metal Fest
8/16/2015 Kung Fu Necktie – Philadelphia, PA
8/17/2015 The Depot – Baltimore, MD
8/18/2015 Thomas Creek Brewery – Greenville, SC
8/19/2015 The Basement – Atlanta, GA
8/20/2015 Vino's – Little Rock, AR
8/21/2015 Saturn Bar – New Orleans, LA
8/22/2015 Holy Mountain – Austin, TX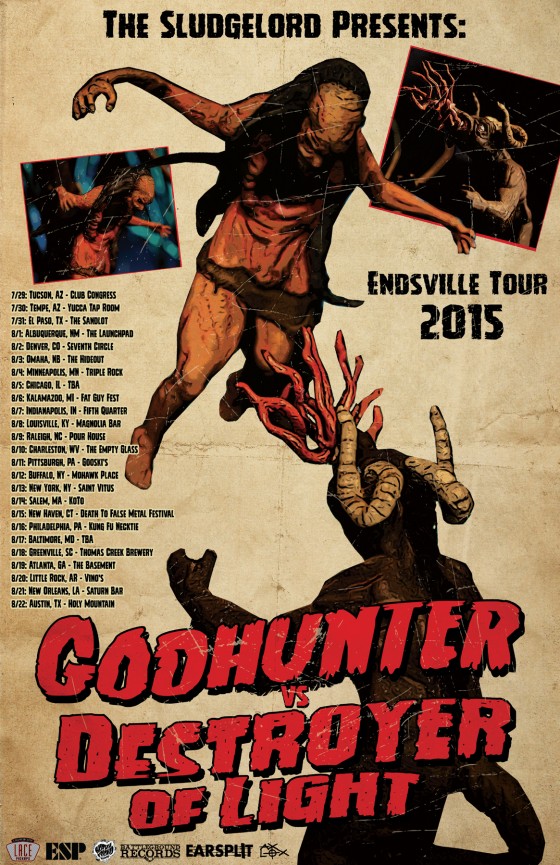 http://www.facebook.com/godhuntersludge
http://www.dirtweedmetal.com
http://www.battlegroundrnr.com
http://destroyeroflight.bandcamp.com
http://www.facebook.com/destroyeroflight
http://www.facebook.com/pages/Heavy-Friends-Records/1396186950655438