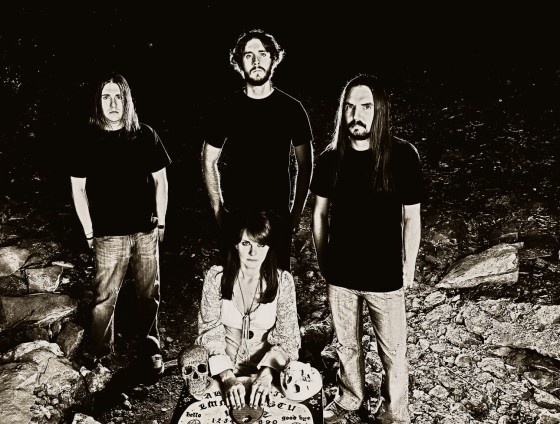 Las Vegas-based doom metallers DEMON LUNG will venture west in the coming weeks to perform selections from their recently released full-length debut, The Hundredth Name. Joining the quintet on select dates will be friends Wounded Giant and Castle. Dates are set to begin June 29th in Salt Lake City and wrap with a hometown show on August 18th.
The Hundredth Name was released June 4th via Candlelight Records. Since its release, the The Hundredth Name has found a solid support network among media and college radio programmers nationwide, peaking on CMJ's Loud Rock report at position 14 with Full Metal Jacket/DMX programming the album in its syndication networks plus specialty and college play from the likes of WAQX (Syracuse NY), WZGM (Asheville NC), WHMH (St. Cloud MN), WSOU (S. Orange NJ), WCSB (Cleveland OH), KFSR (Fresno CA), and WIXQ (Millersville PA), among many others.
Las Vegas Weekly says, "everything about DEMON LUNG's debut screams epic." Metal Review confirms, "vocalist Shanda Fredrick's measured delivery is bleak and monotone… a grimly deliberate wail that works magic." Pitchfork.com boasts, "Fredrick emerges like a high empress," while Vegas Seven adds, "literate and lacerating, the 'LUNG breathes real fire." The album was recently selected as "Album Of The Day" by Roadburn.com where they crowned DEMON LUNG "a band with promise."
Formed in 2011, DEMON LUNG self-released their EP Pareidolia in early 2012. The band entered the studio to record The Hundredth Name with producer Billy Anderson (Neurosis, The Melvins, Sleep) in late December. The Hundredth Name was completed in early 2013 with final artwork provided by rising English illustrator Tom Gates (Vision of Disorder, Amorphis).
DEMON LUNG Summer Tour 2013:
6/29/2013 Bar Deluxe – Salt Lake City, UT w/Odium Totus
6/30/2013 Red Room – Boise, ID w/Mariana
7/01/2013 Duffy's Hangar – Salem, OR w/Wounded Giant
7/02/2013 Tiger Bar – Portland, OR w/Wounded Giant
7/03/2013 The Mercury – Seattle, WA w/Wounded Giant
7/05/2013 Red Room PDX – Portland, OR w/Wounded Giant
7/07/2013 Please for Peace – Stockton, CA w/Tales of the Grotesque
7/08/2013 Billy O's – Ventura, CA w/Castle
7/09/2013 Industry Theater – Lancaster, CA w/Castle
7/11/2013 Cheyenne Saloon – Las Vegas, NV w/Spellcaster
8/16/2013 The Shakedown – San Diego, CA w/Wounded Giant
8/17/2013 Icehouse Tavern – Phoenix, AZ w/Wounded Giant
8/18/2013 The Dive – Las Vegas, NV w/Wounded Giant
8/19/2013 Burt's Tiki Lounge – Salt Lake City, UT w/Wounded Giant
DEMON LUNG is vocalist Shanda Fredrick, guitarist Phil Burns, bassist Patrick Warren, and drummer Jeremy Brenton.
"Fusing a smoky occult sensibility with classic doom metal songwriting, in the style of Candlemass or the Obsessed, The Hundredth Name is unquestionably dark and sludgy in tone while nimble and dynamic in composition." – Exclaim!
"If you were to take all the great doom bands throughout history, from Black Sabbath to Candlemass to Saint Vitus to Electric Wizard, there would be enough sonic differences to sometimes overshadow the similarities. The great doom bands moving forward won't be the ones simply copying what the forefathers have laid down before us. They'll be the ones learning from the masters and then forging their own distinct voice that will rise above all others. DEMON LUNG have done exactly that." – Metal Insider
"A modern doom masterpiece" – Ghost Cult Magazine
"…a hulking, apocalyptic record that does its subject matter justice over and over again." – Meat, Mead, Metal
"The future of doom seems to be in safe hands." – This Is Not A Scene
"So there it is: with the right ingredients – unflinching confidence, solid production, regional uniqueness, and a dash of Satan – you could strike sparks anywhere. More alluring than loathsome, DEMON LUNG is here to fearlessly take you to the pentagrammar school of DOOM, little lambs." – Last Rites
http://www.facebook.com/demonlungband
http://www.demonlungband.com
http://www.candlelightrecordsusa.com