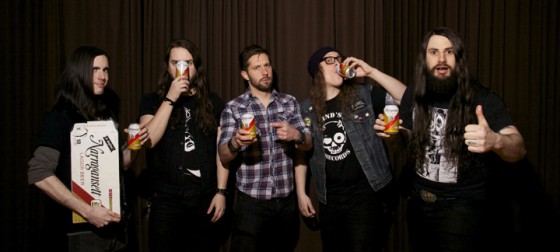 Rhode Island riff manglers HOWL will bring their sonic excess to the streets this Summer on a near month long headlining tour. Set to commence on July 20th in their hometown of Providence, the New Noise Magazine-sponsored trek will storm its way across the country, coming to a close on August 17th in Portland, Oregon. Support will be provided by label mates Lord Dying.
Said the band of the upcoming journey: "Dicks in hand, we will bring the riff to the holy land."
HOWL will be touring in support of their Bloodlines full-length, recently discharged via Relapse Records. Delivering 40 inexorable minutes of lead-footed metallic dirge, Bloodlines entered the Billboard Heatseekers Chart at #50, the Billboard Hard Music Chart at #57 and Billboard's Indie Music Chart #173 upon its first week of release!
Bloodlines is currently streaming in its entirety at the band's official BandCamp page HERE. Order your copy HERE. And if you missed it, don't forget to peep the band's Conner Owens-directed video for "Demonic" now playing at THIS LOCATION.
HOWL North American Tour 2013 w/ Lord Dying:
7/20/2013 AS220 – Providence, RI w/ Hivesmasher, White Widows
7/21/2013 JJ's Tavern – Florence, MA w/ Vaporizer, Vattnet Viskar
7/22/2013 Nectar's – Burlington, VT w/ S'iva, Last World
7/23/2013 Il Motore – Montreal, QC
7/24/2013 Rancho Relaxo – Toronto, ON
7/25/2013 Bug Jar – Rochester, NY w/ Order of the Dead
7/26/2013 Kung Fu Necktie – Philadelphia, PA
7/27/2013 Saint Vitus Bar – Brooklyn, NY
7/29/2013 Strange Matter – Richmond, VA w/ Bearstorm, Dirt Merchant
7/30/2013 New Brookland Tavern – Columbia, SC w/ Abacus, Moon Tooth
7/31/2013 The Jinx – Savannah, GA
8/04/2013 Hi-Tone – Memphis, TN
8/06/2013 Siberia – New Orleans, LA
8/07/2013 Mangos – Houston, TX
8/08/2013 Doublewide – Dallas, TX
8/09/2013 Mohawk indoors – Austin, TX (Melvins after party)
8/12/2013 Launch Pad – Albuquerque, NM w/ Hanta, Rezin Tree
8/13/2013 Rogue – Phoenix, AZ w/ Godhunter, Cave Dweller
8/14/2013 5 Star Bar – Los Angeles, CA
8/15/2013 Thee Parkside – San Francisco, CA
8/16/2013 Trash Film Orgy Studios (Warehouse 35) – Sacramento, CA w/ Black Mackerel, Cura Cochino
8/17/2013 Mississippi Studios – Portland, OR w/ Sons of Huns
"… the type of galloping, growling, grot-filled effort you expect from a Motörhead shirt wearing metal band." – Decibel
"…deliciously vicious…" – MetalSucks
"…consistently compelling… — Blabbermouth
"Bloodlines is awesome and you should go buy it. If you don't you are making a mistake." – SMN News
"…to simply label HOWL as pure doom is to potentially limit their appeal. I've no doubt if you're a fan of High On Fire or Electric Wizard, this would be an excellent addition to your library. That said their sound should equally have the heads of Iron Maiden fans and corpse painted true metal warriors banging alike." – Ave Noctum
"…if you like imp shrieking, wah-imbued stunt guitar, sludge chugs, and lyrics about demons, Bloodlines just might be up your alley." – Mxdwn
"…a fantastic way to spend an afternoon waxing philosophic or a night getting beaten to death by a group of angry Rhode Islanders…" – Dead Rhetoric
"Bloodlines features enough powerful riffs and angry attitude to sate the mainstream, while the underground will dig the overall feeling of doom and hatred. Did I mention the utterly stellar songwriting?" – Ghost Cult
"…the equivalent of being punched repeatedly in the gut with brass knuckles and then pushed down the mouth of an active volcano." – American Aftermath
"If [debut album] Full of Hell was a tsunami, this album is a sniper attack." – Alternative Control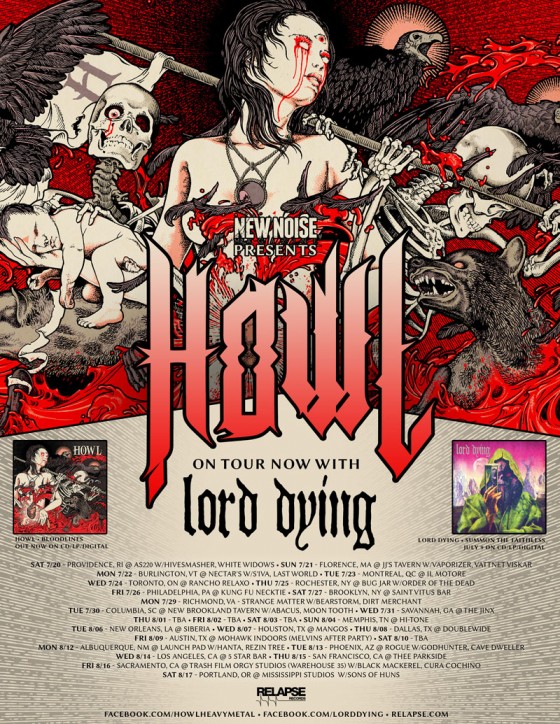 http://www.facebook.com/HowlHeavyMetal
http://www.relapse.com
http://www.facebook.com/RelapseRecords