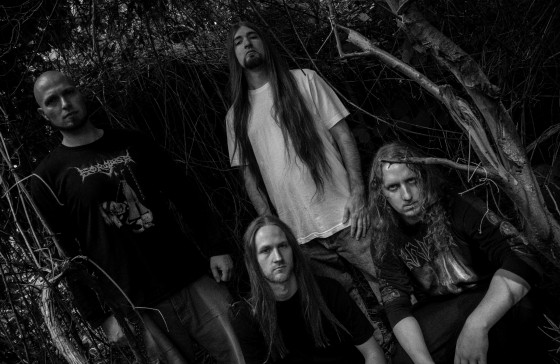 Today the fine metal miscreants at Decibel offer up an exclusive premiere of "Naraka" from German death metal moguls DEFEATED SANITY. The tune comes by way of the band's forthcoming slab of iniquity — Passages Into Deformity. Scheduled for release on February 5, 2013 through Willowtip Records, Passages Into Deformity was recorded at Soundlodge Studios in Germany and includes guest vocal appearances by Frank Rini (Internal Bleeding), AJ Magana (ex-DEFEATED SANITY, Disgorge US), and Brian Forgue (Syphilic, Gutrot) as well as sound effects by Jon Engman (ex-Brodequin).
In an early review of the record, MetalRunsInMyVeins gushes: "…don't be surprised if DEFEATED SANITY's Passages Into Deformity is still reigning atop the brutal death metal crest," while the The Metal Observer, in a 9/10 rating, commends the band for their "intensity and unbridled imagination," likening the nine-track monster to "the very heaviest Vile and Cryptopsy have had to offer."
Says bassist Jacob Schmidt of "Naraka;" "Here we have the first mid-tempo-only song we've written in years! It's probably the slowest and grooviest on Passages. Enjoy!"
Hear what all the commotion is about, courtesy of Decibel Magazine, at THIS LOCATION.
And if you missed it the first time, be sure to check out the sonic sickness of "Verblendung" below:
The follow-up to 2010's critically hailed Chapters of Repugnance will be paired with a bonus DVD featuring making-of clips, interviews and sick performance videos. Preorders come with a free Passages Into Deformity embroidered patch. For more info point your browser HERE.
Additionally, DEFEATED SANITY will take their face-raping brutality to Russia and Belarus this Spring in support of Passages Into Deformity. See confirmed dates below.
DEFEATED SANITY Passages Into Deformity Tour 2013:
4/12/2013 Fatality Fest 5 – St. Petersburg, RU
4/12/2013 Sick Fest 11 – Arkhangelsk, RU
4/14/2013 Not Quiet Extreme Fest 2 – Syktyvkar, RU
4/15/2013 Grim Sound Fest – Izhevsk, RU
4/17/2013 Ural Death Fest 2 – Ekaterinburg, RU
4/20/2013 Extreme Condition Fest – UFA, RU
4/24/2013 Day Of Dust Fest – Minsk, BY
"DEFEATED SANITY…amplifies any presuppositions one might have of Hell and turn it ten-fold." – Sputnik Music
http://www.facebook.com/DefeatedSanity
http://www.reverbnation.com/defeatedsanity
http://www.myspace.com/defeatedsanity
http://www.willowtip.com
http://www.facebook.com/willowtip
http://www.twitter.com/willowtip
http://willowtip.bandcamp.com