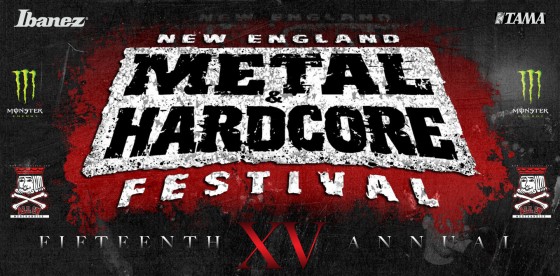 MassConcerts proudly presents the first details for NEW ENGLAND METAL & HARDCORE FESTIVAL 2013, today confirming the dates and preliminary list of bands for this year's occurrence of the long-running annual event.
For the 2013 installment, the NEW ENGLAND METAL & HARDCORE FESTIVAL will once again overthrow the historic venue The Palladium in Worcester, Massachusetts, this year marking the 15th anniversary of the iconic weekend-long gathering! The festivities will commence with a pre-party on April 18th, 2013 and the three official days of the fest following on the 19th, 20th, and 21st.
Commented the festival's founder Scott Lee of MassConcerts: "I am excited with how far we have come and am ecstatic for this to be on our 15th year! It has been a long, interesting journey. We always try to make it a memorable event and we really hope you all enjoy the festival this year."
With more than forty acts from all realms of the extreme music world already set to storm two stages at the 15th anniversary of NEW ENGLAND METAL & HARDCORE FESTIVAL — and with many more to be announced in the coming weeks — the confirmed headliners for the event will include Hatebreed, Opeth and Suicidal Tendencies, as well as legendary thrash titans Anthrax performing their Among The Living album in its entirety, as part of their headlining of the Metal Alliance Tour.
View the full list of bands set to confirm this year below. Tickets for the event will go on sale next Wednesday, January 16th.
New England Metal & Hardcore Festival 2013:
Anthrax
Hatebreed
Opeth
Suicidal Tendencies
After The Burial
Alpha & Omega
Antagonist AD
Ark Of The Covenant
Black Breath
Born Of Osiris
The Contortionist
Dead By Wednesday
Death Before Dishonor
Ensiferum
Erra
Exodus
Expire
Fit For An Autopsy
Heidevolk
Hellsot
Holy Grail
I Declare War
Incendiary
Katatonia
Legion
The Mongoloids
Mother Of Mercy
Municipal Waste
No Mercy
Power Trip
Rude Awakening
Saving Grace
Shadows Fall
Suburban Scum
Those Who Fear
Trap Them
Trollfest
Twitching Tongues
Tyr
Xibalba
Since 1999, the NEW ENGLAND METAL & HARDCORE FESTIVAL has showcased a vast array of metal and hardcore acts across two stages, while also providing merchandising and promotional areas for record labels and other vendors, at Worcester, Massachusetts' massive venue The Palladium.
Stay tuned for a torrent of continuous updates and coverage opportunities for the NEW ENGLAND METAL & HARDCORE FESTIVAL are made available via Earsplit PR, an official sponsor of this year's event.
https://www.facebook.com/metalandhardcorefest
http://metalandhardcorefestival.com
https://twitter.com/moshfest
http://www.massconcerts.com