Metal Injection is currently streaming It's Only Midnight, the latest full-length from West Coast deathgrind practitioners DEATHGRAVE in its entirety! The premiere comes in advance of the record's official release this Friday, April 14th via Tankcrimes.
Comprised of longtime scene veterans, DEATHGRAVE is Greg Wilkinson (Autopsy, Brainoil, ex-Laudanum, ex-Graves At Sea), bassist Fern Alberts (Amber Asylum, ex-Bird, ex-Ringwurm), vocalist Andre Cornejo (ex-Cyanic, ex-Bird, ex-Casket Blaster), and Clint Zane (Owl, Hazzards Cure, ex-Isotope) who joined the band on drums in 2018. To say It's Only Midnight is just another grind album would be a vast understatement. The band's latest output dives deeper into the realms of grindcore while lacing new dimensions to their sound. The drums add polyrhythms and complex time signatures in a seemingly effortless fashion. Meanwhile, the guitar playing combines bizarre chords, fast chainsaw picking, chunky palm mutes, and unnerving echoing melodies into a unified style. Bass lines diverge from the guitar parts highlighting the pulverizing drive of the music. To cap things off, Cornejo delivers the most demanding performance to date. The amalgam of the four members spews out a new and undefinable sound.
Writes Metal Injection, "'Grinding death metal' is an accurate descriptor, but It's Only Midnight digs much deeper into weird progressive tendencies throughout that might make you question your sanity. So y'know, get ready to mosh while slowly descending into madness. It's fun."
Stream DEATHGRAVE's It's Only Midnight in full at Metal Injection, HERE.
Watch the band's previously released video for "Your Rulers Are Here" HERE.
It's Only Midnight will be released on CD, cassette, limited edition LP in three color variants (Cloudy Blue, Blue Inside Clear w/ Smoke, and Red And Blue Wings w/ Splatter), and digitally.
Find CD preorders HERE, cassette orders HERE, LP preorders HERE, and digital orders HERE.

DEATHGRAVE will play a special record release show this weekend in San Jose before joining Necrot and Mortiferum for a Western US tour in May. See all confirmed dates below.
DEATHGRAVE:
4/15/2023 LVL Uproar – San Jose, CA Record Release Show w/ Spinebreaker, Los Huaycos, Mokosos
w/ Necrot, Mortiferum:
5/12/2023 Brick by Brick – San Diego, CA
5/13/2023 1720– Los Angeles, CA
5/14/2023 Nile Underground – Mesa, AZ
5/15/2023 Sister – Albuquerque, NM
5/16/2023 Hi Dive – Denver, CO
5/17/2023 Ace's High Saloon – Salt Lake City, UT
5/18/2023 Holland Project – Reno, NV *no Necrot
5/19/2023 Cafe Colonial – Sacramento, CA
5/20/2023 Eli's Mile High Club – Oakland, CA
Spawned in 2013, DEATHGRAVE began to weave its own breed of metal based out of San Jose, Califorrnia. The band initially grabbed elements from many punk and metal bands like Siege, Rudimentary Peni, Napalm Death, Impetigo, Godflesh, and Zeni Geva as well as their own previous bands, and many others, yet their actual musical output never shared a similar sound to the aforementioned artists.
Over the past ten years, the band has toured multiple regions throughout North America and kept busy recording. To date, DEATHGRAVE has released a demo, a Mexico tour cassette, fourr split 7″s, and a debut LP in 2018 which dragged them out from the depths of the underground and into the forefront of the Bay Area's grind/metal scene. It's Only Midnight is the second LP on Tankcrimes while marking the first release with their current drummer.
"…another warped collection of razor-sharp deathgrind tunes. DEATHGRAVE is its own bizarre, darkly funny thing entirely. It's great to have them back in our lives…" – Decibel Magazine
"…totally ruthless…" – BrooklynVegan
"…an absolute ripper…" – No Clean Singing
DEATHGRAVE:
Greg Wilkinson – guitar
Fern Alberts – bass
Andre Cornejo – vocals
Clint Zane – drums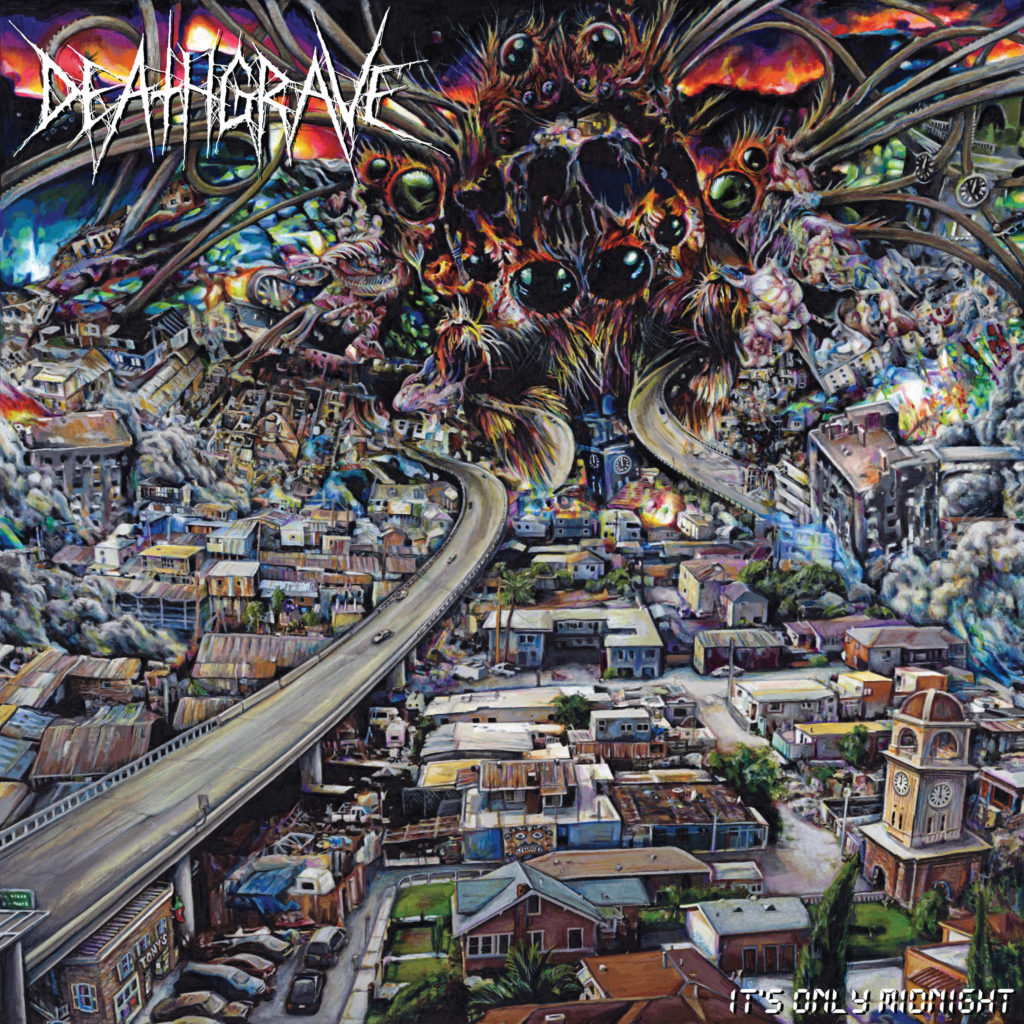 http://deathgrave.bandcamp.com
http://www.instagram.com/deathgrave408
http://www.tankcrimes.com
http://www.facebook.com/tankcrimes
http://twitter.com/tankcrimes
http://www.instagram.com/tankcrimes