San Jose grind/punk trio DEADPRESSURE will drop the antagonistic bounty of their self-titled debut next month through a joint venture between Carbonized Records, the new label imprint spearheaded by drummer Chad Gailey of Necrot and Mortuous and Ogre Vinyl.
Deadpressure was recorded, mixed, and mastered in May 2017 by Greg Wilkinson (Vastum, Noothgrush, Autopsy) at Earhammer Studios in Oakland California. Drawing influence from the likes of His Hero Is Gone, Neurosis, and Dead Congregation to create a sound that combines elements from across the punk and metal spectrums, the record boasts thirteen tracks of vile and unapologetic audio bedlam.
Issues the band of the release: "Our new record is the culmination of all our stylistic influences. From hardcore punk to grind, D-beat, and doom, there is something for every fan of extreme music."
Featuring artwork by Jared Power (Cannabis Corpse), DEADPRESSURE will be released digitally and on limited vinyl available in three color variants – teal with marble splatter, gray with marble splatter, and black (double-sided insert with download card included) on October 31st. Preorders are currently available at the Carbonized Records store at THIS LOCATION.
For digital orders and to sample the sonic punishment of "Assailant's Curse," visit the Carbonized Records Bandcamp page at THIS LOCATION.
DEADPRESSURE will bring their grisly hymns to California stages this fall first with a performance in Oakland October 2nd with Exhumed followed by a duel record release show in San Jose November 2nd with Atrament with additional performances in the plotting stages.
DEADPRESSURE:
10/2/2018 Golden Bull – Oakland, CA w/ Exhumed
11/2/2018 Playback Studios – San Jose, CA w/ Atrament (Scum Sect record release), Healer, Dysphoric
Deadpressure Track Listing:
1. Desolate
2. Dwell
3. Secret Name Game
4. The Snake And The Sheppard
5. Aging Sludge
6. Crushed
7. Transmutations
8. United Waste
9. Assailant's Curse
10. The Veil
11. Paradigm
12. Disappear
13. Weed And Food
DEADPRESSURE was forged in the Spring of 2012 by three friends — Seneca Norberg (guitar, vocals), Cris Rodriguez (drums), and Joe Morales (bass, vocals) — who shared a common love of all things punk and grindcore. The first wave of material drew heavily from classic hardcore, power violence, and grind bands like Spazz, What Happens Next?, Monster X, Napalm Death, SSD, and Youth Of Today. By 2014, DEADPRESSURE released their first seven-inch entitled, Dead Side Story Vol.1 on Hashcrimes and toured the Pacific Northwest and Southern California. From 2014 through 2015 they released splits with local friends, Connoisseur and Deathgrave and continued to play countless shows. One year later, DEADPRESSURE parted ways with Morales. Colin Tarvin (Mortuous) was recruited shortly thereafter to fill the position ultimately revitalizing the band's sound and approach. Crowned "one of the most devastating bands to emerge from San Jose. On point," by Cvlt Nation, 2017 ushers in the pulverizing sounds of DEADPRESSURE's self-titled full-length. Wear a helmet. You have been warned.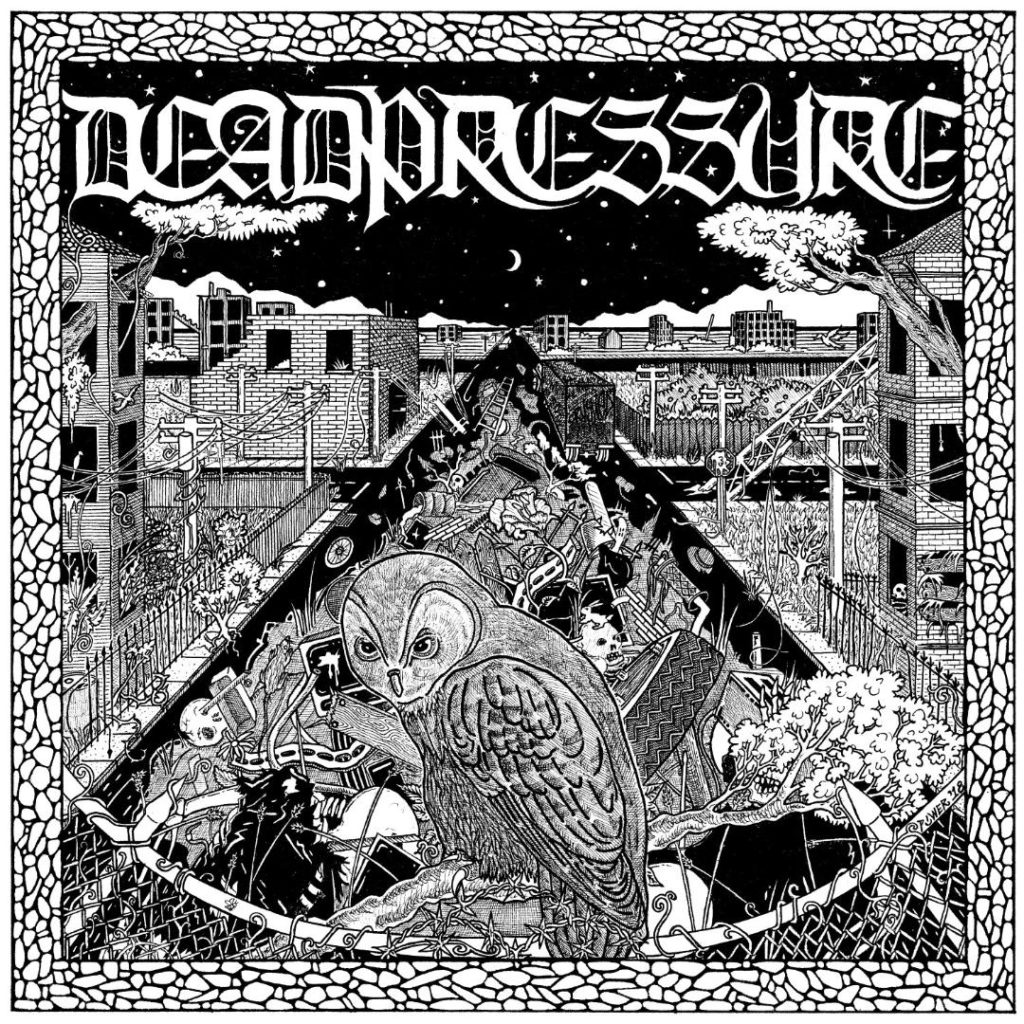 http://www.instagram.com/deadpressure
http://soundcloud.com/deadpressure
http://www.facebook.com/Carbonized-Records
http://www.carbonizedrecords.bandcamp.com
http://www.carbonizedrecords.storenvy.com
https://ogrevinyl.bandcamp.com