"…a horrific, apocalyptic noise-scape full of the sounds of destruction, terror, and what sounds like skyscrapers being leveled." — Treble on "Beast Filth"
Avant-garde/death industrial/noise duo TO END IT ALL will unleash the harsh and harrowing sounds of their Scourge Of Woman full-length later this month via Scry Recordings. In advance of its release, Treble is streaming "Beast Filth," issuing of the traumatic hymn, "It's a horrific, apocalyptic noise-scape full of the sounds of destruction, terror, and what sounds like skyscrapers being leveled. And once [vocalist Joy] Von Spain's vocals enter the picture, it grows ever more malevolent. It's intense stuff, but these are dark times we're living in – it's somehow fitting."
Witness "Beast Filth" at Treble at THIS LOCATION.
And if you missed it, view TO END IT ALL's visual companion to the track "Lure" below.
Scourge Of Woman was recorded at Stop/Start Studio in Portland, Oregon and Khaos Studio in Seattle, Washington and will see digital release on the new date of September 28th with a vinyl edition to be unveiled November 6th. Preorders are currently available at THIS LOCATION.
Formed in the autumn of 2016, long-time collaborators – noise artist Masaaki Masao and vocalist Joy Von Spain – began to create new work as TO END IT ALL, forging songs from rhythmic harsh noise, experimental music, instrument sampling, and voice. Scourge Of Woman draws inspiration from death industrial and black noise acts like Pig Heart Transplant, Blue Sabbath Black Cheer, Sutekh Hexen, Throbbing Gristle, as well as artists like Onielar, Diamanda Galas, and Cosey Fanni Tutti. The album features the artwork of Seattle by-way-of Bay Area visual artist Anima Nocturna (Carlos Melgoza) in collaboration with Joy Von Spain.
"…dark, unsettling, and terrifying…" – Cvlt Nation on TO END IT ALL's "Lure"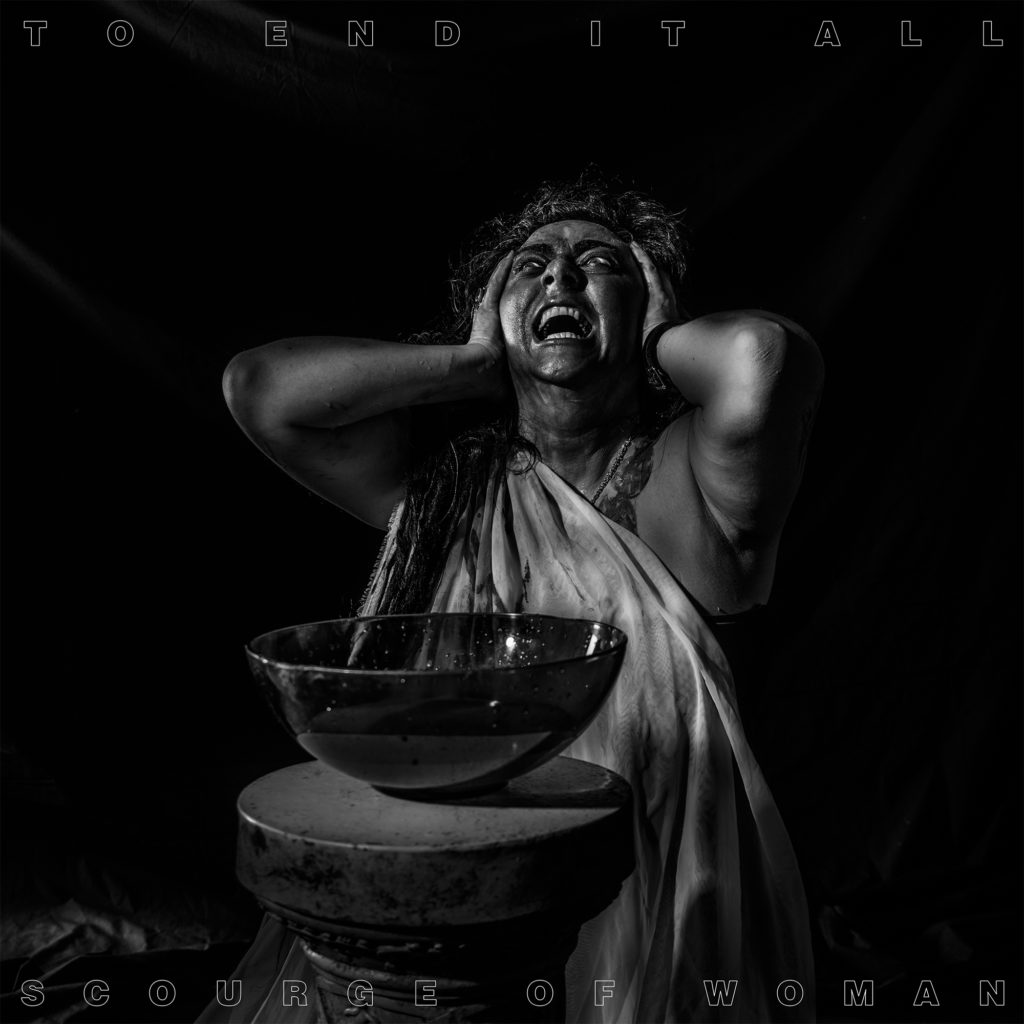 http://www.facebook.com/TEIAnoise
http://toenditall.bandcamp.com
http://www.scryrecordings.com/posts/artist/to-end-it-all
http://animanocturna.com