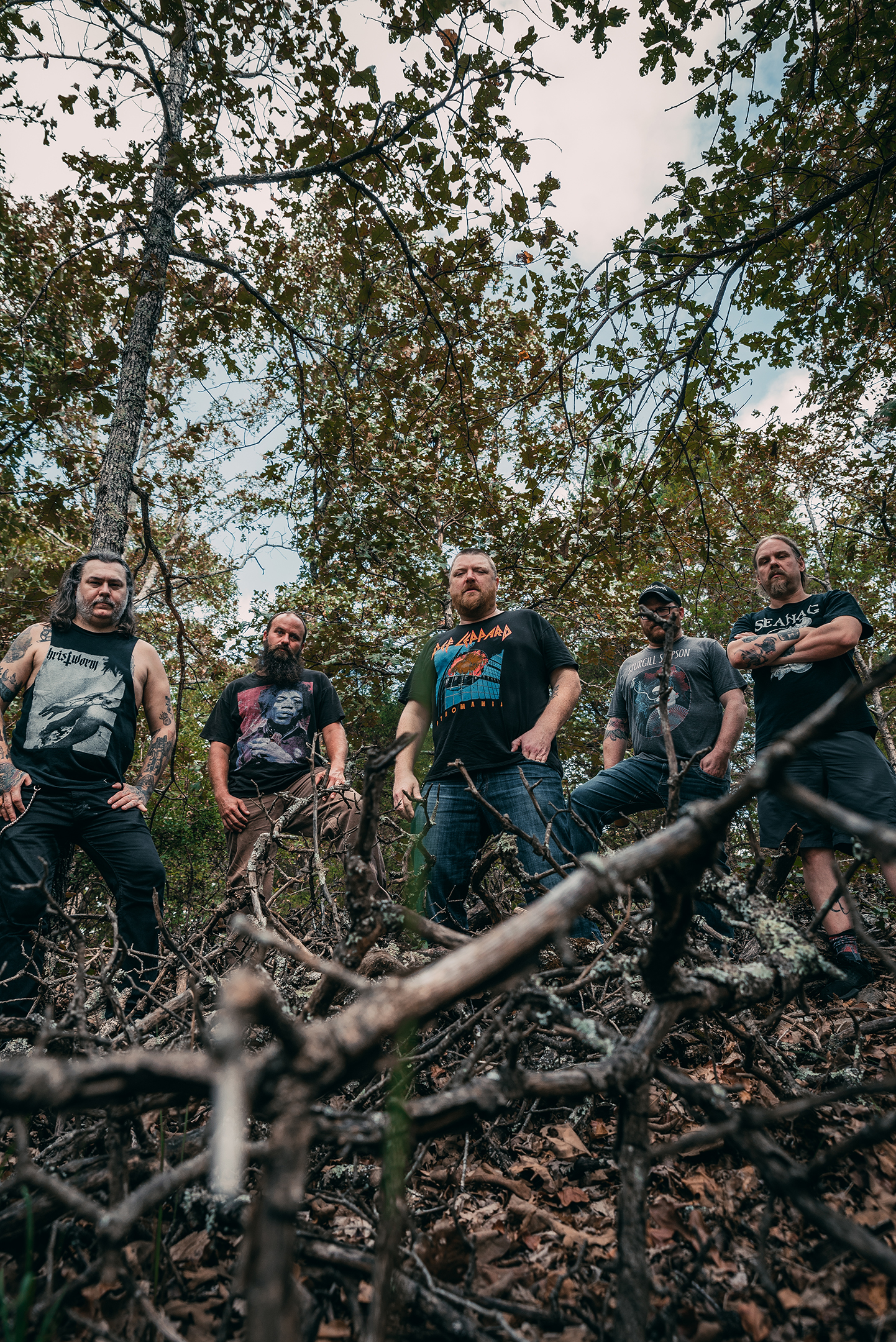 [photos by Adam Peterson]
Arkansas psychedelic metal outfit DEADBIRD, with its members also in Rwake, Iron Tongue, Pallbearer, and more, issue a new video for "Alexandria," through a premiere hosted by Decibel Magazine. The track is found on the long-running Arkansas psychedelic doom/sludge metal act's third album, III: The Forest Within The Tree – their first LP in a decade – which saw release last year through 20 Buck Spin.
The eight tracks comprising III: The Forest Within The Tree are DEADBIRD's best to date and signal the awakening of a new day for the band. Recorded in The ZZ Top Room at Ardent Studios and at AB Recording, both in Memphis, Tennessee, engineered, co-produced, and mixed by Alan Burcham, and mastered by Brad Boatright at Audiosiege, the LP features vibrant artwork by John Santos (Kylesa, Mutoid Man, Torche, Noothgrush, Catheter).
Following the release of III: The Forest Within The Tree, DEADBIRD issued their first-ever video for "Heyday," the longest song on the LP. Now, they return with their second video, for "Alexandria," one of the album's shortest and more aggressive tracks. As with the "Heyday" video, "Alexandria's" visual accompaniment was created by David Brenner, with live and additional footage provided by the band.
DEADBIRD offers, "We are stoked to get to work with Brenner again on this new video for 'Alexandria'! Both this video and the video for 'Heyday' are somewhat of a continual arc and we feel like what Dave/Gridfailure has accomplished is to really visualize the essence of our music and where we're coming from. We are surrounded by hills, rivers, forests in Arkansas and we definitely grew up cruising the dirt roads at night. It can get pretty psychedelic, for lack of a better word, in the small hours of the night way out in the country in Arkansas."
See DEADBIRD's psychedelic "Alexandria" video at Decibel RIGHT HERE.
III: The Forest Within The Tree is out now through 20 Buck Spin on LP, CD, and all digital formats, available t the label webshop HERE and via Bandcamp HERE. Also see the previously issued "Heyday" video HERE.
With more widespread touring imminent in the months ahead, DEADBIRD has a show coming up later this month with Eyehategod, Phobia, and Seahag in Little Rock on May 24th. July will see them playing in Little Rock on the 12th and headlining a show in Fayetteville with Vore, Serpentine, and Bones Of The Earth on the 13th. Watch for additional live updates to be issued.
DEADBIRD Live:
5/24/2019 Vino's – Little Rock, AR w/ Eyehategod, Phobia, Seahag [info]
7/12/2019 White Water Tavern – Little Rock, AR
7/13/2019 George's Majestic Lounge – Fayetteville, AR w/ Vore, Serpentine, Bones Of The Earth [info]
"For fans of doom and sludge, Fayetteville's DEADBIRD need no introduction. Their looming, woodsy brand of psychedelic metal has made them one of extreme metal's most respected bands, and has made them a pillar of Arkansas' music scene for decades." – Kerrang!
"… DEADBIRD have crept back into our hearts with their latest album, III: The Forest Within the Tree, another wildly creative LP that dips into doom and sludge with a progressive bent." – Revolver Magazine
"… DEADBIRD's interplay of melody, force, and psychedelia reminds me of what the gold standard of this kind of songwriting ought to be, and how few bands ever seem to achieve it." – Decibel Magazine
"…god damn if this new album isn't overwhelming. I swear, listening through this is a trial, but in a good way. It's difficult to make music so oppressive." – Invisible Oranges
" DEADBIRD's newest jewel of Southern gloom is deeply enthralling from start to finish. Across eight gut-wrenching tracks, their doomed and sludge-laden tones balance a dichotomy of hope and despair… It's a complete and well-written chapter in the Arkansas natives' book and arguably the best one yet." – Metal Injection
https://www.facebook.com/Deadbird1332
http://www.20buckspin.com
http://www.facebook.com/20buckspin
http://twitter.com/20buckspinlabel
http://listen.20buckspin.com