"Like the similarly-minded Om before them, ZAUM have begun to push outside the confines of a bass/drum duo, incorporating various bells and other atmospheric elements in order to convey the ambience that is so crucial to what they do now more than ever." — The Obelisk
Stream / Share ZAUM's Divination at THIS LOCATION
Divination is the spectacular new full-length from Psychedelic doom alchemists ZAUM set for US release Friday May 10th via Listenable Records. In advance of its release, The Obelisk is streaming the record in its consuming entirety.
Writes the esteemed blog, "Across a three-track sprawl, ZAUM successfully manage to stay on theme while significantly expanding their sound. At its core, Divination – which is the Moncton outfit's third full-length and first for Listenable Records – holds to much the same methodology as 2016's Eidolon or even 2014's debut, Oracles, but the context has shifted as bassist/vocalist/etc.-ist Kyle Alexander McDonald and drummer/percussionist Christopher Lewis have begun to embrace different contours and textures in their work. As with the last two albums, there are some clues to be found in the artwork, in this case exploring the theology and mysticism of Southeast Asia as well as some of the folk influence, but ZAUM's central purpose has not wavered and throughout the 18:27 opener and longest track (immediate points) 'Relic,' they show growth not by moving away from their initial purposes, but by advancing deeper and more complex arrangements…. As ZAUM have moved toward discovering their own sound, they've worked to conjure a singly dark vibe that Divination certainly brings to its most resonant realization yet. It's not that ZAUM are suddenly playing death or black metal – far from it – but as they began by transposing the tenets of doom onto their style, their breadth in that regard would seem to have expanded as well along with the rest of their modus."
Read the full review and hear Divination, courtesy of The Obelisk, at THIS LOCATION.
For Divination preorders visit the Listenable Shop at THIS LOCATION.
A direct continuance of the ever-evolving lore and world in which ZAUM has exposed, conceptually, the album unpacks a transmundane darkness from ancient Burma – touching on conflict, theism, and some esoteric events which play a key role in the developing canon of ZAUM. Audibly, the album portrays a dense and vivid dreamstate, supplanting the listener into an overseer's perspective of these aforementioned esoteric depths, reexperienced with a celestial clarity. The soundscapes within encapsulate an unveiled mysticism harnessed to unpack the fluidity of consciousness at the crux of the human condition.
ZAUM is a passage toward the dark realizations of the old world; a monolithic, doomy mantra-based meditative experience forged by bass and drums interwoven with sitar, woodwind, string, and synth textures. Based in New Brunswick, Canada, observers experience a tranquil resonance whereby the astral and physical planes can coexist and be understood from a natural perspective.
While ZAUM's meditative "mantra doom" sound stays quite true to what people have experienced to date, their sound and presentation certainly has progressed further into new territory on Divination with the inclusion of recorded instrumentation such as jaw harp, digideroo, singing saw, dilruba, saz, brass bells, brass bowl, and finger cymbals. In addition, their live experience now features a monumental change with the recruitment of Egyptian-Canadian evil queen Nawal Doucette to ZAUM, performing her mesmerizing dark dance rituals entrancing those who observe.
ZAUM:
Kyle Alexander Mcdonald – vocals, bass, textures
Christopher Lewis – drums, percussion
Nawal Doucette – visual performance art, ambiance
"…slip back into a trance-like state and let it's evil dulcet tones wash over you…" — Distorted Sound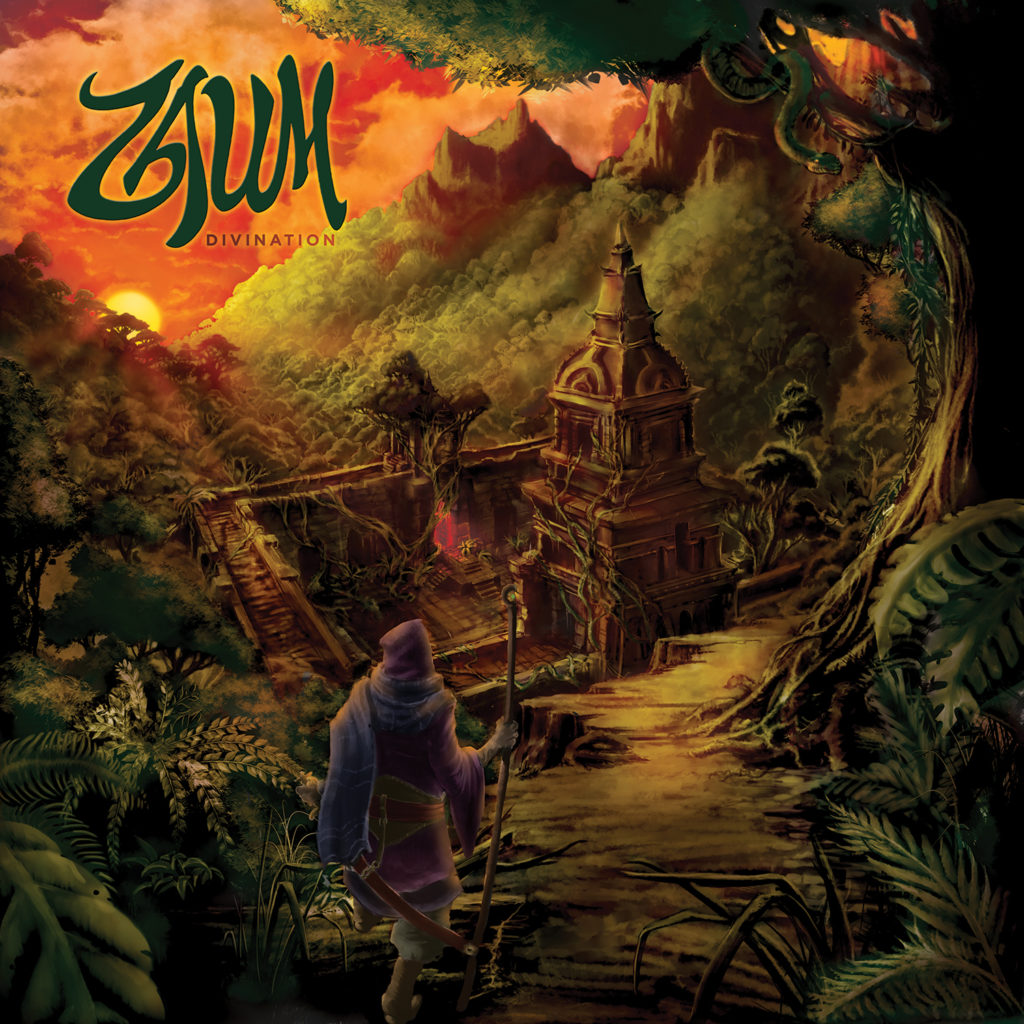 http://www.zaum.ca/
http://www.facebook.com.zaum
http://zaum.bandcamp.com
http://www.listenable.net
http://www.facebook.com/listenablerecs
http://www.twitter.com/Listenable