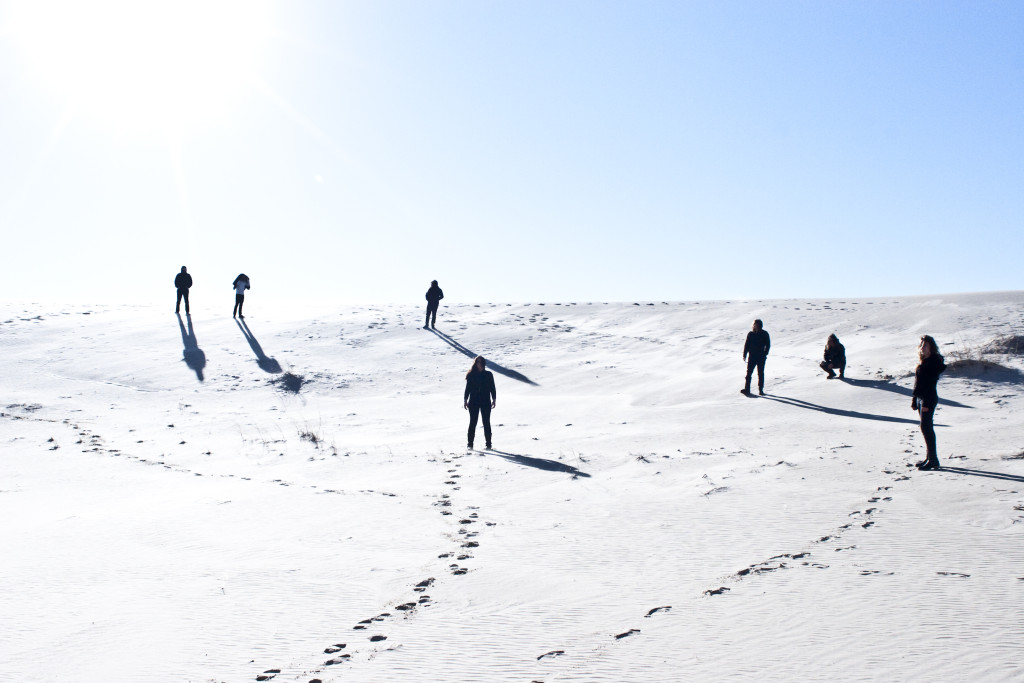 [photo by Kathleen Kennedy]
Texas-based apocalyptic doom septet, DEAD TO A DYING WORLD, has announced the dates for their European Litany tour, which is set to engulf much of this April.
From April 8th through 23rd, the European Litany Tour will see the enormous DEAD TO A DYING WORLD collective taking the tunes from their lauded Litany album to fans across Germany, Poland, Czech Republic, Austria, Netherlands, Belgium, France, and Switzerland. One of the tour's highlights will be the band's performances at Doom Over Leipzig Festival, where they'll share the stage with Buried At Sea, Cult Of Luna, Mantar, Jucifer, Abstracter, The Black Heart Rebellion, and more. But the foremost purpose for the tour's purpose lies in DEAD TO A DYING WORLD's inclusion in this year's Roadburn Festival, where they'll share the stage with such acts as Neurosis, Paradise Lost, Diamanda Galas, Converge, Amenra, Brothers Of The Sonic Cloth, and many others.
A trailer for DEAD TO A DYING WORLD's European Litany Tour created by Chariot Of Black Moth is playing RIGHT HERE.
DEAD TO A DYING WORLD European Litany Tour:
4/08/2016 LKA – Hannover, DE
4/09/2016 Köpi – Berlin, DE
4/10/2016 Variete – ZduÅ"ska Wola, PL
4/11/2016 Bajkazyl – Brno, CZ
4/12/2016 Venster99 – Wien, AU
4/13/2016 Kapu – Linz, AU
4/14/2016 Feierwerk – München, DE
4/15/2016 Doom Over Leipzig Festival – Leipzig, DE
4/16/2016 013 – Tilburg, NL @ Roadburn Festival
4/17/2016 Music City – Antwerp, BE
4/18/2016 Autonomes Zentrum – Mülheim an der Ruhr, DE
4/19/2016 TBA – Strasbourg, FR
4/20/2016 Kuzeb – Bremgarten, CH
4/21/2016 TBA РBesan̤on, FR
4/22/2016 KTS – Freiburg, DE
4/23/2016 Haus Mainusch – Mainz, DE
The massive the sophomore DEAD TO A DYING WORLD album Litany consumes two full LPs, the seven-member lineup incorporating violas, pianos, concert bass, multiple types of guitars and percussion and more into the more than seventy-three-minute opus, with guest appearances by members of Pallbearer, Sabbath Assembly, and Pinkish Black. The record was recorded and produced by Billy Anderson (Atriarch, Tragedy, Arabrot) and mastered by Brad Boatright (Black Breath, Sleep, Nails), and shows the band's sound reaching brilliant new heights. The record is a statement, a mantra, an epilogue, yet it gives just a hint to the musical manuscript underwritten by DEAD TO A DYING WORLD.
Litany is available on deluxe 200-gram 2xLP, CD and digital platforms via Tofu Carnage Records, Gilead Media, and Alerta Antifascista.
"If you ever wanted to hear the sound of the apocalypse, look no further… There are some moments where you want to bang your head, and others where you feel more appropriate kneeling down to pray." – Noisey
"Though the tools are different, DEAD TO A DYING WORLD suggest the same frisson as the Arcade Fire in their salad days and the same emotional ambiguity as Explosions in the Sky. There is no single style to Litany, just as there are no easy answers about the worries DEAD TO A DYING WORLD address." – Pitchfork
"With its second album Litany, DEAD TO A DYING WORLD plays the soothsayer of the agricultural apocalypse, reaped in a searing and gorgeous vision of crust-punk, doom- and black-metal, with a viola's sorrowful folk melodies stringing it all together." – NPR
"…a mix of Wolves In The Throne Room's pagan mysticism and Godspeed You! Black Emperor's progressive vastness, plus a thorny edge of vintage crust." – AV Club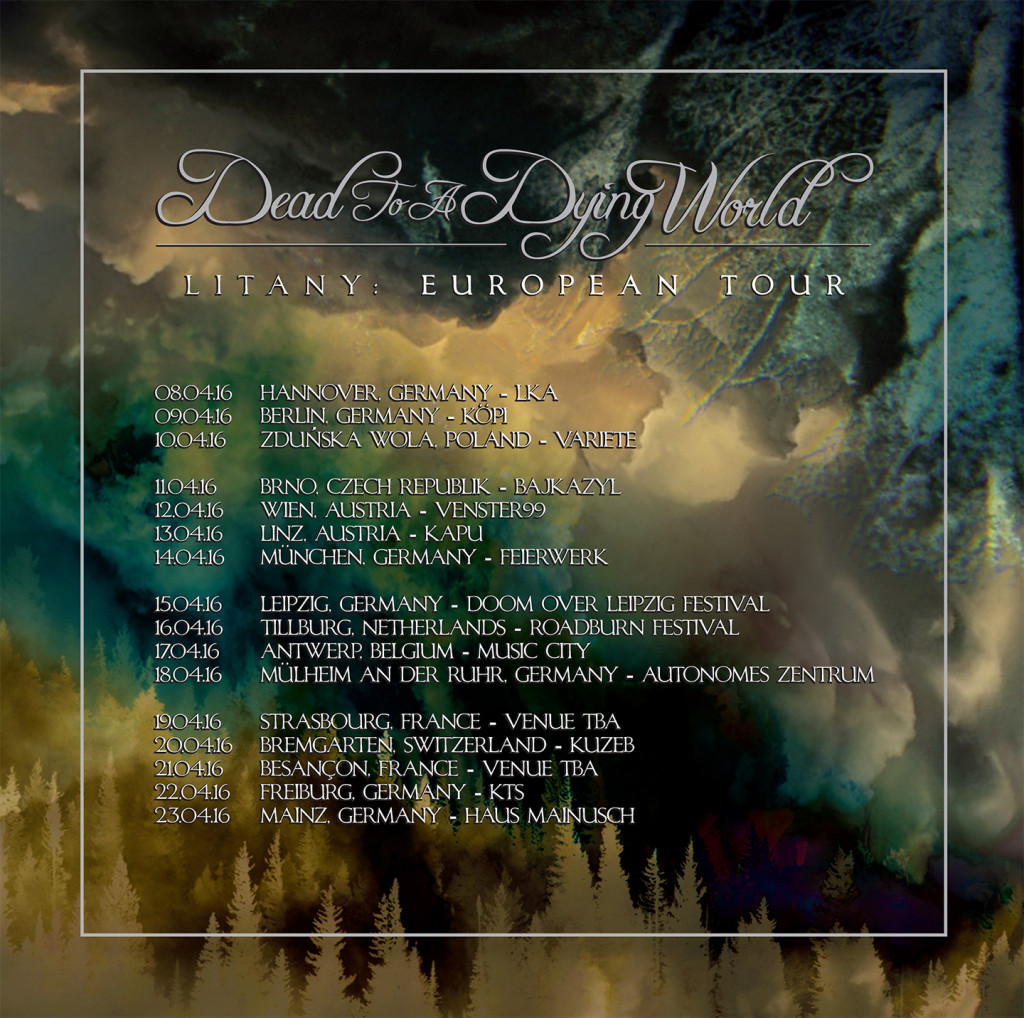 http://www.deadtoadyingworld.com
http://www.facebook.com/DeadToADyingWorld
http://www.deadtoadyingworld.bandcamp.com
http://www.tofucarnage.com
http://www.gileadmedia.net
http://www.doomrock.com