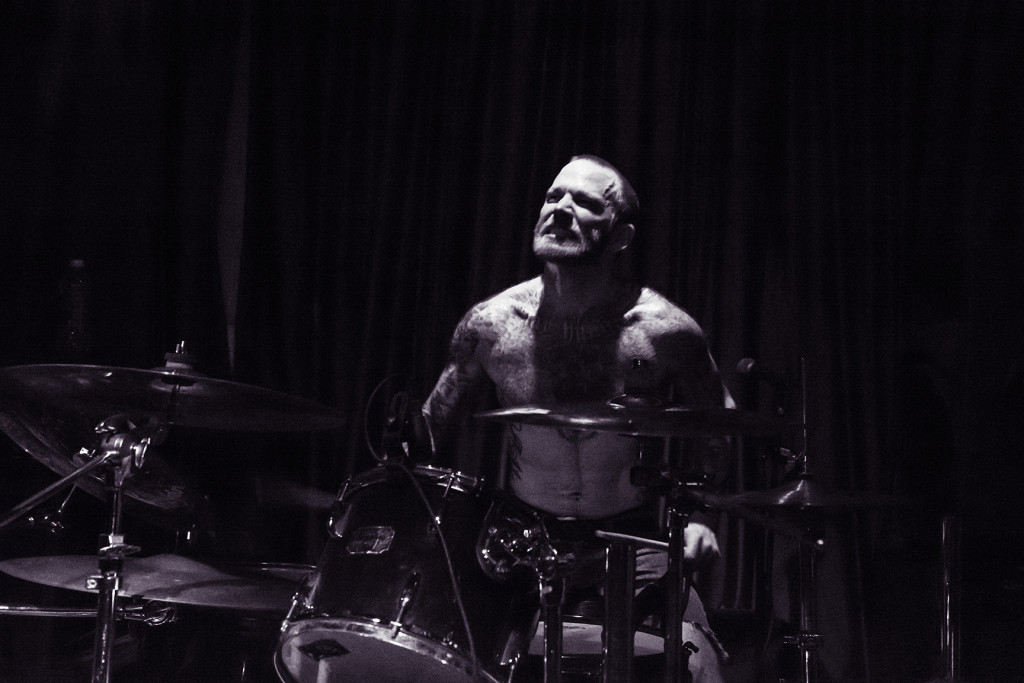 [photo by Dante Torrieri]
While DIE CHOKING is currently embarked on their first European tour this week, an insane new session video with drummer Joshua Cohen has been released through Cvlt Nation. Showcasing some of the scene's most creatively destructive percussion, Cohen and ripping bandmates, bassist/vocalist Paul Herzog and guitarist Jeffrey Daniels, here slay through multiple tracks from their unrelenting III LP.
Watch DIE CHOKING's new video feature at Cvlt Nation RIGHT HERE.
DIE CHOKING began their first European venture in recent days, as the Grind Is The New Black tour sees them paired with Paris-based Department Of Correction for most of the month. Having already shredded through Paris, Roubaix, London, Bristol, and Newcastle, with Liverpool on the menu for tonight, the tour runs straight through the 27th, including a set at the first DeathFist Fest in Nantes.
DIE CHOKING's III has been issued glowing accolades from international punk and metal press outlets and bewildered fans who have witnessed the trio deploying the LP's ripping anthems live. III will now be issued on CD, the disc being made available on their European tour. The CD will then be available in Europe via Selfmadegod Records and in the US via The Compound Recs/Earsplit Distro on February 26th.
The limited vinyl pressing of III, preorders for the CD version, and more can be found exclusively right HERE, and other merch options via the band HERE.
Stream III at Soundcloud HERE and Bandcamp HERE.
DIE CHOKING III Tour Dates:
2/17/2016 Maguire's Pizza Bar – Liverpool, UK w/ Department Of Correction
2/18/2016 The Old Angel – Notthingham, UK w/ Department Of Correction
2/19/2016 DeathFist Fest – Nantes, FR w/ Department Of Correction [info]
2/20/2016 Raymond Bar – Clermont Ferrand, FR w/ Department Of Correction
2/21/2016 Les Pavillons Sauvages – Toulouse, FR w/ Department Of Correction
2/22/2016 Thunderbird Lounge – Saint Etienne, FR w/ Department Of Correction
2/23/2016 Haus Mainush – Mayence, DE w/ Department Of Correction
2/24/2016 Sanitätstelle – Chemnitz, DE w/ Department Of Correction
2/25/2016 Epplehaus – Tübingen, DE w/ Department Of Correction
2/26/2016 Cafete – Bern, CH w/ Department Of Correction
2/27/2016 Black Box – Saint Dizier, FR w/ Department Of Correction
3/04/2016 Berserker Fest III – Detroit, MI [info] w/ Conan, Cannabis Corpse, Black Tusk, Yautja
3/05/2016 House Show – Lansing, MI w/ Sunlight's Bane, Dead Hour Noise, Mutilatred
3/10/2016 Gallery 5 – Richmond, VA w/ Fucking Invincible
3/11/2016 Sidebar – Baltimore, MD w/ Fucking Invincible
3/12/2016 Lava Space – Philadelphia, PA w/ Fucking Invincible
4/08-09/2016 Voltage Lounge – Philadelphia, PA @ Useless Christ Fest 14 w/ Birdflesh, Suffocation
4/14/2016 Riffhouse Pub – Chesapeake, VA w/ Organ Dealer, Amara
4/15/2016 The Station – Charlotte, NC w/ Organ Dealer
4/16/2016 Slims – Raleigh, NC w/ Organ Dealer
5/12/2016 The Funky Jungle – Providence, RI w/ Pyrrhon
5/13/2016 Obrien's – Boston, MA w/ Pyrrhon
5/14/2016 Geno's Rock Club – Portland, ME w/ Pyrrhon
5/15/2016 – Westcott Community Center – Syracuse, NY
6/03-05/2016 Katacombes – Montreal, QC @ Earslaughter Fest Vol 1 w/ Birdflesh, Malignant Tumor, War Master, Disrotted, etc. [info]
7/08-10/2016 Tiny Boat Art Space in Asheville, NC @ Blood Rust II Fest w/ Torch Runner, Prisoner, more
http://www.diechoking.com
http://www.facebook.com/diechoking
http://www.diechoking.bandcamp.com
http://www.facebook.com/TheCompoundRecs
http://www.thecompoundrecs.com
http://www.earsplitdistro.com
http://www.thecompound.bandcamp.com