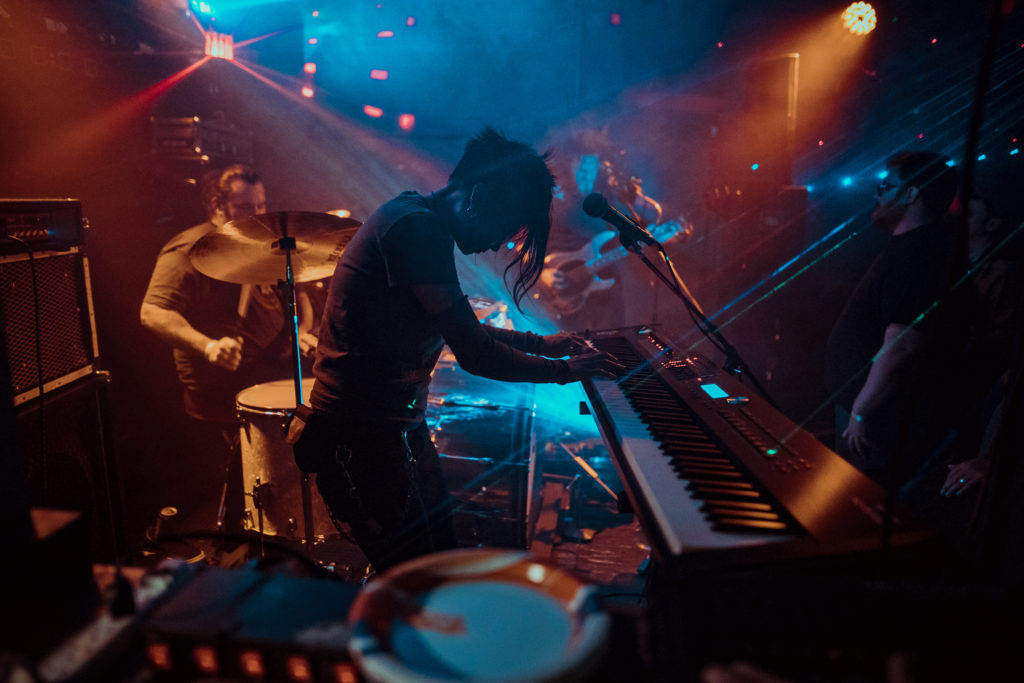 photo by Oscar Moreno
Georgia's post/alt-doom metal trio DEAD REGISTER will return to the road this week, embarking on a two-week East Coast tour with their comrades in Friendship Commanders. The tour begins this Friday, November 12th in their hometown of Atlanta and runs through Gainesville, Jacksonville, Charlotte, Baltimore, Philadelphia, Cambridge, Brooklyn, Rochester, Youngstown, Hamtramck, and Chicago, ending with a solo set a Black Circle Brewing in Indianapolis on November 28th.
DEAD REGISTER Fall East Coast Tour w/ Friendship Commanders:
11/12/2021 Boggs Social Club – Atlanta, GA
11/13/2021 Loosey's Pub – Gainesville, FL
11/14/2021 Justice Pub – Jacksonville, FL
11/15/2021 The Milestone – Charlotte, NC
11/18/2021 The Depot – Baltimore, MD
11/19/2021 Kung Fu Necktie – Philadelphia, PA
11/20/2021 Middle East – Cambridge MA
11/21/2021 The Kingsland – Brooklyn, NY
11/23/2021 Photo City Music Hall – Rochester, NY
11/24/2021 Westside Bowl – Youngstown, OH
11/26/2021 New Dodge Lounge – Hamtramck, MI
11/27/2021 Reggie's Music Joint – Chicago, IL
11/28/2021 Black Circle Brewing – Indianapolis, IN *DEAD REGISTER only
DEAD REGISTER independently released their extended Don't Fail Me maxi-single/EP in February, including the ambitious new single "Don't Fail Me," three live soundboard recordings, and a Lament Cityscape remix of "Don't Fail Me." The band also released an intense live-action mixed-media puppet extravaganza music video created by the band's Avril Che and M. Chvasta.
Following the EP's release, DEAD REGISTER was picked up by Seeing Red Records who will release their new LP in 2022.
See DEAD REGISTER's "Don't Fail Me" video HERE and stream the entire EP HERE.
The Don't Fail Me maxi-single is available on CD, cassette, and digital through the band's AVR Records HERE.
"We've described them as post-rock, post-punk, and deathrock doom, but none of those labels do this Georgia band justice. They're creating a sound that's their own, and it's a pleasure to listen to." – Cvlt Nation
"…'Don't Fail Me,' even from the start, gives off a dark and sinister feel, a presence looming in the shadows. As the chorus drops in, it's like a sledgehammer, and it really elevates the somber mood. It's crushingly heavy during the chorus passages, and the vocal is absolutely perfect alongside the dark soundtrack." – The Sleeping Shaman
"…purveyors of hefty, bass heavy stomps that feature soaring vocals and poignant melodies that touch as much as they rip… the trio pump out a hefty mix of their particular brand of Neurosis-meets-The Cure art doom, writhing through delicate arpeggios, subtle drums and Chvasta's signature croon before building into a crushing, swirling wall of thick, throbbing bass and belted vocals." – Nine Circles
https://www.deadregister.com
https://deadregister.bandcamp.com
https://www.youtube.com/deadregister
https://www.facebook.com/deadregister
https://www.instagram.com/dead_register
https://twitter.com/deadregister