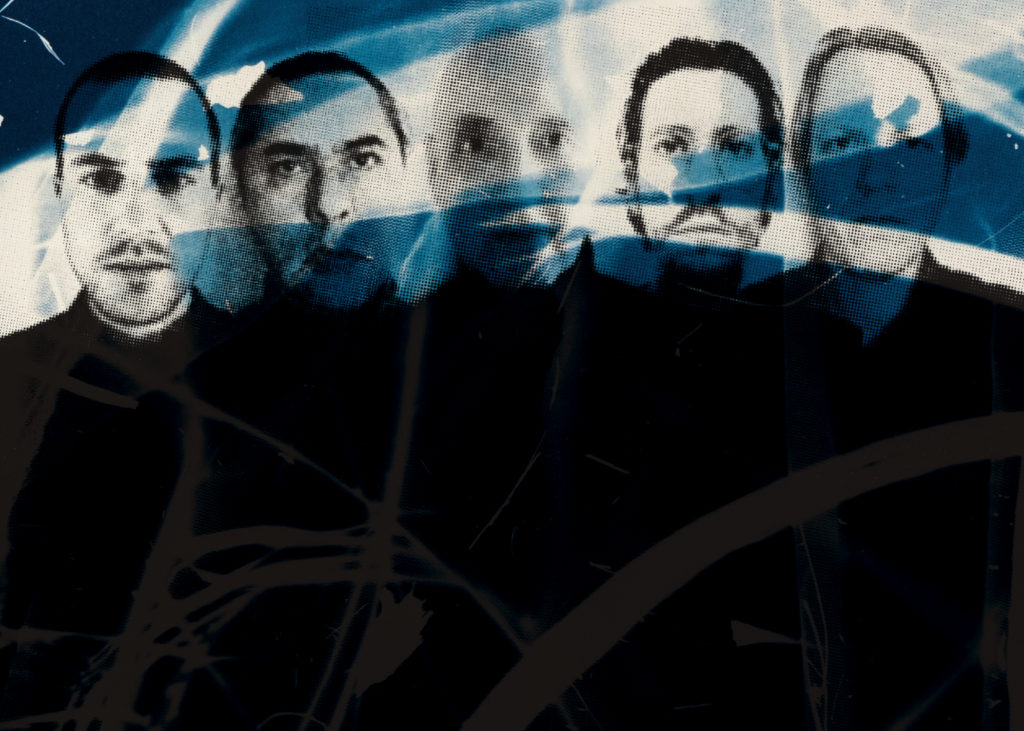 "…apocalyptically heavy and thoughtfully complex…" – Invisible Oranges
Chicago-based experimental post-punk/doom metal collective ANATOMY OF HABIT is excited to announce their third album, Even If It Takes A Lifetime, set for release on December 10th, 2021. This will be the first of two new albums ready to be unveiled to the public.
ANATOMY OF HABIT – Alex Latus (guitar), Isidro Reyes (metal percussion), Skyler Rowe (drums), Mark Solotroff (vocals), and Sam Wagster (bass + lap steel) — recorded both offerings with Sanford Parker, shortly before the pandemic, with mixing (by Parker) and mastering (by Collin Jordan) carried out during the long shutdown. Along with the band's core instrumentation, listeners will hear piano, organ, analog synth, and vibraphone woven into the songs.
Even If It Takes A Lifetime is comprised of three tracks. Opener "A Marginal World" is the shortest song that the band has ever released, clocking in at under seven-minutes, and showing a greater urgency than often seen from ANATOMY OF HABIT. Lyrically, it describes a distinctive bond between two people that ends with a sudden rupture. Things begin to stretch out with "Your Pure Breath," a 14-minute song that ebbs and flows between calmer, slower passages and heavier sections that propel the listener into a more frenzied pace. The album then shifts gears, as the long, atmospheric beginning of "Now We Finally Know Ourselves" builds into a dense, psychedelic soundscape, from which the band emerges with their more familiar play with contrast, over the song's 19-minutes.
Thematically, the album continues band leader Solotroff's reflections on love and loss, the creative process, the abstracted and vanishing self, and a sense of absolute obliteration. The potentially nostalgic album title may allude to a sense of hope and may indicate that all is not lost, or at least it may point to an inner drive to keep pushing forward.
In advance of the record's release, today the band debuts opening psalm, "A Marginal World," now playing at Invisible Oranges.
Elaborates SOLOTROFF, "When you release a new album, you never really think to yourself, 'It's going to be seven years until the next one comes out,' but that's what happened. After Ciphers + Axioms was released in late 2014, life happened, along with all of the things that involves, both good and bad. Add a global pandemic to the mix, to complicate things even further. So, we decided to take things into our own hands and get this album out into the world before another year or two suddenly passed us by. 'A Marginal World' kicks off the album. It's the shortest song that we've ever written and it perfectly encapsulates some of the things that were absorbed into the black hole of these past several years, even if it only makes sense to me, or to us, or to a very small circle of friends outside of the band. My bandmates – my friends – and I are extremely happy that Even If It Takes A Lifetime is finally seeing the light of day and we hope that it clicks with some people out there, whether it's the music, the lyrics, or the mood."
Adds Invisible Oranges, "On the band's new album Even If It Takes A Lifetime, their first in seven years, it's like nothing changed. Still apocalyptically heavy and thoughtfully complex, ANATOMY OF HABIT's lost time simply vanished. It's 2013 again and I'm watching ANATOMY OF HABIT at the Cobra Lounge, completely leveling the place, my friends and I all damaging our necks and brains and minds to the swirling mass of volume."
Read more and stream ANATOMY OF HABIT's "A Marginal World" at THIS LOCATION.
Even If It Takes A Lifetime will be released on CD, handsomely packaged in a six-panel digipak designed by Jonathan Canady, a longtime creative associate of the band. A cassette version will also be released, with light blue shells and a four-panel insert. The packaging for all formats will incorporate a series of lush, corporeal cyanotypes by New York-based artist Alexandra Lerman, a close friend of Solotroff. A vinyl edition will follow at a later date.
Find preorders at THIS LOCATION.
Even If It Takes A Lifetime Track Listing:
A Marginal World
Your Pure Breath
Now We Finally Know Ourselves
ANATOMY OF HABIT will celebrate Even If It Takes A Lifetime with a record release show December 8th at The Empty Bottle with additional performances to be announced in the weeks to come.
ANATOMY OF HABIT:
12/08/2021 The Empty Bottle – Chicago, IL * record release show w/ Human Impact, Child Bite [info]
ANATOMY OF HABIT formed in Chicago in October 2008. Although the band has experienced significant changes since forming, this is their longest-standing and most prolific lineup. It's no wonder that they've gelled the way they have. Rowe and Latus have known each other since they were teenagers, growing up in Indianapolis' heavy music scene and playing together in the band Still. Rowe and Wagster have been creating a strong body of work together in the pastoral instrumental Mute Duo. Reyes and Solotroff are old friends who've played together in both BLOODYMINDED and The Fortieth Day, for many years. This deep connective tissue has contributed to consistently effortless writing sessions and solidly fused live performances.
The band incorporates elements of doom metal, post-punk, death-rock, early-industrial, psychedelic, and shoegaze. The band's last album, Ciphers + Axioms, was released by Relapse Records. Once Even If It Takes A Lifetime completes its full cycle, the band intend to follow up with their next album, Black Openings.
ANATOMY OF HABIT:
Alex Latus – guitar
Isidro Reyes – metal percussion
Skyler Rowe – drums, vibraphone
Mark Solotroff – vocals, analog synth
Sam Wagster – bass, lap steel, piano, keyboard
http://anatomyofhabit.com
http://anatomyofhabit.bandcamp.com
http://www.instagram.com/anatomyofhabit
htts://www.facebook.com/anatomyofhabit/