An intensely bitter act hailing from the temperate climate of Atlanta, Georgia, DEAD IN THE DIRT have confirmed an upcoming 7″ EP release via Southern Lord for late this September, simply and aptly entitled, Fear.
A savage fucking wrecking crew who merges blinding hardcore fury with blackened metallic might, DEAD IN THE DIRT simultaneously and effectively spew forth filthy, musical mayhem, while concurrently displaying clear and concise production values in their destructive hymns. The band's unhinged style draws from the discordant heaviness His Hero is Gone, the urgency of Cursed, the speed of DropDead and the blackened darkness of Deathspell Omega.
DEAD IN THE DIRT's debut EP, Fear, is literally one of the heaviest and most brutal recordings from a new act to come out in recent times! The Fear 7″ will see a one-time pressing of 1500 copies via Southern Lord on September 27, 2011, and once it's sold out, it's dead…
In support of the release DEAD IN THE DIRT are set to hit the road for most of September, kicking the shit off with a record release show on September 10th with Earth and Mount Eerie.
DEAD IN THE DIRT Fall 2011 Live Aktions:
9/10/2011 Caledonia Lounge – Athens, GA *record release show with Earth, Mount Eerie
9/12/2011 Roundhill Community Center – Lexington, SC
9/13/2011 The Courthouse – Rock Hill, SC w/ Nail Biter
9/14/2011 The Warehouse – Richmond, VA w Fire And Ice
9/15/2011 The Blue Nile – Harrisonburg, VA
9/16/2011 Episcopal Church – Frederick, MD w/ Eddie Brock, Wire Tap, Passengers
9/17/2011 secret location – New Brunswick, NJ w/ Old Wounds, Divider
9/18/2011 The Acheron – Brooklyn, NY w/ Meek Is Murder, In The Shit, Scowl
9/19/2011 secret location – Wallingford, CT w/ Iron Hand
9/20/2011 New Catalonia – Providence, RI w/ Weak Teeth
9/21/2011 PT 109 – Brighton, MA w/ In The Shit, Hivesmasher, Lolita Black
9/22/2011 Dad City – Amherst, MA
9/23/2011 ROTA – Plattsburgh, NY
9/24/2011 *TBA/HELP WANTED – Buffalo, NY
9/25/2011 Roboto Project – Pittsburgh, PA w/ Masakari
9/26/2011 Tower 2012 – Cleveland, OH w/ Masakari
9/27/2011 321 Main Street – Barnesville, OH
9/28/2011 The Back Lot – Cincinnati, OH
9/29/2011 Little Hamilton – Nashville, TN
9/30/2011 Sluggo's – Chattanooga, TN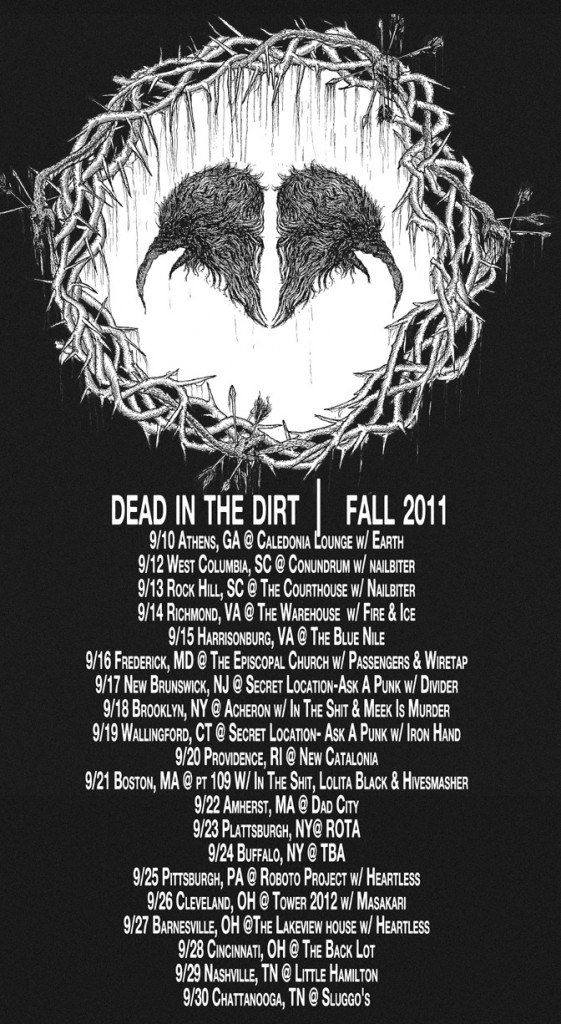 Stay tuned for more updates on DEAD IN THE DIRT throughout the rest of the year as they spread their riotous filth through the lands…
http://www.facebook.com/deadinthedirt
http://www.southernlord.com
http://blog.southernlord.com
http://twitter.com/twatterlord