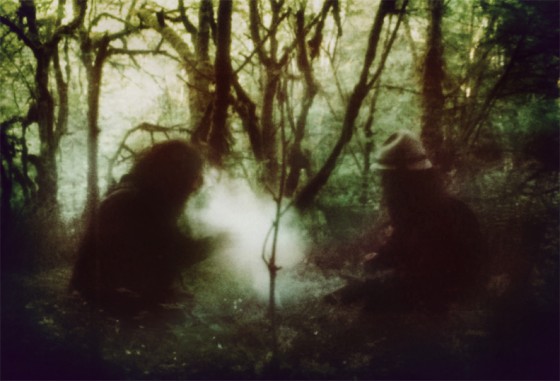 Today, Pitchfork Media are hosting a stream of "Thuja Magus Imperium," the opening track from the WOLVES IN THE THRONE ROOM clans' new astral black metal document, Celestial Lineage. Weighing in at over eleven and a half minutes, the anthem beholds some of the band's most elemental blackened prowess, their signature cavalcade of percussion, and the contrast between both scathing and beautiful clean vocals, the track also boasts some of the most epic guitar leads the band has ever put to tape.
Hear the mammoth hymn at this location.
With Celestial Lineage set for release via Southern Lord in less than two weeks, WOLVES IN THE THRONE ROOM have already embarked on their latest tour to promote the new material. The clan perform in Chicago tonight, then continue onward for another full month of live appearances across the North American continent.
WOLVES IN THE THRONE ROOM North American Tour:
9/01/2011 Reggie's Rock Club – Chicago, IL
9/02/2011 Rudyard Kipling – Louisville, KY
9/03/2011 The Mockbee – Cincinnati, OH w/ Thou
9/04/2011 Ravari Room – Columbus, OH w/ Thou
9/05/2011 Olde Jamestowne Hall – Saginaw, MI w/ Thou
9/06/2011 Soybomb HQ – Toronto, ON w/ Thou
9/08/2011 Death Church – Montreal, QC w/ Thou
9/09/2011 *outdoor show – Northfield, VT [92 Brooks Road]
9/10/2011 Deering Grange Hall – Portland, ME
9/11/2011 parking lot of 39 Manton Ave – Providence, RI w/ Thou
9/12/2011 The Bell House – Brooklyn, NY w/ Thou
9/14/2011 Death By Audio – Brooklyn, NY w/Thou
9/15/2011 Broad Street Ministry- Philadelphia, PA w/ Megaton Leviathan, Vit, Woe
9/16/2011 Steel City Firehall – Bethlehem, PA w/ Megaton Leviathan
9/17/2011 Strange Matter – Richmond, VA w/ Megaton Leviathan
9/18/2011 Legitimate Business – Greensboro NC w/ Mt. Eerie, Megaton Leviathan
9/20/2011 JD's – Sheffield, AL w/ Megaton Leviathan
9/21/2011 The Little Hamilton – Nashville, TN w/ Megaton Leviathan
9/22/2011 Club 529 – Atlanta, GA w/ Megaton Leviathan
9/23/2011 The Chop Shop – St Petersburg, FL w/ Megaton Leviathan
9/24/2011 The Farside Collective – Tallahassee, FL w/ Megaton Leviathan
9/25/2011 Nowe Miasto – New Orleans, LA w/ Thou, Megaton Leviathan
9/27/2011 Red 7 – Austin, TX w/ Megaton Leviathan
9/28/2011 Lola's Saloon – Fort Worth, TX w/ Garuda, Megaton Leviathan
9/30/2011 Rhinoceropolis – Denver, CO
10/01/2011 TBA – Salt Lake City, UT
10/02/2011 Visual Arts Collective – Boise, ID
10/03/2011 New Frontier Outdoors – Tacoma, WA
"…one of the better records of 2011. Its continual focus and persistent experimentation of style makes it a fine conclusion to any trilogy started 4 years ago. 9/10" – Chronicles of Chaos
"…otherworldly music that you can keep going back to, music that will continue to reward with fresh nuances, listen after listen.9/10" – Metal Review
"…the best work Wolves In The Throne Room has accomplished to date. 9/10" – Crave Online
"On Celestial Lineage, Wolves In The Throne Room have created their masterpiece… the band continues to push them to the top of their genre and differentiate them from their peers." – Cvlt Nation
"…once again, the Weaver brothers fly in the face of what typical bands would do. A+" – Metal Army America
http://www.wittr.com
http://www.facebook.com/pages/Wolves-In-The-Throne-Room/48294546133?sk
http://www.southernlord.com
http://blog.southernlord.com
http://twitter.com/twatterlord