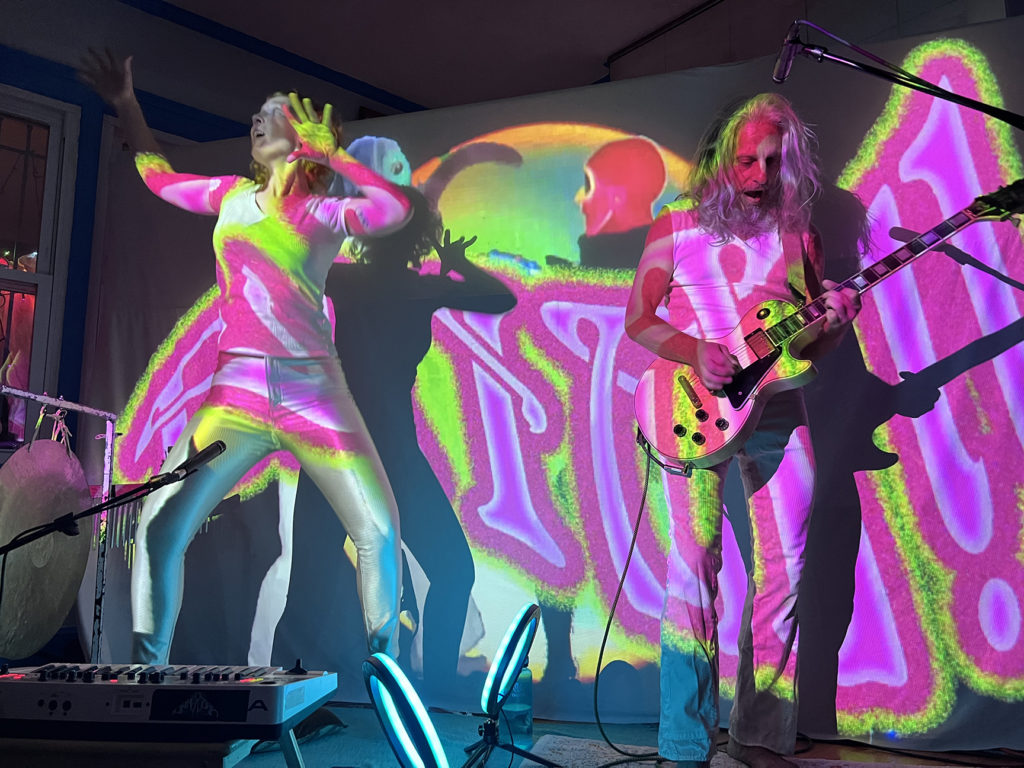 photos by Julia Vering
Baltimore, Maryland psych/prog duo DARSOMBRA continues their mammoth stretch of tour dates this week. Following multiple spurts of touring across the Northeast throughout most of September, the band now heads out across the Southern half of the country for all of October, beginning this Wednesday, October 5th and running through the 30th. See all confirmed dates below and watch for updates to post.
DARSOMBRA released their Call The Doctor/Nightgarden single in April 2021 as a bridge between their 2019-issued Transmission LP and its successor, a lengthy double-album, which is currently under construction. For their Spring 2022 tour, the band released a cassette maxi-single of Call The Doctor/Nightgarden, featuring two exclusive bonus tracks – "Thunder Thighs" (live 2020) and "Fill Up The Glass" – on the B-side, totaling more than fifty-three minutes of sonic bliss.
DARSOMBRA is also working on a remix project, collecting reimagined versions of their song "Call The Doctor." Artists interested in taking part in the remix project are invited to contact the band through their website or social media channels.
Watch the official "Call The Doctor" and "Nightgarden" videos and much more at DARSOMBRA's YouTube channel HERE.
Find DARSOMBRA's releases at Bandcamp HERE and their webshop HERE.
DARSOMBRA Tour Dates:
10/05/2022 Spot On Kirk – Roanoke, VA w/ Dover & The Elevators, Dodomeki
10/06/2022 The Hideaway – Johnson City, TN w/ Samsara, Trauma Bondage
10/07/2022 Static Age – Asheville, NC w/ Khandroma, Nyugen/Shahmir Duo
10/08/2022 Corner Lounge – Knoxville, TN w/ NeoWizard
10/09/2022 Springwater – Nashville, TN w/ Spirits Republic, Wynton Existing
10/11/2022 Hi Tone – Memphis, TN w/ General Labor, Sunweight
10/12/2022 White Water Tavern – Little Rock, AR w/ The Lights Inside The Woods
10/13/2022 Division Brewing/Growl Records – Arlington, TX w/ Pastel Dynasty, Death Party ATX, The Bloody Knuckles
10/14/2022 The 101 – Bryan, TX w/ Cortège, Doomstress, Quinn The Brain
10/15/2022 Faust Tavern – San Antonio, TX w/ Red Beard Wall, Cortège
10/16/2022 Chess Club – Austin, TX w/ Cortège, Narrow Haunts
10/18/2022 Freetown Boom Boom Room – Lafayette, LA w/ Space Desert Electric Acid Machine
10/19/2022 The Goat – New Orleans, LA w/ Three Brained Robot, Cloud Powers, Soul Glimpse
10/21/2022 Coosa River Craft House – Wetumpka, AL
10/22/2022 Sabbath Brewing – Atlanta, GA w/ Posadist, Joshua Washburn
10/23/2022 The World Famous – Athens, GA w/ Sacred Bull, Rat Babies
10/25/2022 El-Rocko – Savannah, GA w/ Lobstrosity
10/26/2022 Tua Lingua – N. Charleston, SC w/ data_corrupter, Bud
10/27/2022 Milestone – Charlotte NC
10/28/2022 Monstercade – Winston-Salem, NC w/ Dead Register, Elevated Weirdo Gameshow
10/29/2022 Nash – Greenville, NC w/ Paleface
10/30/2022 5th Annual Mischief Night Bonfire @ Sue Creek Studio – Essex, MD w/ DJ Cornflake Hill
11/19/2022 Metro – Baltimore, MD w/ Katrina Ford, Moth Broth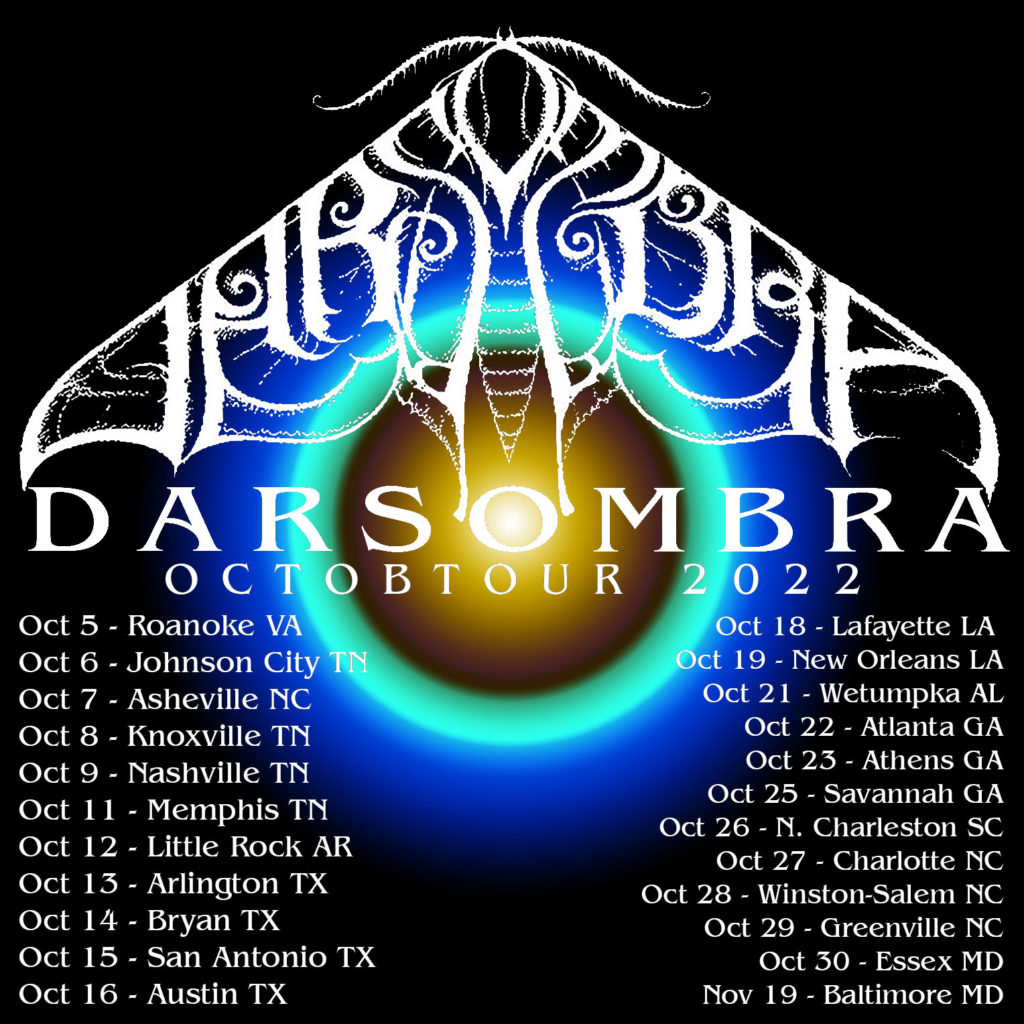 https://www.darsombra.com
https://darsombra.bandcamp.com
https://www.facebook.com/darsombra
https://www.youtube.com/darsombra
https://www.instagram.com/darsombra