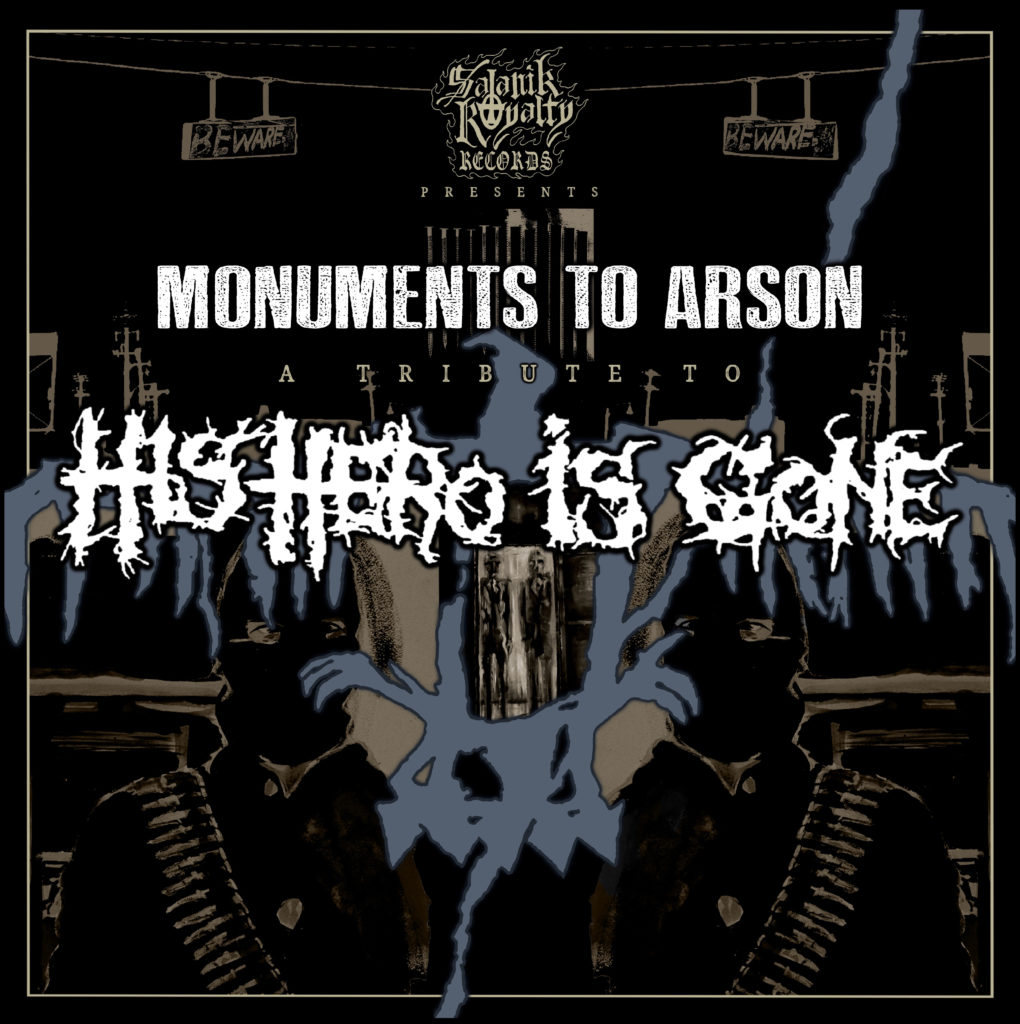 The digital edition of Monuments To Arson – A Tribute To His Hero Is Gone compilation is out TODAY via Satanik Royalty Records.
A compilation honoring Memphis, Tennessee quintessential cult neo-crust act His Hero Is Gone, the collection features Many Blessings, Open Veins, Isenordal, deathCave, Heiress, Nightmare Fuel, Old Iron, Githyanki, HEEL, Blast Cells, Impulse Noise, Nuclear Dudes, Wretched Fuck, and Plaguestate. All digital and vinyl proceeds (minus shipping costs) from the Monuments To Arson… collection will be donated to the Fairbanks Native Association, an indigenous organization that assists with drug and alcohol dependency, mental wellness, and more. The compilation marks the first of many the label plans to release for charity.
Stream Monuments To Arson – A Tribute To His Hero Is Gone via the Satanik Royalty Bandcamp page HERE.
The vinyl edition — limited to 700 copies on various color variants — will be released in March or 2023. Find preorders at the Satanik Royalty Records shop HERE.
In the past, tribute albums were reserved for just a handful of bands that penetrated the public consciousness, like Black Sabbath. But the democratization of music and the collapse of large labels, in addition to the perpetual nostalgia machine that is the Internet, offers plenty of bands that existed on the fringes long post lives. Case in point: His Hero Is Gone – a crust punk band from Memphis – existed for a brief window from 1995 to 1999. But their defiant songs, expansive sound, and aesthetic have proved alluring for generations of listeners. The band gets a fantastic tribute treatment via Satanik Royalty Records' new compilation, Monuments To Arson. A collection of Seattle bands come together to tap His Hero Is Gone's primal energy and ferocity and find fresh inspiration in these songs. ISENORDAL provides a ferocious take on "Headless Heartless" with piano backing, deathCAVE tears through "Leash" with grind ferocity, and Old Iron's "Chain Of Command" sounds as expansive as later-era Neurosis. Like all the best tributes, Monuments To Arson succeeds because the tribute material is a launching point — almost an undiscovered country — rather than something to be copied. The production of this collection is also flawless, which is a feat considering all the different styles at play. Ultimately Monuments To Arson isn't just a tribute; it's a reimagining of a bold collection of material born out of prehistoric ferocity. Even if you'd never heard of this band, this collection would do something for you. [Words by Justin M. Norton]
Forged in 1995, His Hero Is Gone was short-lived but left an impact on heavy music that resonates to this day. The band's landmark sound is at once crushing, brutal, and marked by intense dual growling vocals. In their brief existence, the band released Fifteen Counts Of Arson (1996), Monuments To Thieves (1997), and The Plot Sickens (1998) as well as a handful of seven-inches that influenced scores of hardcore and grind bands. His Hero Is Gone took an intensely anti-corporate, anti-consumerist stance, and their lyrics often dealt with radical political ideals. They disbanded in 1999, with the various members forming several new acts, most notably the similarly pummeling Tragedy.
"With Monuments to Arson, the continued relevance of a band admired by a variety of artists is shown as well as the creativity they have inspired in one way or another. Along with that, funds from the release will be used in a practical way." – No Echo
http://www.satanikroyaltyrecords.com
http://www.facebook.com/satanikroyaltyrecords
http://www.twitter.com/recordssatanik
http://www.instagram.com/satanikroyaltyrecords