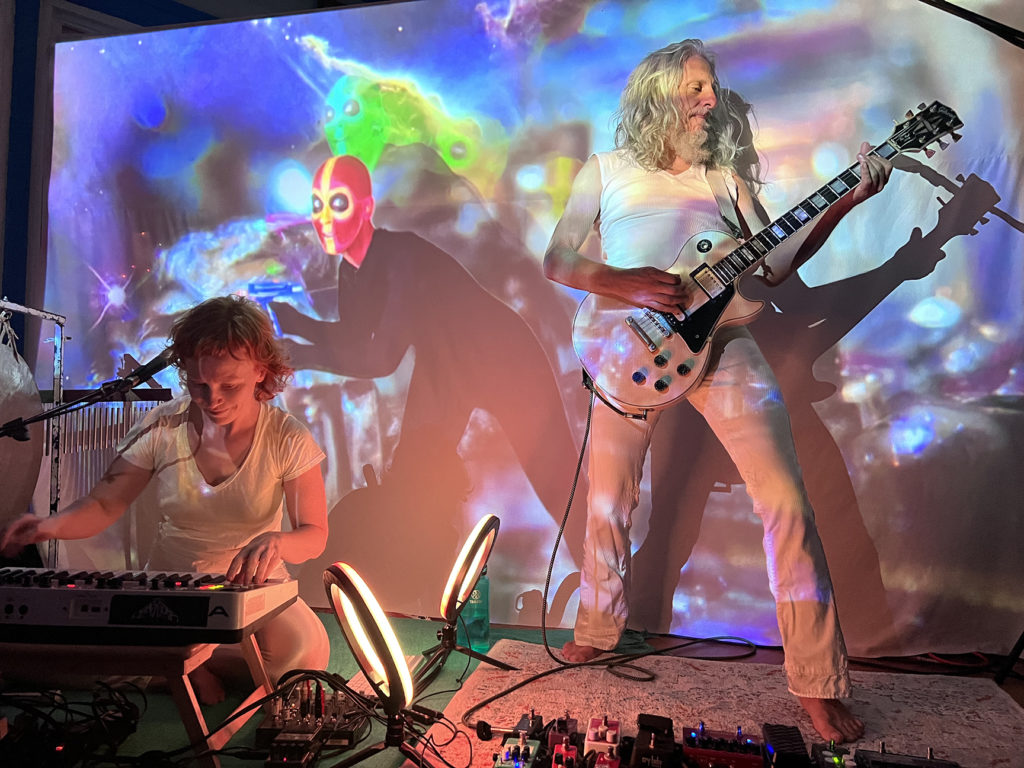 photo by Julia Vering
Having just returned from several weeks of touring around the Great Lakes, Baltimore, Maryland-based audiovisual/psychedelic post-rock duo DARSOMBRA today announces their next venture – a massive run of North American tour dates for the Summer and Fall months – supporting the August release of their long-awaited new album, Dumesday Book.
With shows confirmed from August through October, DARSOMBRA's Dumesday Book Tour leads off with their performance at the off-the-grid Voice Of The Valley Festival in Fairview, West Virginia on August 5th. Then on August 25th, the day Dumesday Book sees release, the band will set out across the country once again, leading with a hometown record release show. Nearly three-dozen performances later, the tour will come to a finale at the Shadow Woods Reunion in Mechanicsburg, Pennsylvania with Panopticon and more. See the current itinerary below and stand by as the band continues to book new excursions into the Fall and Winter months.
Dumesday Book delivers seventy-five minutes of sonic revelry, to delight and confound both seasoned DARSOMBRA listeners and unwitting new ears alike. The album was recorded and mixed by Brian Daniloski at the band's home studio, Whale Manor, and mastered by Jon Smulyan, while Ann Everton handled the cover art, photography, and videography. The record includes a twelve-page booklet illustrating each track, and all physical formats also include a sticker exclusive to the work and a Bandcamp download code with access to additional bonus material. Besides the standard 2xLP and CD versions, the album will also be available in a number of limited bundle packages, which include a handmade bismuth crystal and/or limited edition t-shirt.
Stream DARSOMBRA's "Shelter In Place" now at YouTube HERE and Bandcamp HERE.
DARSOMBRA will release Dumesday Book on CD, LP, and all digital platforms through their own Pnictogen Records on August 25th. Find preorders for all formats/bundles at the band's webshop HERE and Bandcamp HERE.
Watch for new videos and additional updates on the album to post over the weeks ahead.
DARSOMBRA Tour Dates:
8/05/2023 Voice Of The Valley – Fairview, WV
8/25/2023 Current Space – Baltimore, MD * Record Release Show w/ Moth Broth, Quattracenta
8/31/2023  Melody Inn – Indianapolis, IN w/ Stuporwaffles, Mycota
9/01/2023 Village Theatre – Davenport, IA
9/02/2023 Gabe's – Iowa City, IA w/ Aseethe, Louisiana Drifter, OSO
9/03/2023 White Squirrel – St. Paul, MN
9/04/2023 The Aquarium – Fargo, ND
9/06/2023 Handsome Daughter – Winnipeg, MB w/ Mahogany Frog, Cantor Dust
9/07/2023 The Exchange – Regina, SK w/ Psst Shh, DIG.IT.ALL
9/08/2023 Amigo's – Saskatoon, SK
9/09/2023 Palomino – Calgary, AB
9/10/2023 Kaffa – Edmonton, AB
9/14/2023 Red Gate – Vancouver, BC w/ Organoizes
9/15/2023 Crace Mountain – Nanaimo, BC
9/16/2023 Beacon House – Protection Island, BC
9/19/2023 Cryptatropa – Olympia, WA w/ Humming Amps, Hearse Mechanic, Avola
9/21/2023 Clock–Out – Seattle, WA w/ Fungal Abyss, Authentic Luxury
9/22/2023 High Water Mark – Portland, OR w/ Thrones, Mnemonic Pulse
9/23/2023 BAD Room – Salem, OR
9/26/2023 The Shredder – Boise, ID w/ Rodeo Screams, Shadow and Claw, Scram Signal
9/28/2023 ZACC – Missoula, MT w/ Swamp Ritual, Nightwitch
9/29/2023 Filling Station – Bozeman, MT
9/30/2023 Black Hills Psych Fest @ Aby's – Rapid City, SD w/ The Savage Blush, Diaphane, Thought Patrol
10/02/2023 Vinyl–ly Alive – Soldier Creek, SD
10/03/2023 2SMOO – Lincoln, NE w/ Our Last Atlas
10/04/2023 TBA – Peoria, IL w/ Sanddance
10/05/2023 Blind Bob's – Dayton, OH
10/06/2023 Art Party – Morgantown, WV w/ Grey Harbinger, The Long Hunt
10/07/2023 Mushroom City Art Fest – Baltimore, MD w/ Miles Gannett, Dave Heumann, Marian McLaughlin
10/11/2023 Mama Tried – Brooklyn, NY w/ Ala Muerte, Sally Gates/Zoh Amba/Brian Chase Trio
10/12/2023 Cold Spring Hollow – Belchertown, MA
10/13/2023 Geno's – Portland, ME
10/14/2023 Loading Dock – Littleton, NH w/ Ari Bopp
10/19/2023 O'Brien's – Allston, MA w/ Dyr Faser, The O–Zones, FEEP
10/20/2023 The Century – Philadelphia, PA w/ Stinking Lizaveta
10/21/2023  Shadow Woods Reunion @ Lovedraft's Brewing – Mechanicsburg, PA w/ Panopticon, A Sound Of Thunder, IATT
Originally conceived as a surreal take on a pop album to contrast with their ominously prescient monolithic 2019 release, Transmission, Dumesday Book is a ten-song survey of sentiment and human experience in the pandemic, from initial lockdown to vaccinated re-emergence and beyond – which, in the DARSOMBRA microcosm, means from cancelled tours to returning to the road.
Fittingly, DARSOMBRA's Brian Daniloski and Ann Everton wrote the framework for the album during the quarantine of Spring 2020, and then tirelessly refined it over the next three years. At times bizarre, intense, mollifying, sardonic, irreverent, overwhelming, and hopeful, Dumesday Book takes its name from the 11th century census book which served as the oldest public record in the English language, Domesday Book – so named because its decisions were unalterable, its sentence was law, and its survey of human activity so complete. The album's sound follows the theme of survey as well, with glam-prog frivolity giving way to heavy psych doomscapes laden with music concrète field recordings. A bong rip takes you from a disconcerting chord progression to a goblin doggerel dirge, all to resolve into a space-shimmery synthcapade laced with heart-fueled guitar riffs worthy of any Krautrockian nod for a non-Teutonic band. Of course, there are serious moments of rock woven throughout this hour-plus-long musical journey, but to typify Dumesday Book as simply drone, or metal, or psych – or even prog – is missing the point.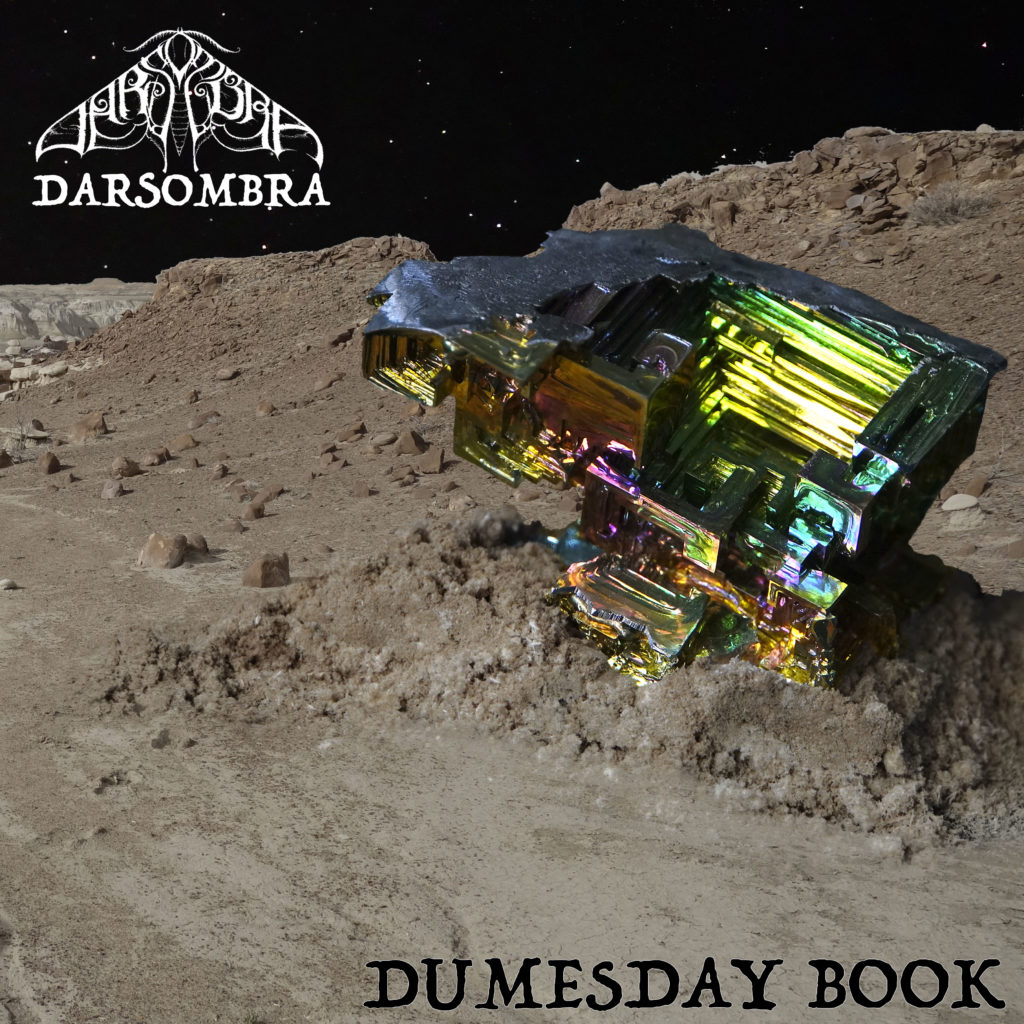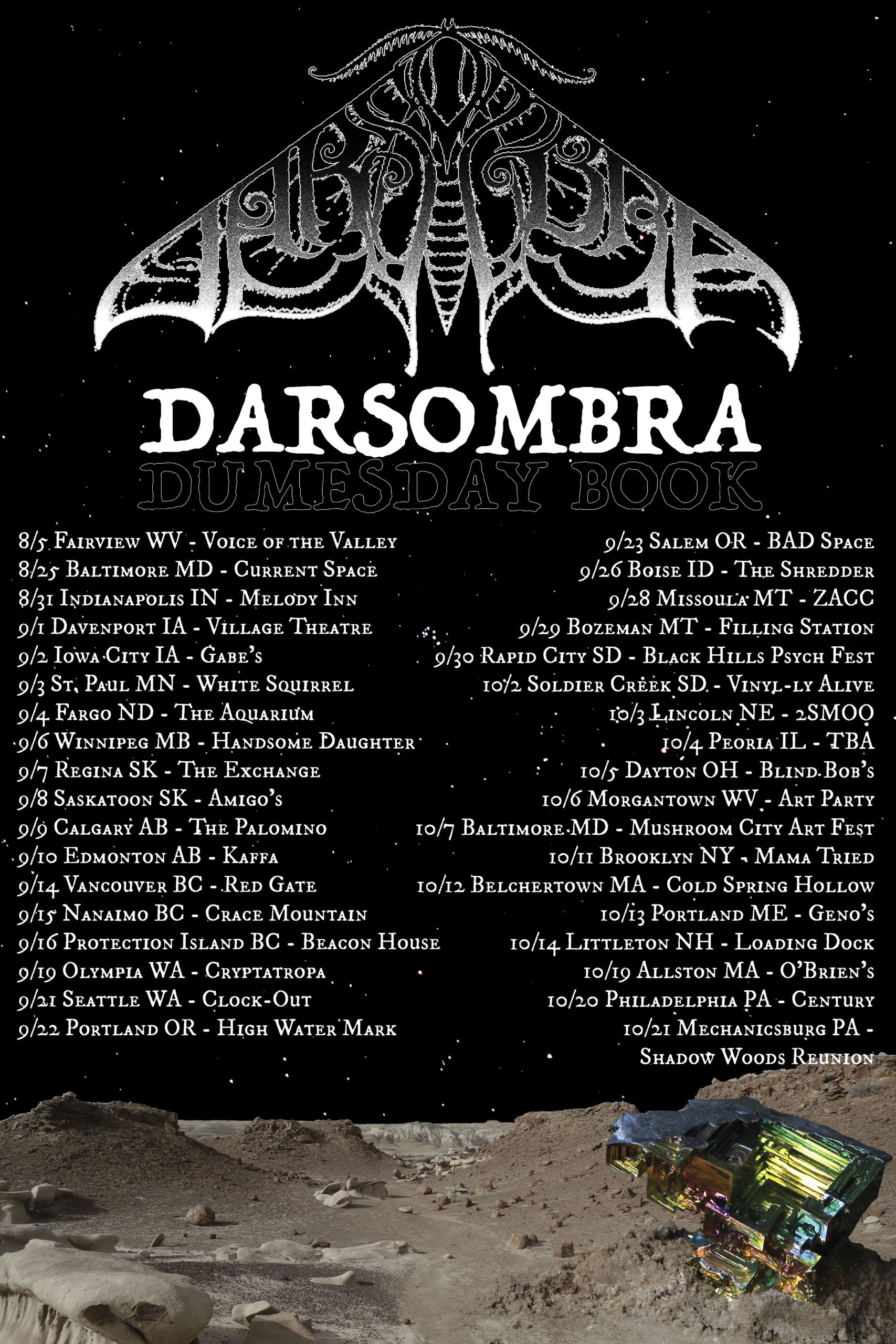 https://www.darsombra.com
https://darsombra.bandcamp.com
https://www.facebook.com/darsombra
https://www.youtube.com/darsombra
https://www.instagram.com/darsombra