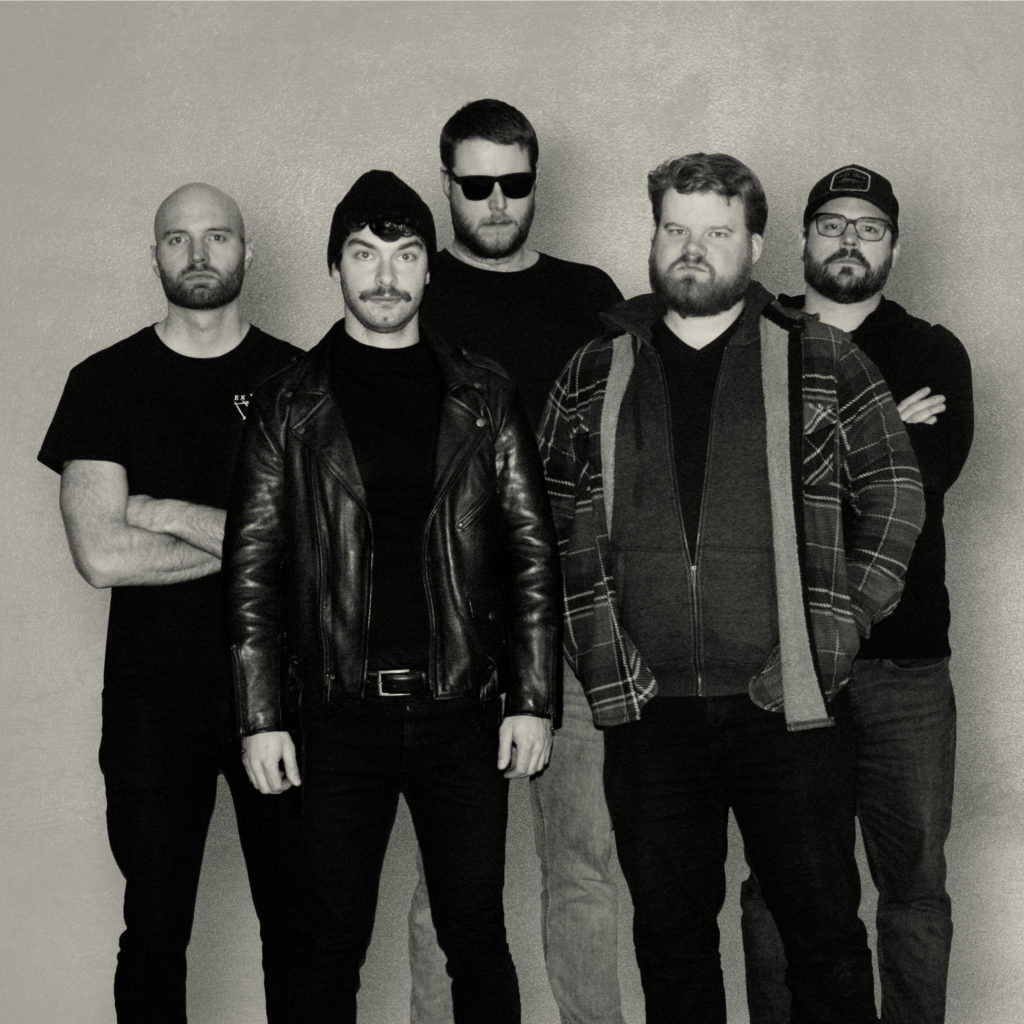 photos by Luke Olson
As Minneapolis, Minnesota-based doom/hardcore punk outfit CACHE prepares to release their eponymous debut EP this Friday, Toilet Ov Hell is hosting an exclusive early stream of the record.
Formed in 2019 and reformed in 2022 (pandemic woes in between), CACHE is a five-piece band from Minneapolis featuring members of current acts Serac, Blue Ox, Dana Sterling, and Kaldeket. Members have also previously played in bands such as Aziza, Morality Crisis, Maeth, and Saginaw. The output of CACHE is what you get when a sludge metal band steers away from the doom and gloom and writes a punch-drunk rock and roll record.
While emphasizing catchiness and fun, CACHE still employs the appropriate amount of knuckle-dragging associated with the genre, never sacrificing the sound of splitting heads. Influences cited include Floor, Torche, Karp, and Queens Of The Stone Age; bands that are as infectious and hook-laden as they are heavy and uncompromising. The result is a gleeful mix of ripping hardcore punk, stoner rock, and sludge metal, that can be gobbled down like a handful of candy spoils ripped from the entrails of a piñata beaten beyond recognition.
CACHE recorded their eponymous debut EP at Signaturetone Recording Studios (Thou, Ulthar, Sunless) in January of 2023, with Adam Tucker engineering, mixing, and mastering the project. The EP is completed with a watercolor painting by Bearach Coughlin as its cover.
Drummer Josh Dingel writes, "This project has been a blast and I think that's reflected in the final product. Getting to work with the musicians that originally got me into the Minneapolis punk/metal scene has been a dream come true and has really elevated these songs into a record that I'm extremely proud of. Seeing Morality Crisis, Maeth, and Blue Ox absolutely tear it up at some of the first house shows I ever attended might have ruined my life. Can't thank them enough."
The review accompanying Toilet Ov Hell's advance stream of the EP reads in part, "Recently I've been having a hard time finding something to write about, not sure what I've been looking for but I had this itch for something original, something I hadn't heard before. That was the point in which I heard about this premiere for a new band called CACHE; I figured it couldn't hurt to give it a listen… Jesus Christ on a motor bike this shit is hard as nails, and I love it. Nasty knuckle-dragging guitar riffs, horrifying wailed vocals, pummeling beatdown drums, and a heavily distorted bass that… get this… you can actually hear in the mix. Sign me up right now, this sounds like my kinda party."
Stream CACHE's crushing debut first at Toilet Ov Hell RIGHT HERE.
The band will self-release Cache digitally and on cassette this Friday, June 30th at Bandcamp HERE. Also watch the "Severance Package (Off With My Head)" video HERE.
CACHE is currently working on new material for the follow up to the debut. Watch for updates to post over the months ahead.
https://cachempls.bandcamp.com
https://www.instagram.com/cache_mpls
https://www.facebook.com/cachempls