Flatspot Records has confirmed the impending re-release of the debut demo by New York City/Boston-based hardcore outfit, COUNTDOWN. The record will hit the streets this September, directly following a two-week run of East Coast US tour dates.
Fully embodying the DIY spirit, COUNTDOWN is a force to be reckoned with. These young musicians are channeling legendary hardcore acts such as the Cro-Mags, Bad Brains, Leeway, and Outburst, while adding their own fresh twist to create an original take on the timeless punk sound. The band splits their time between two locations: vocalist Chris Wilson, bassist Hardy Alegria, and guitarist Chandler Mercer in New York City, while guitarist Connor Jones, and drummer Mike Ralston are in Boston. This does not stop COUNTDOWN from remaining constantly busy, and after writing, recording, and self-releasing a demo, Flatspot Records picked up the act to officially re-release the songs to a wider international audience.
Already carrying an intense amount of energy in the American hardcore scene, with a lot of attention already being focused on this "demo" release, you can expect to hear a lot more on COUNTDOWN in the months and years to come as the band blossoms and expands through more records and shows.
Flatspot Records will re-release COUNTDOWN's demo on vinyl on September 2nd; stand by for preorders and more to be posted in the coming days.
Demo EP Track Listing:
1. Live For Now
2. Delusions
3. One Of Two
4. It Haunts…
COUNTDOWN will have copies of the vinyl out with them on tour ahead of street date, as the band will tear through the East Coast US on a two-week-long run advancing its release. The People's Tour '16 will see COUNTDOWN storming through thirteen cites from August 11th through 24th, with support from Glory and Abuse Of Power for the entire trip, and also including Free and Faze on several shows.
Surrounding the tour, COUNTDOWN will also be playing several other notable shows, including sharing the stage with Terror, Backtrack, Harm's Way, and many others July 14th in Amityville, New York. They'll also play the Dr. Know Benefit after-show party in NYC on July 23rd joining Heavy Chains, Regulate, Friend Or Foe, and others. And September will see COUNTDOWN playing the Back To School Jam 2016 with the likes of Title Fight, Turnstile, Turnover, Bracewar, Forced Order, and many more. Additional tour dates will be steadily announced throughout the coming weeks.
COUNTDOWN Tour Dates:
7/14/2016 Revolution Music Hall – Amityville, NY w/ Terror, Backtrack, Harm's Way, Hardstripes, Fury, Red Death
7/23/2016 Niagara (A7) – New York, NY @ Dr. Know benefit after-show w/ Heavy Chains, Regulate, Friend Or Foe
The People's Tour '16 w/ Glory, Abuse Of Power:
8/11/2016 Aviv – New York, NY #
8/12/2016 Canal Club – Richmond, VA #
8/13/2016 Wrecking Ball Fest after-show – Atlanta, GA #
8/15/2016 The Birdhouse – Jacksonville, FL #
8/16/2016 Churchhills – Miami, FL *
8/17/2016 Lucky You Tattoo – St. Petersburg, FL *
8/18/2016 Seasick Records – Birmingham, AL *
8/19/2016 The Station – Charlotte, NC *
8/20/2016 TBA – Baltimore, MD *
8/21/2016 EMS Hall – Brick, NJ *
8/22/2016 The Otherside – Wiles Barre, PA *
8/23/2016 Am Leg – Wallingford, CT *
8/24/2016 HC Stadium – Boston, MA *#
9/10/2016 Gamechanger World – Howell, NJ @ Back To School Jam 2016 w/ Title Fight, Turnstile, Turnover, Bracewar, Forced Order
* w/ Faze
# w/ Free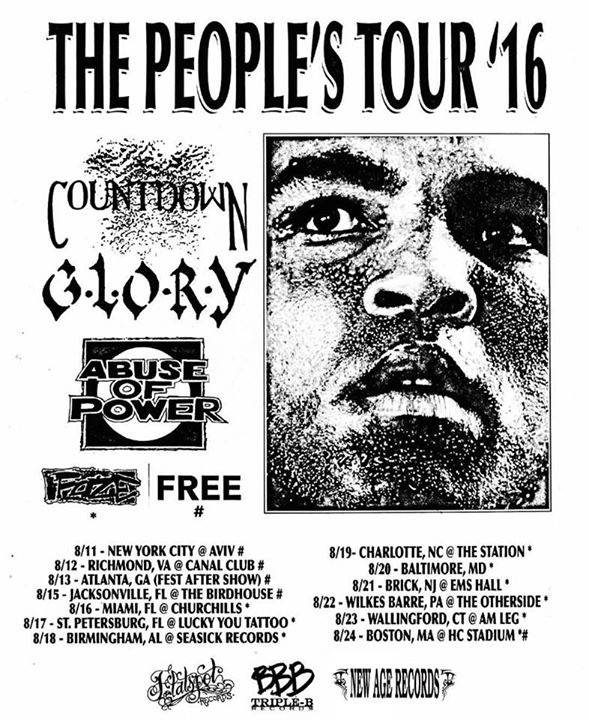 http://www.flatspotrecords.com
http://www.facebook.com/flatspotrecords
http://flatspotrecords.bandcamp.com