CORROSION OF CONFORMITY will kick off the first leg of their long-anticipated North American live takeover tomorrow, April 6th in Huntington, West Virginia. The trek runs through April 15th in Poughkeepsie, New York with support provided by Mothership. The following evening the band will play a special one-off show with Eyehategod in Richmond, Virginia.
Following a short breather, CORROSION OF CONFORMITY will head back out for more than two dozen dates with Lamb Of God and Clutch. See confirmed performances below. The latest excursions follow the band's successful headlining trek with Brant Bjork And The Low Desert Punk Band, Saviours, and Mothership at the close of 2015 and will include some never-before-heard tunes slated for their forthcoming full-length.
CORROSION OF CONFORMITY
w/ Mothership:
4/06/2016 V Club – Huntington, WV
4/07/2016 Ziggys By The Sea – Wilmington, NC
4/08/2016 Blue Fox Billiards – Winchester, VA
4/09/2016 Ottobar – Baltimore, MD
4/10/2016 The Met – Pawtucket, RI
4/12/2016 The Wonder Bar – Asbury Park, NJ
4/13/2016 Saint Vitus – Brooklyn, NY
4/14/2016 Saint Vitus – Brooklyn, NY
4/15/2016 The Chance – Poughkeepsie, NY
4/16/2016 The BroadBerry – Richmond, VA * w/ Eyehategod (no Mothership)
w/ Lamb Of God, Clutch:
5/03/2016 The Orpheum – New Orleans, LA
5/04/2016 Minglewood Hall – Memphis, TN
5/05/2016 Brady Theater – Tulsa, OK
5/07/2016 Park Street Saloon – Columbus, OH *w/ Lo-Pan (no LOG or Clutch)
5/08/2016 Reading Eagle Theatre – Reading, PA
5/09/2016 State Theatre – Portland, ME
5/10/2016 House of Blues – Boston, MA
5/12/2016 The Pageant – St. Louis, MO
5/13/2016 Westfair Amphitheater – Council Bluffs, IA
5/14/2016 Spicoli's – Waterloo, IA (no LOG or Clutch)
5/16/2016 Magic City Music Hall – Binghamton, NY
5/17/2016 The Paramount – Huntington, NY
5/18/2016 Higher Ground – So. Burlington, VT w/ Clutch (no LOG)
5/19/2016 TD Echo Beach – Toronto, ON
5/23/2016 The Cotillion – Wichita, KS
5/24/2016 Red Rocks Amphitheater – Morrison, CO
5/25/2016 The Complex – Salt Lake City, UT
5/27/2016 Comerica Theatre – Phoenix, AZ
5/28/2016 Fox Theater Pomona – Pomona, CA
5/29/2016 Fox Theater – Oakland, CA
5/31/2016 WaMu Theater @ CenturyLink Field Events – Seattle, WA
6/01/2016 Queen Elizabeth Theatre – Vancouver, BC
6/02/2016 South Okanagan Events Centre – Penticton, BC
6/04/2016 Calgary Stampede Corral – Calgary, AB
6/05/2016 Shaw Conference Centre – Edmonton, AB
6/06/2016 Saskatoon Prairieland Exhibition Park – Saskatoon, SK
6/07/2016 Burton Cummings Theatre – Winnipeg, MB
6/10/2016 Piere's Entertainment Center – Ft. Wayne, IN w/ Clutch, Valkyrie (No LOG)
CORROSION OF CONFORMITY has been diligently working on their follow-up to 2014's IX offering. The as-yet-untitled long player will be helmed by longtime producer John Custer, who's recorded such prior COC classics as Deliverance, Wiseblood, America's Volume Dealer, and In The Arms Of God. The record will mark the band's studio reunion with vocalist/guitarist Pepper Keenan and their first full-length record together since 2005. A Fall 2016 release is expected.
CORROSION OF CONFORMITY emerged from hibernation as a trio and released 2012's self-titled album and 2014's IX to wide acclaim, but many fans have been eagerly and patiently awaiting the return of Pepper Keenan.
The band was originally an influential hardcore punk/heavy metal crossover act before reaching critical success with a then new lineup on 1991's Blind album. That trajectory continued with wider appeal as Keenan took over as the group's primary vocalist on Deliverance (1994) and Wiseblood (1996). These two recordings in particular fused the raw energy of their previous albums, with some great strides forward in classic rock inspired songwriting and more spacious production and execution. Since then the band has often been copied but rarely equaled. This juggernaut gained mass and momentum with relentless touring alongside such greats Metallica, Clutch, Eyehategod and many more. Eventually, following the release of In the Arms Of God in 2005, Keenan decided to focus all his energy on his hometown band Down… until now.
CORROSION OF CONFORMITY is:
Pepper Keenan – vocals, guitar
Woodroe Weatherman – guitar
Mike Dean – bass, vocals
Reed Mullin – drums, vocals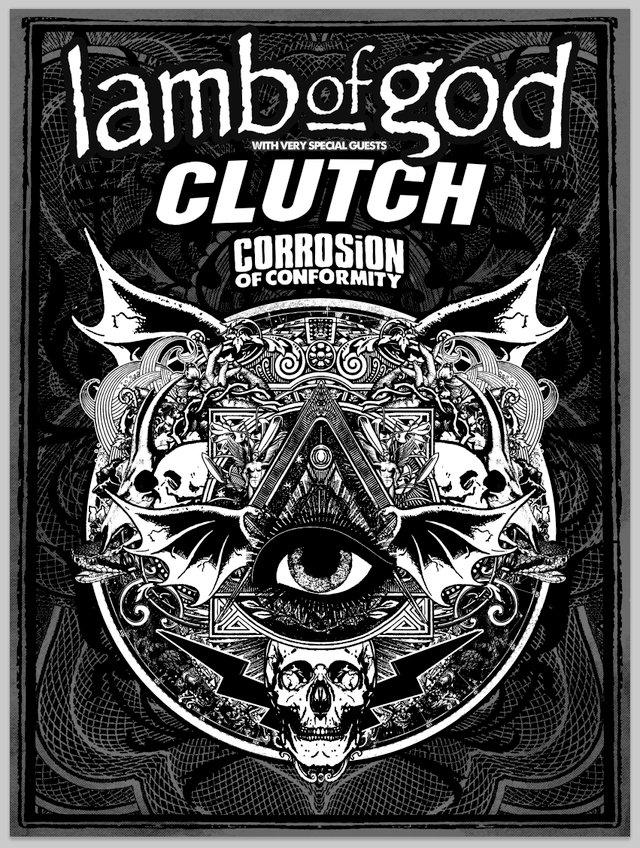 For live coverage inquiries contact liz@earsplitcompound.com.
http://www.coc.com
http://www.facebook.com/corrosionofconformity
http://www.twitter.com/coccabal
http://www.nuclearblast.com
http://www.facebook.com/nuclearblastusa/?fref=ts