Return From The Cauldron, the latest full-length from Denver heavy rock power trio CLOUD CATCHER, is currently streaming in its entirety at The Obelisk. The premiere comes in advance of the record's official release this Friday, September 29th via their own Cauldron Audio Works.
CLOUD CATCHER is guitarist/vocalist Rory Rummings with bassist Matt Ross and drummer Will Trafas, a rhythm section akin to Geezer Butler and Mitch Mitchell. With two albums and two EPs already under their proverbial belts, CLOUD CATCHER has been dispensing their own brand of guitar driven, heavy rock to the masses for over a decade.
Of Return From The Cauldron, The Obelisk champions the band's "consistency of songcraft," as well as their recognizable, "stylistic niche between classic heavy rock, proto-metal boogie, and NWOBHM," further elaborating, "…CLOUD CATCHER are no strangers to making heads spin, and they do so across the first half of Return From The Cauldron while also finding themselves dug into a sludgier-rocking vibe, the verses of 'I Am The Storm' calling to mind Backwoods Payback or early Alabama Thunderpussy as 'Burning Might' will again soon enough, which the hot-shit noodling and Sabbath-blues soft-shoe of 'Boundless Journey' only echo, Rummings' solo casting space outward from the cyclical riffs…"
Read more and stream CLOUD CATCHER's Return From The Cauldron, exclusively at The Obelisk at THIS LOCATION.
Return From The Cauldron was self-recorded by Riley Rukavina, mixed and mastered by Greg Wilkinson at Earhammer Studios, and comes swathed in the cover art of Christina Hunt of Heavy Metal Talisman.
The record will be available digitally and limited-edition vinyl via the CLOUD CATCHER Bandcamp page HERE.
CLOUD CATCHER's 2017-released Trails Of Kozmic Dust full-length reaped critical accolades both stateside and abroad with Metal Observer gushing, "CLOUD CATCHER knows how to warp their way through the annals of space, picking up the most inhuman compositions and translating them so us mere mortals can experience the sounds of the great beyond… an album that gets better with every listen and is sure to be on the end of year lists for anyone even remotely interested in heavy psychedelia." Metal Injection noted, "This is feel good, zone-out, head-bobbing rock n' roll that deserves to be spun on the turntable." Added Invicta Magazine, "With Trails Of Kozmic Dust, CLOUD CATCHER have made an album that is not only out of this world on a sonic level but also on a spiritual level and if this album had to have a motto, it would be turn on, turn up, and let loose!"
With follow-up release, Return From The Cauldron, the Rocky Mountain riff merchants continue to push their signature sonic assault forward. An album about emerging positively from hard times and negative experiences, it's a collection of songs where the themes are perseverance, growth, and hope. Most of the tunes were written when CLOUD CATCHER went on hiatus for the better part of 2019 and during 2020 when the world was slipping into pandemic madness…
CLOUD CATCHER will celebrate Return From The Cauldron with a special record release show this Saturday at Denver's Hi-Dive before embarking on a West Coast tour next month. See all confirmed dates below.
CLOUD CATCHER – Live From The Cauldron Tour 2023:
9/30/2023 Hi-Dive – Denver, CO * Return From The Cauldron Record Release Show
10/06/2023 TBA – Fort Collins, CO
10/07/2023 Ernie November Record Store – Cheyenne, WY
10/12/2023 Aces High Saloon – Salt Lake City, UT
10/13/2023 Artifice – Las Vegas, NV
10/14/2023 Poor House – Oceanside, CA
10/15/2023 Knucklehead – Hollywood, CA
10/16/2023 Cocktail Lounge – Ventura, CA
10/17/2023 Thee Stork Club – Oakland, CA
10/18/2023 Cafe Colonial – Sacramento, CA
10/20/2023 High Watermark – Portland, OR
10/21/2023 The Shredder – Boise, ID
"CLOUD CATCHER is one of the hidden gems of the hard rock/metal underground with a sound fusing classic NWOBHM with crushing riffs. An all-out guitar attack alongside a pummeling rhythm section. Not to be missed." – Mike Eginton, Earthless
"Taking some cues from Judas Priest and Budgie, and in doing so aligning themselves with fellow modern greats like Green Lung and King Witch, this is about as mainline heavy metal as possible, but that doesn't mean it's without nuance… Soaring vocals and pounding drums help fill out its sonic palette for a fully-fledged metal marmalade that wouldn't be out of place in the arenas of the late '70s, maybe in some bell bottoms and big-ass hair." – Everything Is Noise
CLOUD CATCHER:
Rory Rummings – guitars, vocals
Matt Ross – bass
Will Trafas – drums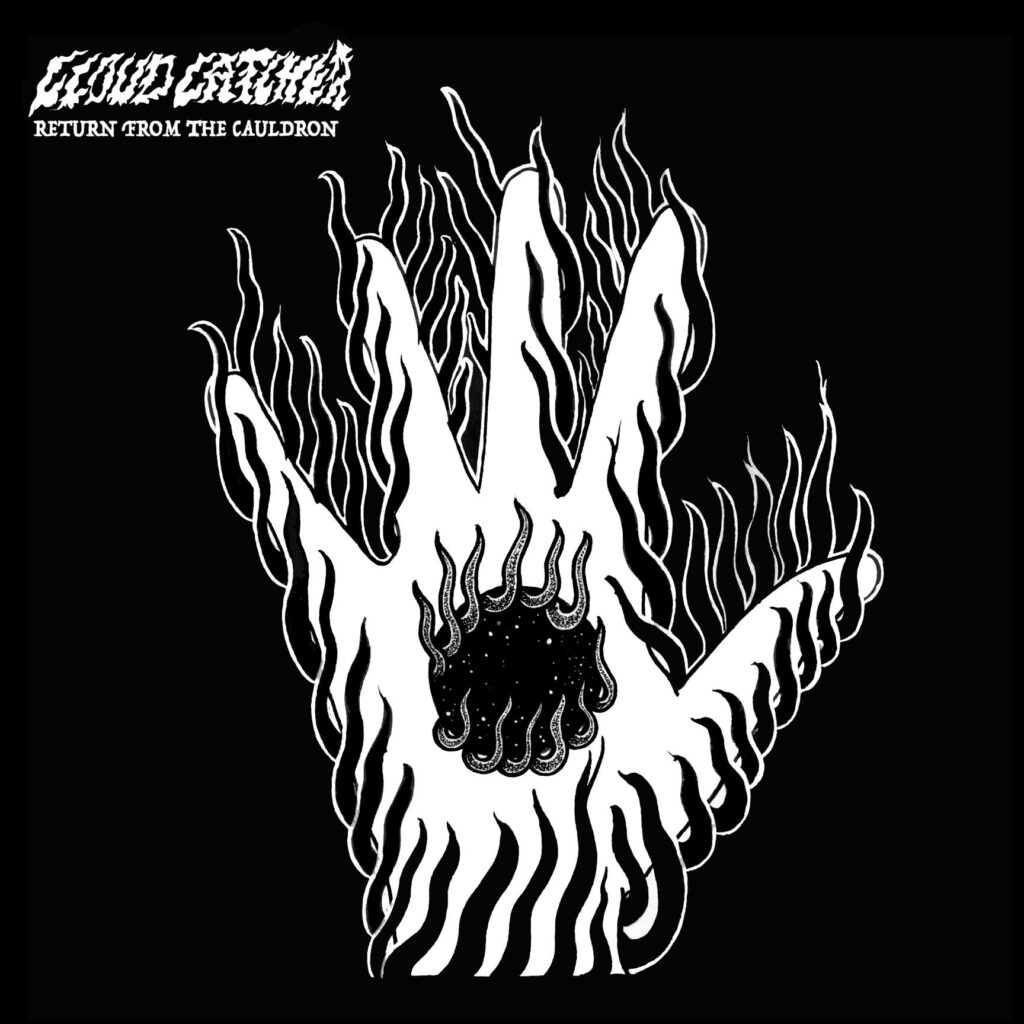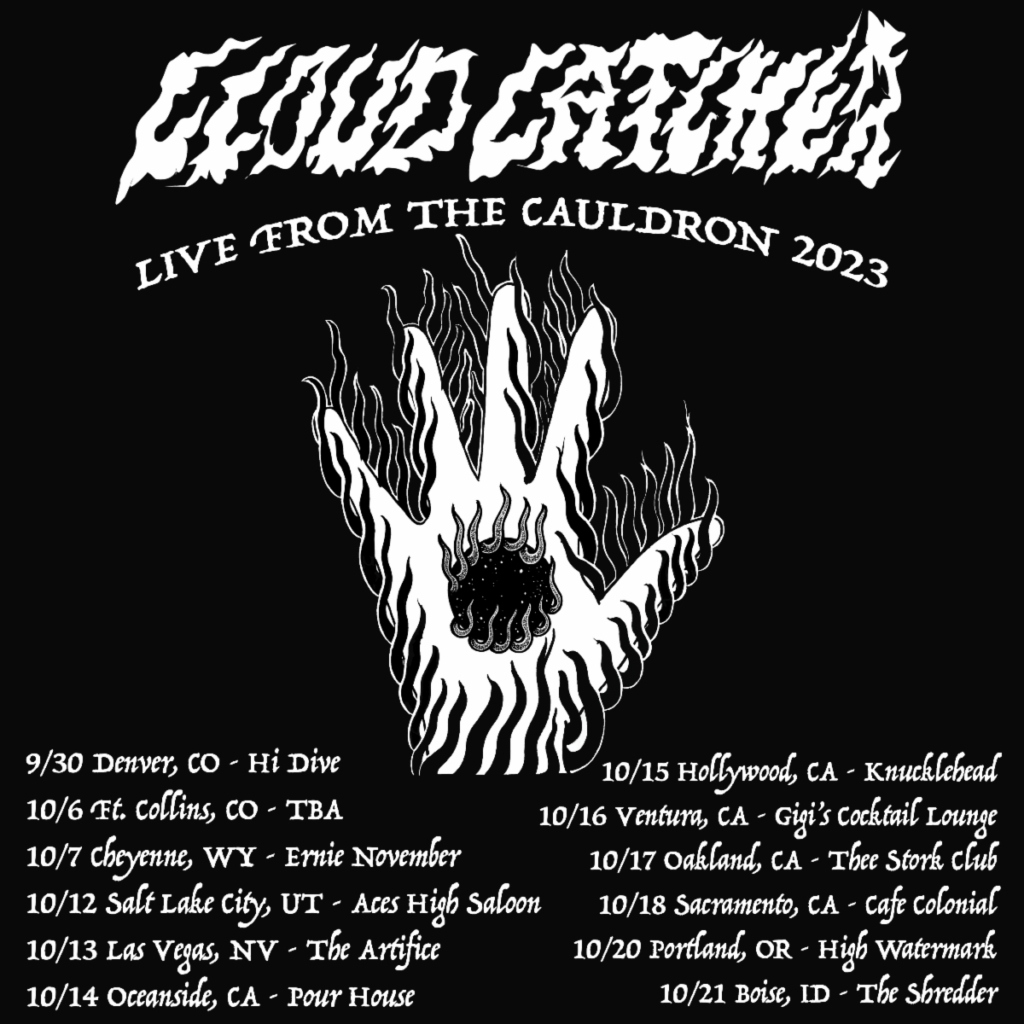 https://cloudcatcherco.com
https://cloud-catcher.bandcamp.com/music
https://www.facebook.com/cloudcatcher303
https://www.instagram.com/cloudcatcherco