Oregon hardcore punk practitioners CLITERATI will release their punishing Ugly Truths / Beautiful Lies full-length August 30th via Tankcrimes.
Over a year in the making, Ugly Truths / Beautiful Lies is ripping fifteen-track/thirty-two-minute socio-political exposé on the USA's divisive administration with humor and quick wit. Having performed over a hundred shows in that time, test driving many of the tracks live, CLITERATI is sharper and more ravenous than ever before. Ugly Truths / Beautiful Lies was recorded by longtime comrade Greg Wilkinson (Necrot, High On Fire) and mastered by Joel Grind (Toxic Holocaust, Power Trip) with cover art by legendary Japanese artist Sugi (Doom, Death Side, Hellshock) whose illustration reflects a personal interpretation of Ugly Truths / Beautiful Lies' title track.
In advance of the record's release, CLITERATI is pleased to unveil "Latinx Taken" for public feasting. Issues vocalist Ami Lawless of the track, "My mom would have been considered illegal/undocumented. I'll never understand this reference to other human beings. A good portion of this country was once Mexico and now people whose ancestors walked and worked this land are not welcome here… and those in power will use us for whatever they can. No one is illegal."
Stream "Latinx Taken" below .
Ugly Truths / Beautiful Lies will be released digitally and on limited LP in four color variants: 100 on crystal clear, 200 on black vinyl, 300 on neon violet and 400 on slime green. Find digital preorders at THIS LOCATION and vinyl preorders at THIS LOCATION.
Ugly Truths / Beautiful Lies Track Listing:
1. Slow Burn
2. Tribal Politics
3. Trans Is Beautiful
4. Unfuck The System
5. Silence = Death
6. Breakup Song
7. Scars Are What Hold Me Together
8. Latinx Taken
9. Footprints On The Moon
10. GPCL
11. Ugly Truths / Beautiful Lies
12. Remnants Of War
13. Redneck, White And Blue
14. In Crust We Trust
15. Shapeshift Away
Next month CLITERATI will take to the streets on a near month-long US tour. The tour will commence August 2nd and wind its way through twenty-four cities upon its conclusion August 25th in Portland, Oregon See all confirmed dates below.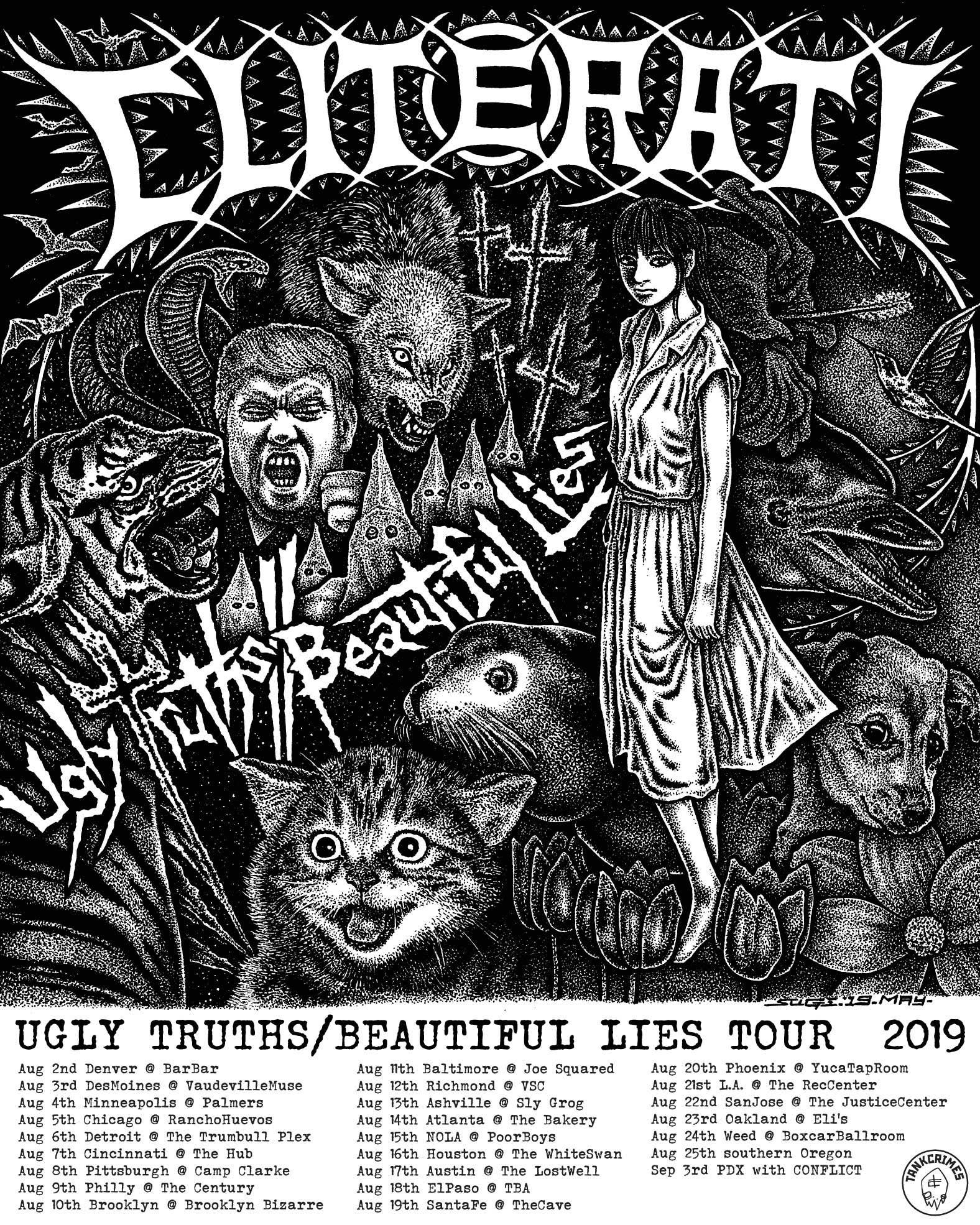 CLITERATI Summer Tour 2019:
8/02/2019 Bar Bar – Denver, CO
8/03/2019 Vaudeville Muse – Des Moines, IA
8/04/2019 Organize And Arise Fest @ Palmers – Minneapolis, MN
8/05/2019 Rancho Huevos – Chicago, IL
8/06/2019 The Trumbull Plex – Detroit, MI
8/07/2019 The Hub – Cincinnati, OH
8/08/2019 Camp Clarke – Pittsburgh, PA
8/09/2019 The Century – Philadelphia, PA
8/10/2019 Brooklyn Bazaar – Brooklyn, NY
8/11/2019 Joe Squared – Baltimore, MD
8/12/2019 VSC – Richmond, VA
8/13/2019 Sly Grog – Ashville, NC
8/14/2019 The Bakery – Atlanta, GA
8/15/2019 Poor Boys – New Orleans, LA
8/16/2019 The White Swan – Houston, TX
8/17/2019 The Lost Well – Austin, TX
8/18/2019 TBA – El Paso, TX
8/19/2019 The Cave – Santa Fe, NM
8/20/2019 Yucca Tap Room – Phoenix, AZ
8/21/2019 The Rec Center – Los Angeles, CA
8/22/2019 The Justice Center – San Jose, CA
8/23/2019 Eli's, Oakland, CA
8/24/2019 Boxcar Ballroom – Weed, CA
8/25/2019 TBA – Portland, OR
Doing time in more bands than need be mentioned, CLITERATI is made up of four friends who've been churning out punk, power violence, grind, and death metal for much of their lives. Influenced by everything from Bolt Thrower and L7 to Doom to Necrot, together these lifelong extreme music fans spew forth a distinctly riotous brand of unforgiving/unforgettable d-beat/thrash crust.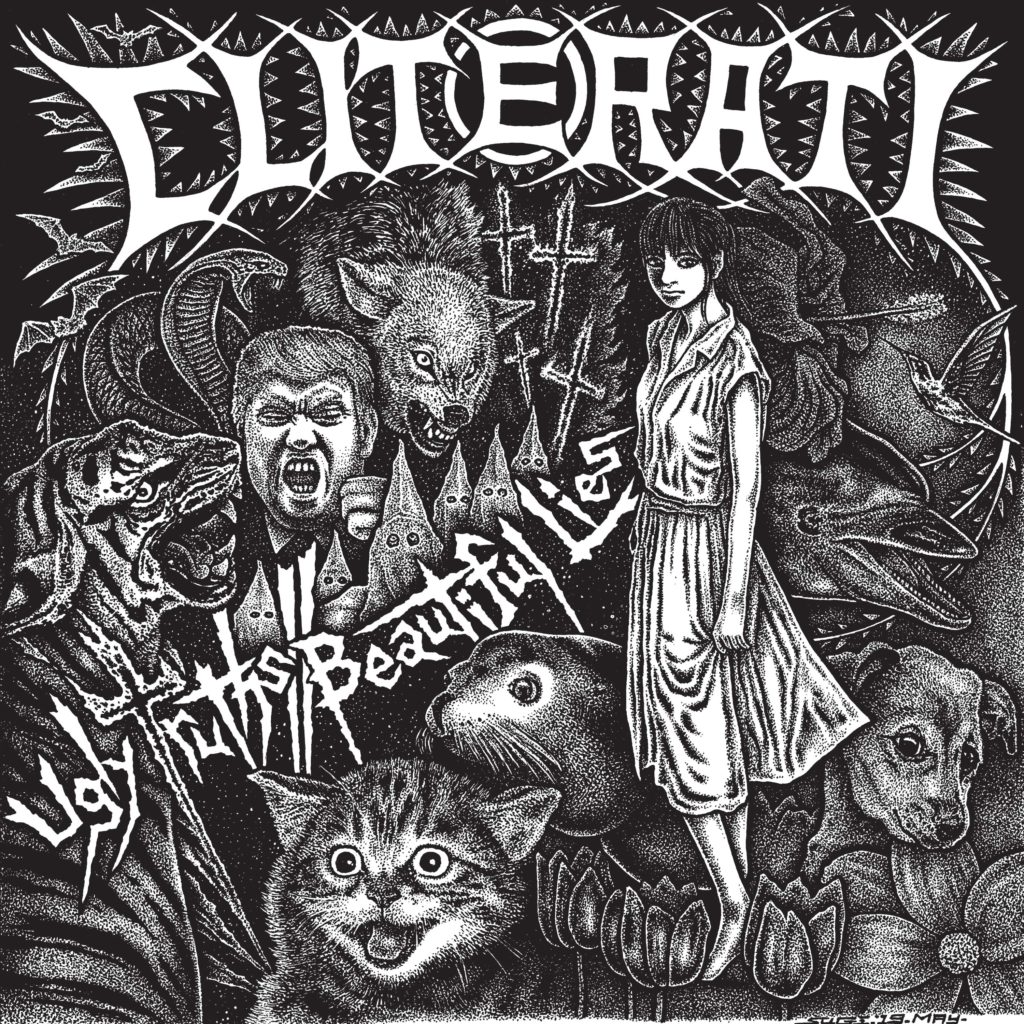 http://www.facebook.com/slimepriestess
http://www.tankcrimes.com
http://www.facebook.com/tankcrimes