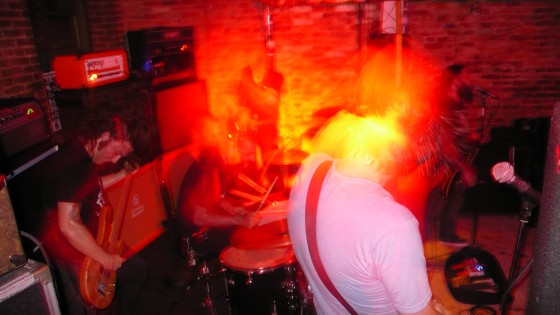 Brooklyn-based CLEANTEETH this week confirms the band's most intensive tour to date this May, in advance of their pending debut LP.
CLEANTEETH's highly-anticipated first album Pushing Rope demands attention, with forty-two minutes of sinister doom metal combined with bruising rhythms and raucous swells played on four stacks higher than the tallest band member. Within the first ten seconds of Pushing Rope, thunderous riffs echo out of three guitars while ominous licks force heads to bang with rhythmic precision. Fans will recognize influences ranging from Will Haven, KEN Mode, Harkonen and Harvey Milk to Breather Resist, Gaza, and Godflesh, yet CLEANTEETH's sound is uniquely its own; a crushingly beautiful array of electric noise and soul-punching drum beats that will make you want to break something and come back frothing at the mouth for more. Pushing Rope will be available on vinyl from Dullest Records in the coming weeks; stay tuned for further details.
Formed in 2008, CLEANTEETH is a massive sonic quintet comprised of veterans in the New York metal scene, featuring members of Goes Cube, Hull, Destructo Swarmbots, Godmaker, and White Widows. You can catch these auditory titans out on the road when they embark on the ten-day Crush Your Teeth Tour this May, alongside city/scene mates Meek Is Murder on select dates.
CLEANTEETH Crush Your Teeth Tour:
5/10/2013 Pariah – Philadelphia, PA w/ Hivelords, Sadgiqacea, Meek Is Murder
5/11/2013 Kraken Bar – Chapel Hill, NC @ Kraken Fest III w/ Meek Is Murder, Zoroaster, Crusades, Savagist, Colossus
5/12/2013 The Milestone – Charlotte, NC w/ Meek Is Murder
5/13/2013 The Poison Lawn – Knoxville, TN w/ Meek Is Murder
5/14/2013 TBA – Nashville, TN
5/15/2013 TBA – Bloomington/St. Louis, MO
5/16/2013 Stage Bar – Chicago, IL
5/17/2013 Carabar – Columbus, OH w/ Axebomber, Ves, Artillery Breath, False Light
5/18/2013 TBA – Pittsburg, PA
5/19/2013 TBA – Baltimore, MD
5/20/2013 Saint Vitus Bar – Brooklyn, NY
http://www.crushyourteeth.com
http://cleanteethdirtyteeth.bandcamp.com