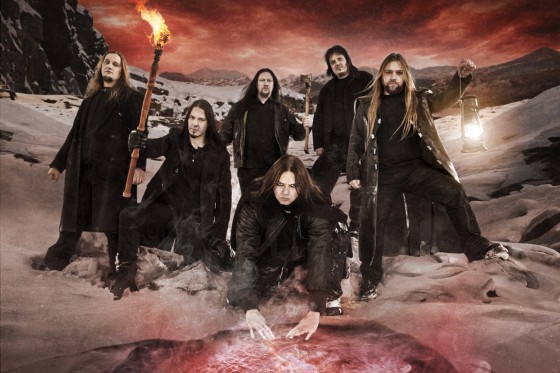 The dominant seventh studio full-length from by Oulu, Finland's symphonic death metal masters ETERNAL TEARS OF SORROW, Saivon Lapsi, is out now worldwide on Massacre Records.
The band was officially founded in 1994 after many of the members had already been performing under the monikers Andromeda and Moshington D.C. through the early half of the '90s. Re-founding the outfit under the ETERNAL TEARS OF SORROW banner focused the band's talents in a more serious fashion and began the main chapter of their musical journey. After touring with major acts across Europe including Nightwish and Sinergy, and releasing four albums — some of which broke through the Finnish Top 40 music charts — the band parted ways in early 2003. This separation did not last long, as the band made a comeback only two years later, their new material again would bust Finnish Top 40 charts and develop more of a fanbase across Russia, Japan and other Asian territories.
With each album ETERNAL TEARS OF SORROW has garnished a wider, diehard fanbase, the band having released six albums since their incarnation, four of those on massive Spinefarm Records. Their newest and seventh full-length, Saivon Lapsi, boasts forty-five minutes of the band's most triumphantly dark symphonic metal to date. Produced by the band themselves, and mixed by Mikko Karmila (Children of Bodom, Nightwish etc.), the final product was mastered by Mika Jussila at Finnvox (Nightwish, Sonata Arctica, Children Of Bodom). Famed artist Travis Smith (Amorphis, Anathema, Tarja, Opeth) was brought on board to handle the cover art, appropriately capturing the dark beauty of ETERNAL TEARS OF SORROW.
View the band's stellar video the album's ninth anthem "Swan Saivo" fimed by Mutant Koala Pictures and more right here:
Saivon Lapsi Track Listing:
1. Saivo
2. Dark Alliance
3. Legion of Beast
4. Kuura
5. Dance of December
6. The Day
7. Sound of Silence
8. Beneath the Frozen Leaves
9. Swan Saivo
10. Blood Stained Sea
11. Angelheart, Ravenheart (Act III: Saivon Lapsi)
ETERNAL TEARS OF SORROW Lineup:
Altti Veteläinen – vocals and bass
Janne Tolsa – keyboards
Juho Raappana – drums
Jarmo Kylmänen – clean vocals
Jarmo Puolakanaho – guitar
Mika Lammassaari – lead guitar
http://eternaltears.fi
https://www.facebook.com/etosofficial
http://www.massacre-records.com