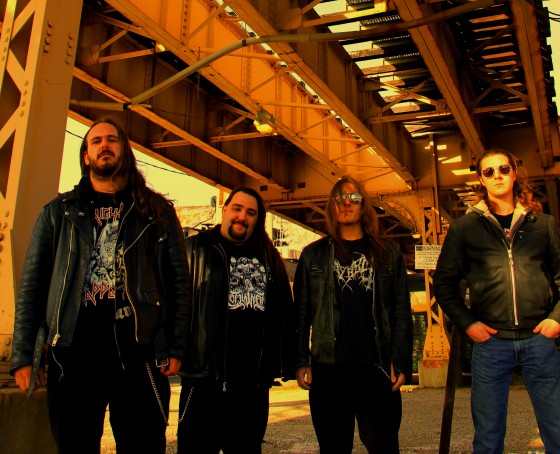 Following the release of their debut full-length Ascending to Red Heavens via Selfmadegod Records this Winter, Chicago death metal horde TERMINATE announces a pending change in the band's lineup. In a recent statement the band collectively reported: "We're sorry to announce the departure of our bassist, Alfred Mulle. There is no ill-will on either end and it is simply a matter of divergent life paths that forces the split. We wish him luck, and encourage everybody to check out his excellent graphic design work through his company Demonic Designs. Alfred's last show with us will be supporting Wolvhammer and Glorior Belli in Chicago date on May 17th along with Chicago black metal assassins FIN. We will announce a replacement shortly."
After kicking off last night in Des Moines, Iowa, the current TERMINATE lineup is currently out on the road brutalizing the Midwest and West Coast on their Spring Tour in support of Ascending to Red Heavens. The ongoing attack itinerary is posted below.
TERMINATE's fatal death metal attack crushes with an energetic, distortion-laden rush of primal, guttural bliss fans of Dismember, Morbus Chron, Grave, Tribulation and most high-quality/low-end Stockholm-influenced brutality will no doubt embrace. The debut album from Chicago-area deathbringers, Ascending To Red Heavens, features nine brutalizing tracks recorded at The Basement by Tim Pearson, and mixed/mastered Tim Pearson at Do or Die Studio, and the cover illustrated by Raul Gonzalez (Master, Morbus Chron, etc.).
Stream Ascending To Red Heavens from start to finish via Stereokiller RIGHT HERE.
TERMINATE Spring Tour 2013 [REMAINING DATES]:
4/24/2013 Bourbon Theatre – Lincoln, NE
4/26/2013 Bar Bar – Denver, CO
4/27/2013 Wolves of Apocalypse Festival – Cheyenne, WY
4/28/2013 The Shredder – Boise, ID
4/29/2013 2 Bit Saloon – Seattle, WA
4/30/2013 Red Room – Portland, OR
5/02/2013 The Press Club – Sacramento, CA
5/03/2013 American Legion Post #335 – Southgate, CA
5/09/2013 The Phoenix Project – Dallas, TX
5/10/2013 Cesspool Castle – Joplin, MO
5/11/2013 Cusumano's – St. Louis, MO
5/17/2013 Ultra Lounge – Chicago, IL w/ Glorior Belli, Wolvhammer, Fin [tickets]
http://www.facebook.com/TerminateChicago
http://www.reverbnation.com/terminate
http://www.selfmadegod.com
http://www.facebook.com/selfmadegod