West Coast deathgrind practitioners CATTLE DECAPITATION are pleased to announce their Terrasitic Infestation North American headlining tour! The Fall run will commence on November 10th in Santa Ana, California and make its way through over two-dozen cities, coming to a close on December 16th on the band's home turf of San Diego, California. Support will be provided by Immolation, Sanguisugabogg, and Castrator.
Comments CATTLE DECAPITATION vocalist Travis Ryan, "Stoked to announce our first headlining tour since the Death At Last Tour last year. The Terrasitic Infestation Tour will be crawling all over the USA with a couple dates in Eastern Canada and we're honored to bring Immolation, Sanguisugabogg, and Castrator with us! We'll see you all there!"
Local presale begins on Thursday, August 10th at 10:00am local time. General on sale date is Friday, August 11th at 10:00am local time at the CATTLE DECAPITATION website HERE.  Find VIP Experiences HERE.
CATTLE DECAPITATION w/ Immolation, Sanguisugabogg, Castrator:
11/10/2023 The Observatory – Santa Ana, CA
11/11/2023 The Nile Theater – Mesa, AZ
11/12/2023 Rock House Bar & Grill – El Paso, TX
11/14/2023 Diamond Ballroom – Oklahoma City, OK
11/15/2023 Granada Theater – Dallas, TX
11/16/2023 Vibes Event Center – San Antonio, TX
11/18/2023 Chelsea's Live – Baton Rouge, LA
11/20/2023 The Masquerade – Atlanta, GA * No Immolation
11/21/2023 The Orpheum – Tampa, FL
11/22/2023 The Abbey – Orlando, FL
11/24/2023 Hanger 1819 – Greensboro, NC
11/25/2023 Peabody's Nightclub – Virginia Beach, VA
11/27/2023 Baltimore Soundstage – Baltimore, MD
11/28/2023 Brooklyn Bowl – Philadelphia, PA
11/29/2023 Brighton Music Hall – Boston, MA
11/30/2023 Warsaw – Brooklyn, NY
12/01/2023 Beanfield Theatre – Montreal, QC
12/02/2023 Opera House – Toronto, ON
12/04/2023 St Andrews Hall – Detroit, MI
12/05/2023 House Of Blues – Chicago, IL
12/06/2023 Fine Line – Minneapolis, MN
12/08/2023 Gothic Theatre – Englewood, CO
12/09/2023 Urban Lounge – Salt Lake City, UT
12/10/2023 The Shredder – Boise, ID
12/11/2023 The Crocodile – Seattle, WA
12/12/2023 Hawthorne Theatre – Portland, OR
12/14/2023 Goldfield Trading Post – Roseville, CA
12/15/2023 The Belasco – Los Angeles, CA
12/16/2023 Observatory North Park – San Diego, CA
CATTLE DECAPITATION will be touring in support of Terrasite, their herculean tenth studio album released in May via Metal Blade Records.
Though many bands have tried, no one articulates the real apocalypse humanity is facing as vividly and succinctly as CATTLE DECAPITATION. With 2019's Death Atlas, they reached the apex of this, perhaps leading some to believe they had no place left to go beyond such an achievement, but alas, the band returns with Terrasite, which is as bold a statement as they have ever made. Roaring to life with the savage yet hauntingly melodic "Terrasitic Adaptation" and advancing through the likes of the relentless "We Eat Our Young" and culminating with the ten-plus minutes of "Just Another Body," Terrasite is an album that constantly shifts dynamics and demands a variety of emotional responses.
Watch the band's videos for "We Eat Our Young" HERE, "Scourge Of The Offspring" HERE, and "A Photic Doom" HERE.
Terrasite, which features the artwork by longtime collaborator Wes Benscoter (Vader, Kreator, Bloodbath, Hypocrisy), was produced by Dave Otero (Cephalic Carnage, Allegaeon) and includes Dis Pater of Midnight Odyssey handling piano and synths.
Find all ordering options at: metalblade.com/cattledecapitation.
"Terrasite is the next important step for a consistently excellent band…" – Decibel Magazine
"…another absolutely stellar release from these guys with lyrics and themes that represent the apex of today's extreme music." – Metal Injection
"They've evolved from a grind band into something even more maniacal with this album; a true and brilliantly executed hybrid of heavy death metal, brutal grind and lyrical terror." – Lambgoat
"…a phenomenal album that's well worth the time of extreme metal fans who want to hear a band perpetually push itself." – Blabbermouth
"…a brutal and uncompromising display of technical deathgrind. The band have been steadily pushing the boundaries of the genre for over 25 years, and this album is no exception." – Invisible Oranges
"…another accomplished and uncompromising release, further pushing the band's boundaries of extremity." – New Noise Magazine
"They continue to reach above and beyond in terms of both execution and arrangements, creating an album that's accessible to a wider audience of more mainstream metalheads without compromising any of the fury that empowers their core sound." — Treble
CATTLE DECAPITATION:
Travis Ryan – vocals
Josh Elmore – lead guitar
Belisario Dimuzio – rhythm guitar
Olivier Pinard – bass
David McGraw – drum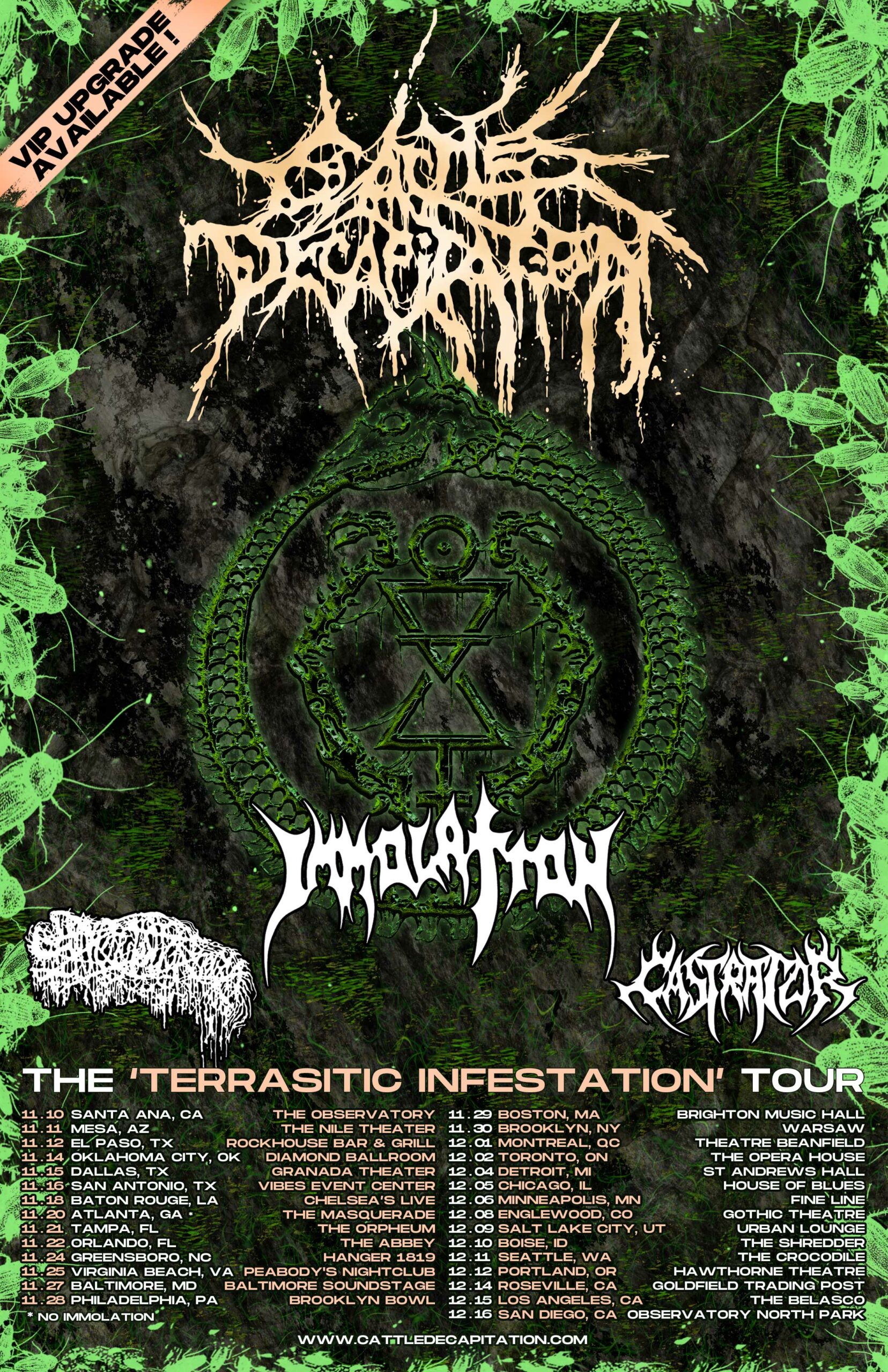 http://www.facebook.com/cattledecapitation
http://www.twitter.com/cattledecap
http://www.instagram.com/cattledecapitation
http://www.youtube.com/officialcattledecap
http://www.metalblade.com
http://www.facebook.com/metalbladerecords
http://www.instagram.com/metalbladerecords
http://twitter.com/MetalBlade