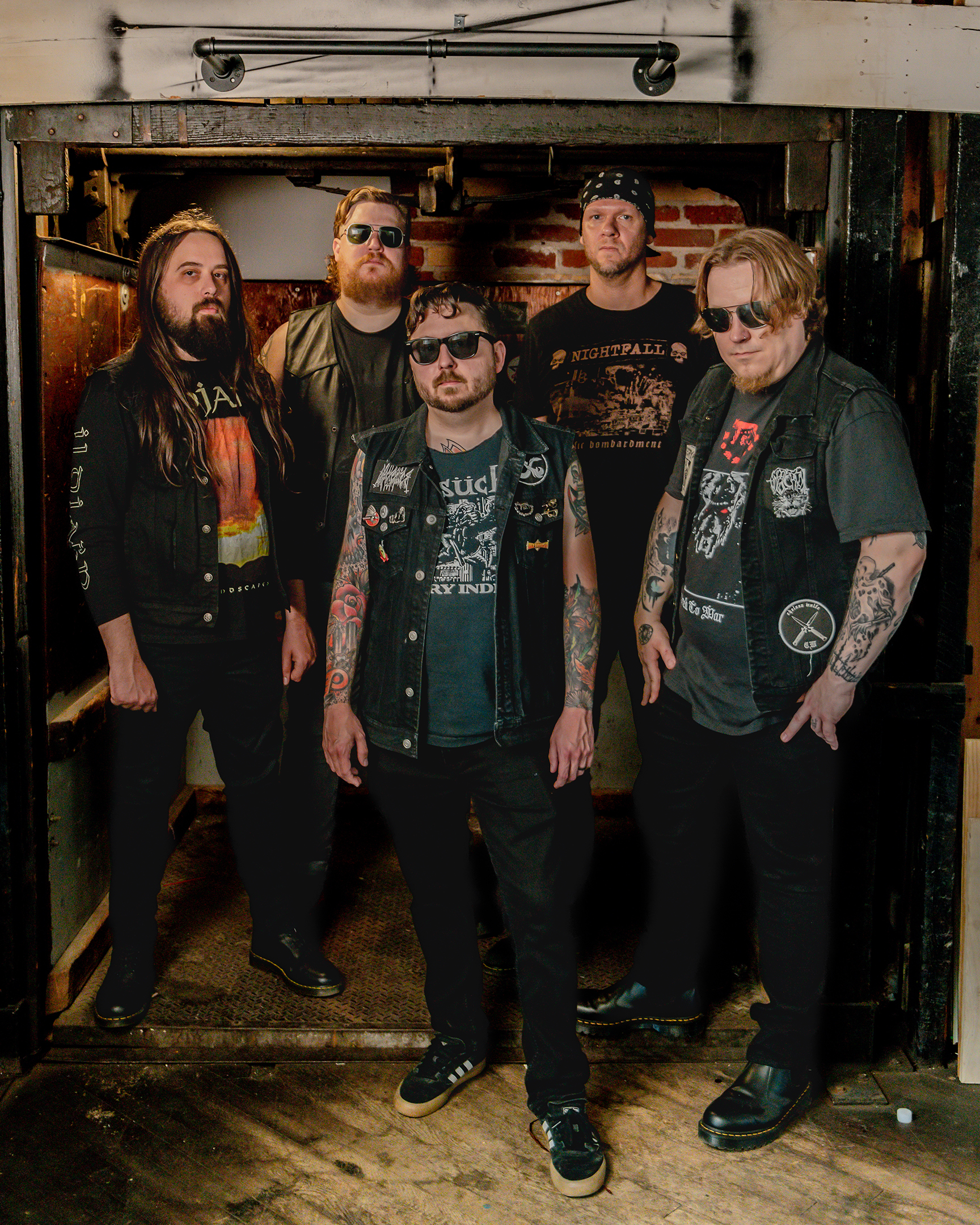 photos by Kassandra Carmona
Profound Lore Records presents Ruiner, the new LP from time-honored Philadelphia, Pennsylvania black metal collective KRIEG, confirming the merciless new album for October 13th release and issuing its lead single, "Solitarily, A Future Renounced."
KRIEG's Ruiner is the first full-length from the long-running and iconic cult since 2014's Transient and is a despondent expression that captures the classic band complexion which has solidified the band as a vanguard and pioneer of US black metal. Although Ruiner is the band's first full-length album in nine years, KRIEG has continued to remain active leading up to its long-awaited release through various splits, collaborations, and EPs. This all culminated in that moment for Ruiner to ultimately manifest itself.
Ruiner is unrepentant and remorseless black metal in the reflective manner KRIEG and mastermind N. Jameson have always been known for.  Most notably that of the savage and unhinged aura present in the triarchy of classic KRIEG works, namely Destruction Ritual (2001), The Black House (2004), and Blue Miasma, (2006) while maintaining that harsh, sorrowful, and cold-blooded melancholic aura.
Merciless, remorseless despondent black metal psychosis destined to leave desolate, Ruiner was recorded and mixed by guitarist A. Poole, mastered by Dan Lowndes (Resonance Sound), and completed with artwork by Rob Sheyder.
N. Jameson writes of the "Solitarily, A Future Renounced" single, "Thematically and sonically this song is meant to pull myself back through almost thirty years of whatever you want to call it, my life's work I suppose, to the moment when I was sitting in my room listening to Pentagram over and over and deciding that this was how I planned to shape, break and rebuild my life. There are very obvious nods to the Norse bands of the second wave, which is supposed to be taboo for American bands, but I've really given up caring about the rulebook written by what amounts to social clubs. This is the black metal I wanted to hear when I was sixteen, finally given life twenty-eight years later."
Listen to the first single from KRIEG's Ruiner, "Solitarily, A Future Renounced," now at THIS LOCATION.
Ruiner will be released on LP, CD, and all digital platforms on October 13th. Find preorders, presaves, merch, and more HERE.
KRIEG is booking regional live actions surrounding the release of Ruiner including a run of Northeastern US shows hitting New York City, Providence, and Philadelphia November 10th through 12th. See the confirmed shows below and stand by for updates to post alongside additional previews of the album, videos, and more over the weeks ahead.
Ruiner Track Listing:
1. Bulwark
2. Fragments Of Nothing
3. Red Rooms
4. Solitarily, A Future Renounced
5. Manifested Ritual Horror
6. No Gardens Grow Here
7. An Execution In The Kingdom Of Ideas
8. The Lantern And The Key
KRIEG Live:
11/10/2023 The Kingsland – Brooklyn, NY
11/11/2023 Dusk – Providence, RI
11/12/2023 Kung Fu Necktie – Philadelphia, PA w/ Bastard Cross, Cathedrals In The Night
KRIEG "Ruiner" personnel:
N. Jameson – vocals
A. Poole – guitar and leads
S. Riley – guitar
B. Durrant – bass
J. Dost – drums
https://kriegofficial.bandcamp.com
https://www.facebook.com/officialkrieg
https://profoundlorerecords.com
https://www.profoundlorerecords.bandcamp.com
https://www.instagram.com/profoundlorerecords
https://twitter.com/profound_lore
https://www.facebook.com/profoundlorerecords