photos by Chris Johnston
Underground death dealers No Clean Singing are currently hosting the exclusive stream of The Deader The Better, the freshly slabbed second LP from San Francisco goremongers CARTILAGE, on the eve of its release through Creator-Destructor Records.
The Deader The Better was recorded by Alejandro Corredor (Pounder, ex-Nausea) in January 2020 at Darker Corners Studio in San Luis Obispo. The album all at once features friends, peers, and gore metal grandmasters, with guest vocals by Matt Harvey (Exhumed, Gruesome) who also helped produce the album, Ross Sewage (Impaled, Exhumed), Sean McGrath (Impaled), guest vocals and guitar solo from Leon del Muerte (Murder Construct, Terrorizer LA), and a guest solo from Tom Draper (Pounder, ex-Carcass), sharpening CARTILAGE's hemorrhaging stabs of grind for the masses. The Deader The Better is completed with cover art by Matt Slime, and includes a cover of Impetigo's "Boneyard."
With the record hitting, CARTILAGE spills, "Bowel blowing, incision ripping, gore gobbling grooves that'll leave you rotting and wanting more. Can you keep yourself from vomiting while gagging on these offal tunes?"
No Clean Singing writes in part, "CARTILAGE also discharge songs that slash like serial killers, convulse in seizures, sear like an acetylene torch, maul like bulldozers, and lurch like zombies (the slow ones, not the fast ones), and as crazed and kaleidoscopic as the songs usually are, they're cleverly embedded with hook-y melodies. and head-moving grooves."
Pull back that crimson-splattered sheet and observe CARTILAGE's The Deader The Better in its gruesome entirety first at No Clean Singing's morgue RIGHT HERE.
Creator-Destructor will release The Deader The Better on LP – 200 on Doublemint/Purple Swirl, 200 on Bone w/ Blood Red Splatter, and 100 on Mustard w/ Magenta Splatter – as well as cassette and digital formats this Friday, May 13th. Find preorders at the label webshop HERE and Bandcamp HERE. Watch the video for the title track HERE.
CARTILAGE has announced a run of California shows, playing San Francisco, Long Beach, and Santa Cruz May 20th through 22nd. The band will also perform at Northwest Terror Fest in Seattle June 30th through July 2nd, joining Ludicra, Repulsion, Suffocation, Acephalix, Panopticon, and many others. Watch for additional live news to post throughout the year.
CARTILAGE Live:
5/20/2022 Thee Parkside – San Francisco, CA
5/21/2022 Supply & Demand – Long Beach, CA
5/22/2022 Urbani Cellar – Santa Cruz, CA
7/02/2022 Northwest Terror Fest @ Neumos – Seattle, WA [info]
Whether you call them deathgrind, goregrind, or gore metal, some things are certain: the Bay Area's CARTILAGE bleeds in blastbeats, rips out gut-twisting riffs, and spews idiomatic viscera with delight. Spawned from original members featuring sibling duo, guitarist/vocalist Ria and vocalist Mark Wallace along with guitarist Michael Flory (Logistic Slaughter) and drummer Adam Houmam (Terrorizer LA), came one that delighted in the flesh-searing death metal that the likes of Impaled and General Surgery claim as their own.
In 2019, the band added bassist Kienan Hamilton to their ranks and has held the low-end buzz since. Not content to rest on their blood-soaked laurels, CARTILAGE wrote, recorded, and independently released the Gore-Met EP as the morbid darkness of 2020 ended. And now, the quintet is primed and ready to unleash their second LP The Deader The Better via Creator-Destructor Records.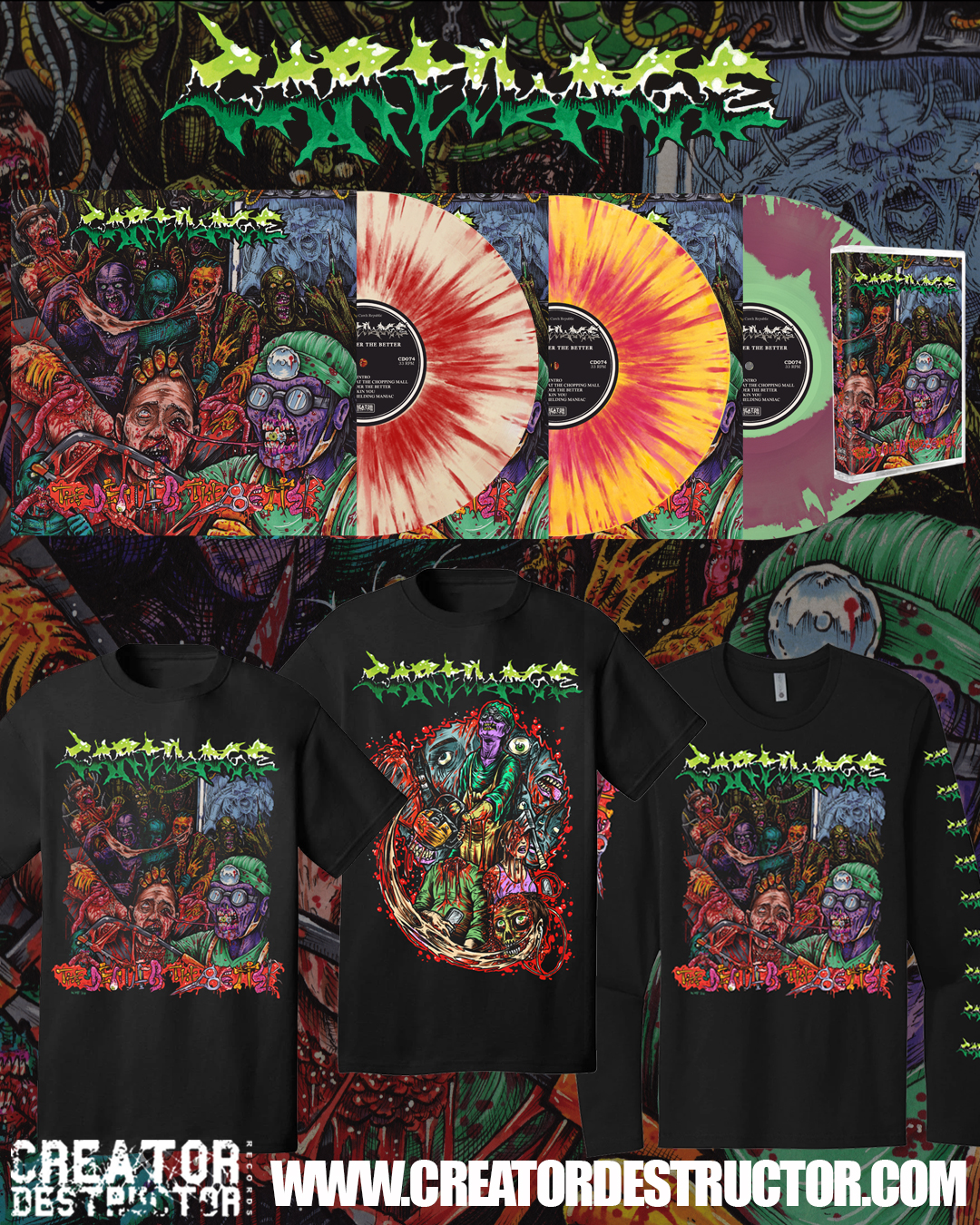 https://cartilagegore.bandcamp.com
https://www.facebook.com/CartilageSF
https://www.instagram.com/cartilage_gore
https://www.creator-destructor.com
https://www.facebook.com/creatordestructorrecords
https://www.twitter.com/CD_Records
https://www.creator-destructor.bandcamp.com
https://www.instagram.com/creator_destructor_records