This Saturday, death metal icons CANNIBAL CORPSE will kick off a month-long US tour as Summer Slaughter headliners. The annual caravan commences on July 23rd in Fort Lauderdale, Florida, runs through August 21st in Atlanta, Georgia, and sports one of its most extreme lineups to date with support provided by Nile, After The Burial, Suffocation, Carnifex, Revocation, Krisiun, Slaughter To Prevail, Ingested, and newest addition, Enterprise Earth.
CANNIBAL CORPSE on Summer Slaughter:
7/23/2016 Culture Room – Fort Lauderdale, FL
7/24/2016 The Ritz Ybor – Tampa, FL
7/26/2016 The International – Knoxville, TN
7/27/2016 Rams Head Live! – Baltimore, MD
7/28/2016 Webster Hall – New York, NY
7/23/2016 The Chance – Poughkeepsie, NY
7/30/2016 The Palladium – Worchester, MA
7/31/2016 Agora Theatre – Cleveland, OH
8/02/2016 The Cabooze – Minneapolis, MN
8/03/2016 Concord Music Hall – Chicago, IL
8/05/2016 The Summit Music Hall – Denver, CO
8/06/2016 The Complex – Salt Lake City, UT
8/08/2016 Showbox Sodo – Seattle, WA
8/10/2016 The Regency Ballroom – San Francisco, CA
8/11/2016 The Observatory – Santa Ana, CA
8/12/2016 The Novo – Los Angeles, CA
8/13/2016 The Marquee – Tempe, AZ
8/15/2016 Gas Monkey Live – Dallas, TX
8/16/2016 Empire Garage – Austin, TX
8/17/2016 Warehouse Live – Houston, TX
8/19/2016 The National – Richmond, VA
8/20/2016 Ziggy's By The Sea – Wilmington, NC
8/21/2016 The Masquerade – Atlanta, GA
CANNIBAL CORPSE released their critically-lauded A Skeletal Domain full-length in 2014 via Metal Blade Records. The band's thirteenth studio offering debuted at an astounding #32 on Billboard's Top 200 chart upon its first week of release, making it the highest charting record in the band's storied history. Produced by Mark Lewis (The Black Dahlia Murder, DevilDriver) at Audio Hammer Studios in Florida, the record boasts twelve ravenous tracks of confrontational, meticulously-executed, ill-omened brutality as only CANNIBAL CORPSE can deliver.
Earlier this year, CANNIBAL CORPSE traveled back in time to commemorate some classic titles, namely Butchered At Birth, Eaten Back To Life, The Bleeding, Vile, and Tomb Of The Mutilated. As part of the Metal Blade Classics series, these albums are now available on vinyl in limited quantities at: metalblade.com/cannibalcorpse.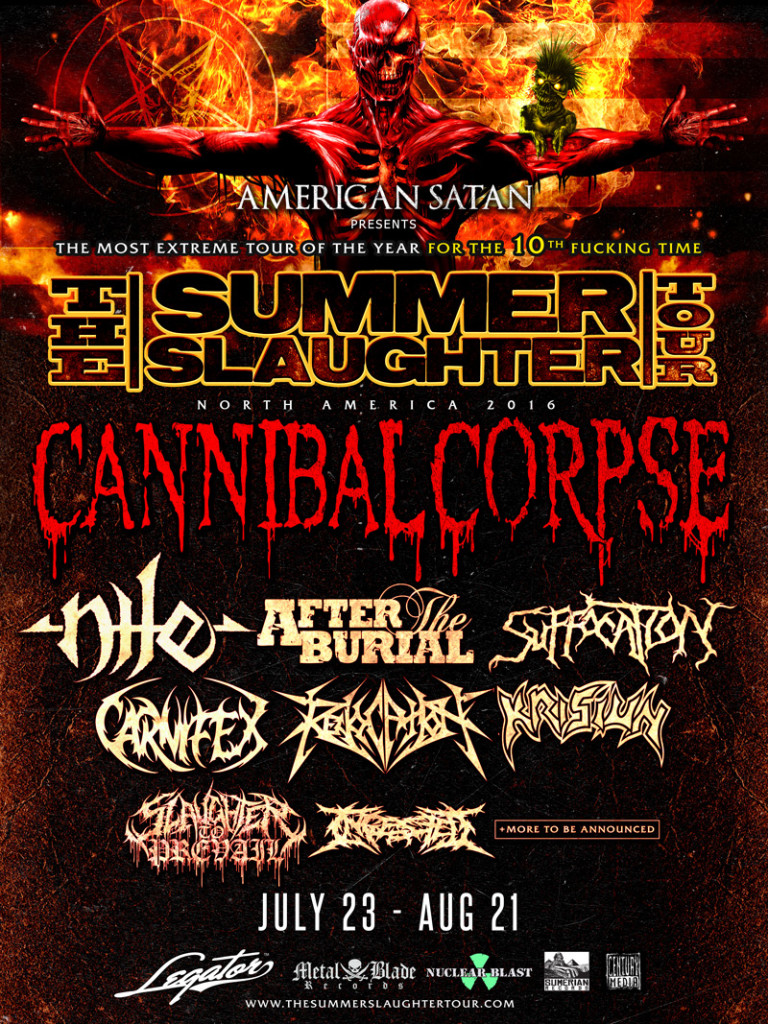 http://www.cannibalcorpse.net
http://www.facebook.com/cannibalcorpse
http://www.twitter.com/CorpseOfficial