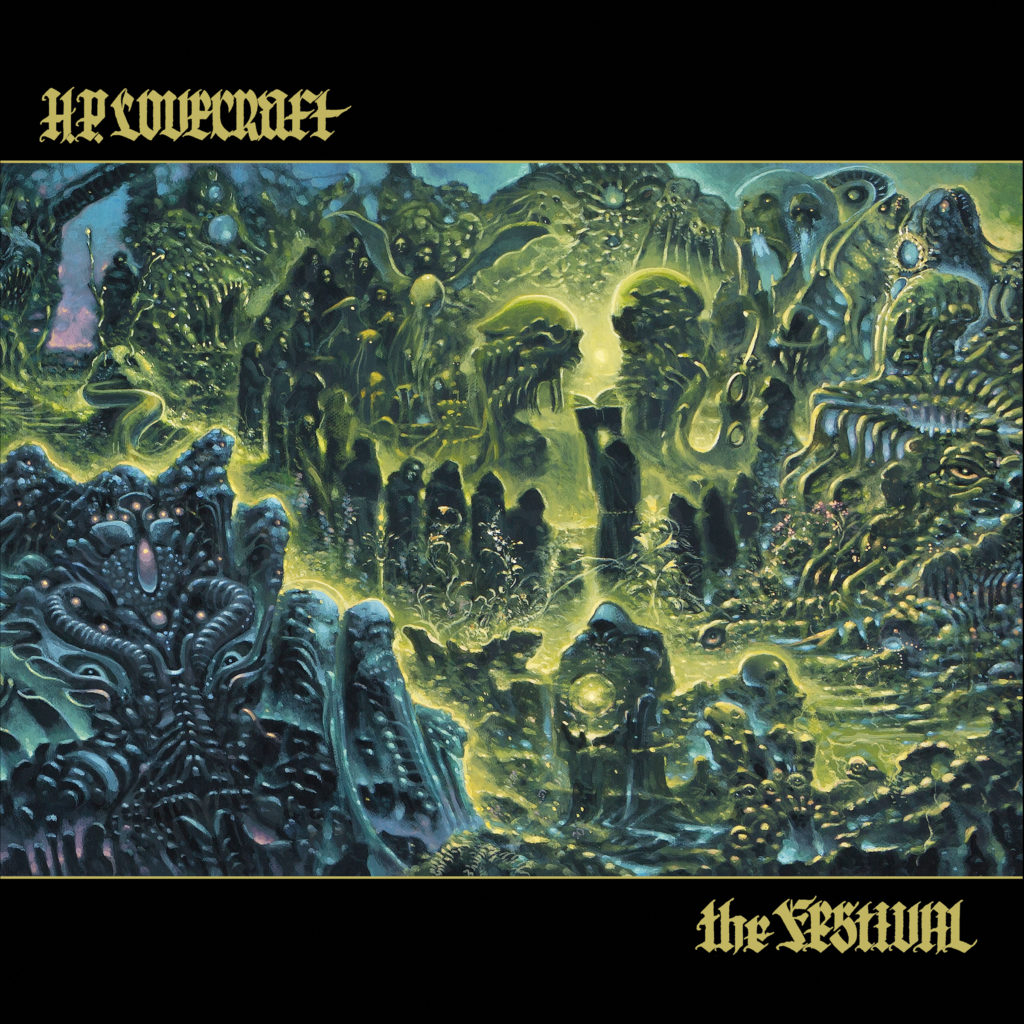 Purveyors of the spoken arts and nightmares on vinyl, Cadabra Records, will terrify listeners this holiday season with an intense vinyl-only rendition of H. P. LOVECRAFT's The Festival, arguably the darkest Christmas tale ever told. Decibel Magazine is hosting an excerpt from the LP's A-side as a harbinger of the impending album.
Cadabra's rendition brings H. P. LOVECRAFT's chilling story to life with the incredible poise of stage and screen icon and consistent Cadabra reader Andrew Leman (H. P. LOVECRAFT Historical Society). The powerful score for the record is composed and wholly performed by Fabio Frizzi (Kill Bill, The Beyond, The City Of The Living Dead),
The Festival will be issued in a limited pressing on 150-gram vinyl, the jacket printed on a deluxe heavyweight tip-on jacket featuring newly commissioned art by Jesse Jacobi. Each record will include an insert with liner notes by composer Fabio Frizzi and a new essay by weird fiction scholar S. T. Joshi. There will be two vinyl variants available; a retail version and a variant exclusive to Cadabra customers, and all direct orders include Christmas card with new art by Joe Keinberger.
Fabio Frizzi offers, "Yuletide, the ancient Christmas… A ritual that can turn into a nightmare. This time my music at the service of a celebration perhaps with no return. I love LOVECRAFT, his fantasy world and I love to tune in to him and tell creepy stories together."
With their brief audio preview of The Festival, Decibel writes, "Five years into its reign as one of the most innovative and interesting labels currently on the planet, Cadabra Records is set to gift us this Black Friday eve with a audial nightmare surely destined to augur an even more deliciously enshrouded Christmas: H. P. LOVECRAFT's 1925 story The Festival – billed here, correctly, as 'arguably the darkest Christmas tale ever told' – read with sinister elegance by H. P. LOVECRAFT Historical Society co-founder Andrew Leman over a gorgeous original soundtrack courtesy none other than Fabio Frizzi, the great and legendary Italian maestro who carved his name into the walls of eternity with perception refracting scores for films such as Zombi 2 (1979), City of the Living Dead (1980), and The Beyond (1981)."
Hear an excerpt of H. P. LOVECRAFT's The Festival only through Decibel Magazine at THIS LOCATION.
Cadabra Records will release The Festival on December 18th. Preorders will go live on Thanksgiving, TOMORROW, Thursday, November 26th, via the label webshop HERE.
While one might think that there is nothing less conducive to the Yuletide spirit than a melding of writer HOWARD PHILLIPS LOVECRAFT and the renowned horror composer Fabio Frizzi, the combination might surprise the listener of The Festival, at first.
Frizzi's score encompasses nearly every single tool in the composer's considerable arsenal, utilizing synthesizers, piano, violin, and even flute, along with a full orchestra, to create a musical backdrop to a story which takes the only-too-common Christmastide themes of coming together with one's family and engaging in traditions and renders it a damp and peculiarly odorous tale, viscous and foetid in the telling. Andrew Leman's narration and recitation of the words of this nameless narrator begin just as bright and spritely as the music which accompanies his voice, but as the music changes, so does the telling which it accompanies. One can hear the indecision and regret in Leman's voice as he relates the story of The Festival, and by the time "a horror unthinkable and unexpected" is revealed, we can hear the agony and dismay in his delivery. It is a journey into madness, all began with new-fallen snow and the twinkling of stars. As Leman begins his reading of LOVECRAFT's story, originally published in the January issue of Weird Tales, Frizzi's music is fairly Christmassy, and almost jaunty in its holiday tone. It could fairly underscore any classic wintertime tale, from "A Visit From St. Nicholas" by Clement Clarke Moore to Valentine Davies' "Miracle On 34th Street," so perfectly sweet it is. That changes quite quickly.
Once our narrator has completed his description of Kingsport, the music begins to go dark. As the teller of this tale relates his return to this home of his forefathers, Frizzi's score becomes wicked, shot through with the metallic creaking of what sounds like cemetery gates. Once the narrator enters the seventh house on the left in Green Lane, the ancient familial abode, there is a ghostly sound of a violin, only too appropriate to the discovery of ancient tomes, including the dread Necronomicon, which the teller pages through, despite all his fears upon seeing it. After descending below and beholding the, "boundless vista of an inner world," our narrator hears, "the thin, whining mockery of a feeble flute," and so do we all who listen. It's a terrifying sound, warbling unnaturally as though coming from the playing of someone not originally of this world. As the tale concludes, there is the triumphantly terrifying rise of a full orchestra, Frizzi's reveal of the damnation realized in the final paragraph, translated from the Necronomicon: "For it is of old rumour that the soul of the devil-bought hastes not from his charnel clay, but fats and instructs the very worm that gnaws; till out of corruption horrid life springs, and the dull scavengers of earth wax crafty to vex it and swell monstrous to plague it. Great holes secretly are digged where earth's pores ought to suffice, and things have learnt to walk that ought to crawl."
http://www.cadabrarecords.com
http://www.twitter.com/cadabra_records
http://www.instagram.com/cadabrarecords