Dark Operative presents Welcome Idiots: 2012-2018, from Richmond/San Diego-based hardcore punk outfit BLEACH EVERYTHING.
Welcome Idiots: 2012-2018 collects all of the out of print and sold out 7″ EPs, split 7″ releases, compilation tracks, and flexis that BLEACH EVERYTHING released within their first six years. While all songs were originally recorded all at once in 2012, they were steadily issued on various releases in that span.
"Free Inside," "Sons Of Hecate," and "Facehugger" comprised the Free Inside 7″ on Magic Bullet Records (2015). "Savage" originally appeared on the It Came from the Abyss Vol. 1 compilation LP on Dark Operative (2018), later to be paired with "Steamboat" for the "Savage/Steamboat" X-ray flexi/wrestling zine (2020). "Witch, Please," "Silk And Scales," and "Human Mulligan" appeared on the Heavy Metal Suicide 7″ with Gehenna (2016). "The Moaner" appeared on a split 7″ with VORS (2014). "I Killed A Werewolf Once (It's On Film)" was originally issued as a postcard flexi inside issue #2 of the band's self-published zine as part of a tribute to Gary Busey.
All songs were recorded by Bob Quirk in a garage in Richmond during the Summer 2012, mixed by Ben Mellott, Kelly Posadas, and Brent Eyestone at Nothing But Noise in Fairfax, and mastered by Bryan Walthall at Stereoimage in Richmond. The photography was handled by Glenn Cocoa in Richmond, and the art/design handled by Brent Eyestone.
Now collected on Welcome Idiots: 2012-2018, all tracks have here been remastered by Bryan Walthall at Stereoimage, and the release features new art by vocalist Brent Eyestone. For those that enjoyed all the early output of the band, it is now available in one singular and convenient collection from this point on.
BLEACH EVERYTHING's Welcome Idiots: 2012-2018 is out today on colored vinyl and digital through Dark Operative available RIGHT HERE as well as through RevHQ.
BLEACH EVERYTHING is putting the final touches on their first newly recorded material since 2019's split LP with Integrity, with a new flexi due in early 2021. Watch for new details on "Bound/Cured" to post in early January, with additional band updates to follow throughout the new year.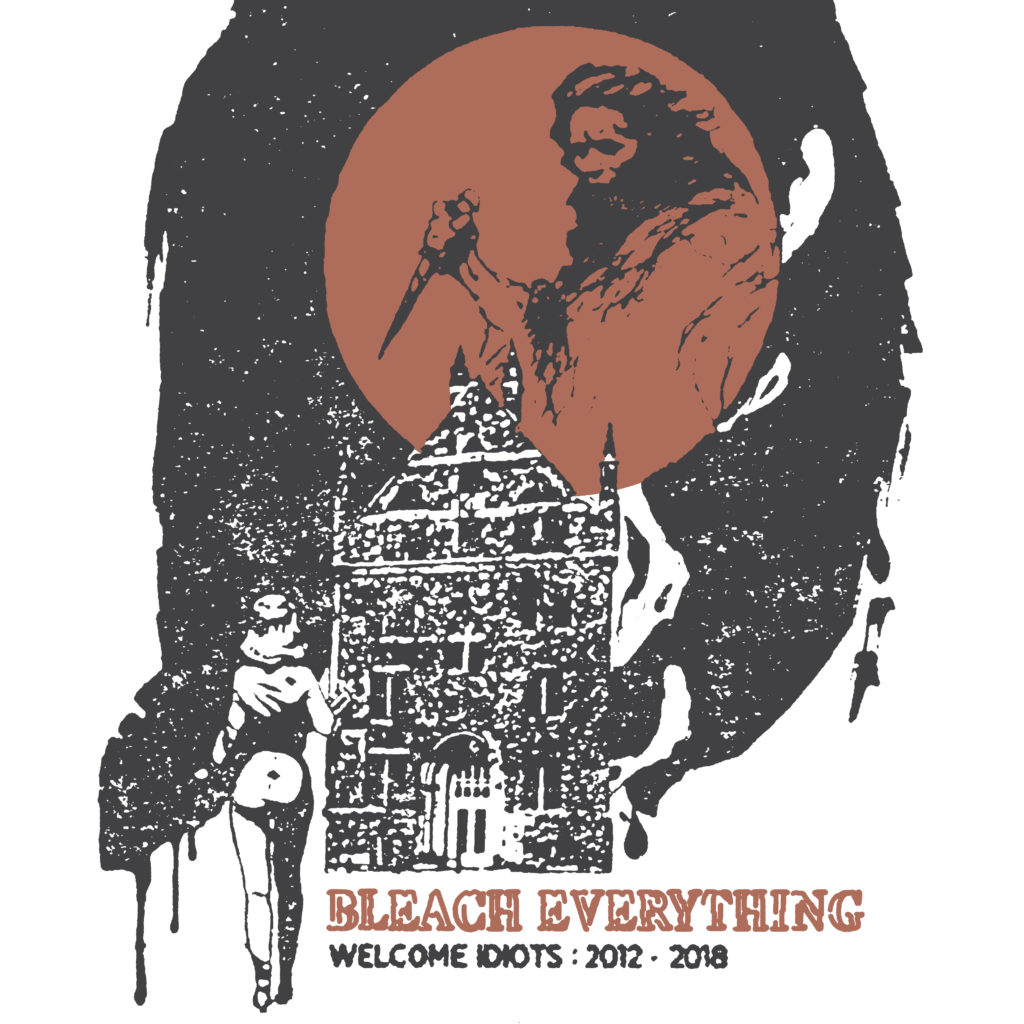 Welcome Idiots: 2012-2018 Track Listing:
1. Free Inside
2. Sons Of Hecate
3. Facehugger
4. Savage
5. Steamboat
6. Witch, Please
7. Silk And Scales
8. Human Mulligan
9. The Moaner
10. I Killed A Werewolf Once (It's On Film)
BLEACH EVERYTHING:
Ryan Parrish – drums
Brent Eyestone – vocals
Kelly Posadas – bass
Graham Scala – guitar
https://www.bleacheverything.com
http://www.facebook.com/BleachEverything
https://twitter.com/bleachrichmond
http://darkops.site
http://darkoperative.bandcamp.com
https://www.instagram.com/darkoperative