BLEACH EVERYTHING kicks 2021 off with a rampant new two-song release, now set for late January release via Dark Operative. Preorders for "Bound/Cured" on digital and limited X-Ray flexi disc formats have been issued along with a brief teaser.
"Bound" and "Cured" are two brand new songs from the Richmond, Virginia/Asheville, North Carolina/San Diego, California-based hardcore punk quartet BLEACH EVERYTHING. Their first new recordings since 2019's RFTCC split LP with Integrity, "Bound/Cured" goes even further into both the pure violence put forth on 2018's So We Gnaw LP and the melodic components introduced on the RFTCC LP.
Clocking at 1:29 and 1:08 respectively, both songs get in, get to the point, and then get out with razor-like precision, cutting exactly as intended. Thematically, "Bound" explores the uncertainty of luck and life and never truly knowing how it can, will, and can still shake out. "Cured" addresses the notion of figuring out how one must come to terms with the truth before death takes care of the task. It took you longer to read to this point than to experience both songs in their entirety.
"Bound/Cured" were recorded and mixed by Ricky Olsen at the Ward in Richmond, with the vocals recorded by Brent Eyestone, and he tracks were mastered by Bryan Walthall at Stereo Image. "Cured" features a section of modular synth by Dash Lewis of Gardener, and the cover artwork was handled by Eyestone.
See a brief teaser for BLEACH EVERYTHING's "Bound/Cured" RIGHT HERE.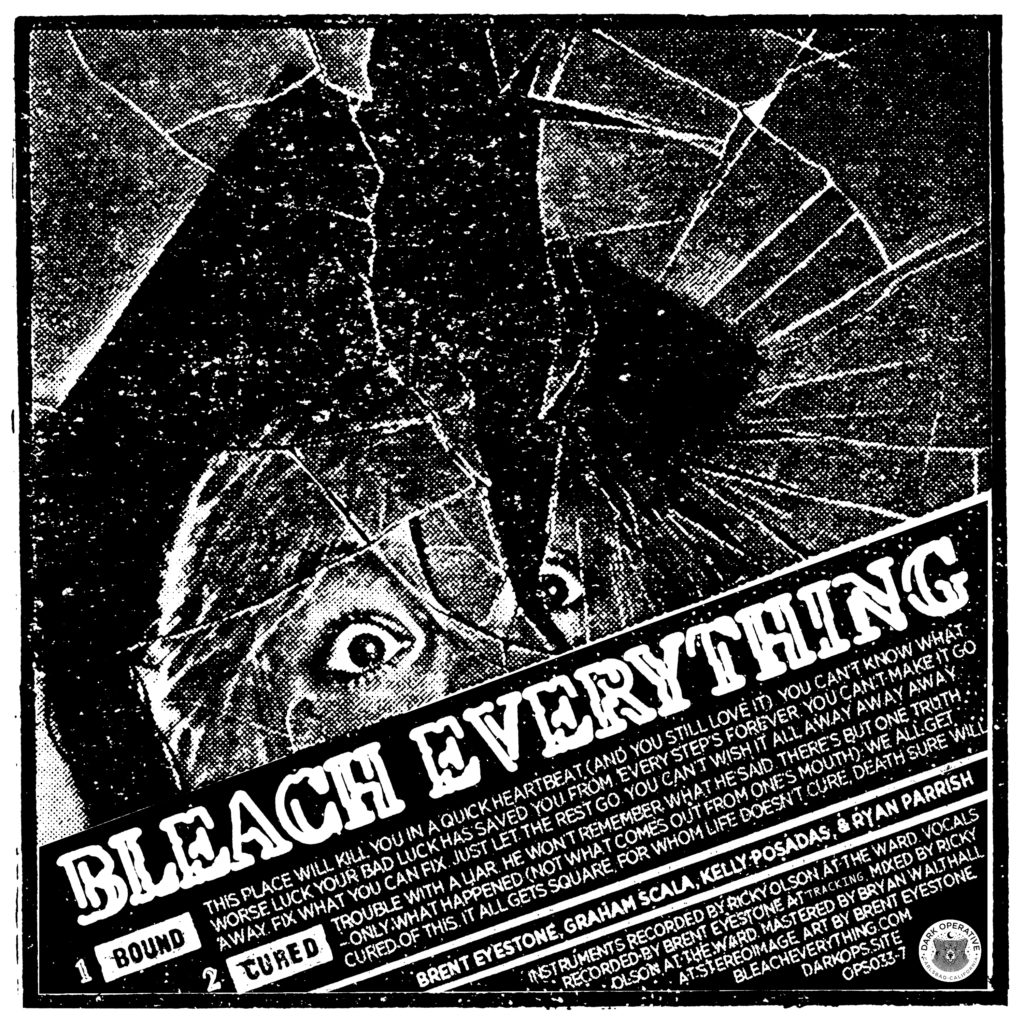 "Bound/Cured" will be issued digitally and physically in the form of an X-ray flexi disc on January 29th. Find preorders at Bandcamp HERE and the Dark Operative webshop HERE.
Watch for audio and video previews of the new tracks to be issued in the coming days.
Stand by for additional new BLEACH EVERYTHING releases to see release later this year. Dark Operative also closed out 2020 with the release of Welcome Idiots: 2012-2018, an LP collecting all the out of print and sold out 7″ EPs, split 7″ releases, compilation tracks, and flexis that BLEACH EVERYTHING released within their first six years.
BLEACH EVERYTHING:
Ryan Parrish – drums
Brent Eyestone – vocals
Kelly Posadas – bass
Graham Scala – guitar
https://www.bleacheverything.com
http://www.facebook.com/BleachEverything
https://twitter.com/bleachrichmond
http://darkops.site
http://darkoperative.bandcamp.com
https://www.instagram.com/darkoperative