As bicoastal US hardcore punk outfit BLEACH EVERYTHING prepares to release their new "Bound/Cured" X-Ray flexi disc this Friday via Dark Operative, Decibel Magazine is hosting an exclusive advance stream of the new songs.
"Bound" and "Cured" are two brand new songs from Richmond, Virginia/Asheville, North Carolina/San Diego, California-based hardcore punk quartet BLEACH EVERYTHING. Their first new recordings since 2019's RFTCC split LP with Integrity, "Bound/Cured" goes even further into both the pure violence put forth on 2018's So We Gnaw LP and the melodic components introduced on the RFTCC LP. Clocking at 1:29 and 1:08 respectively, both songs get in, get to the point, and then get out with razor-like precision, cutting exactly as intended. Thematically, "Bound" explores the uncertainty of luck and life and never truly knowing how it can, will, and can still shake out. "Cured" addresses the notion of figuring out how one must come to terms with the truth before death takes care of the task.
Recorded and mixed by Ricky Olsen at the Ward in Richmond, with the vocals recorded by vocalist Brent Eyestone, the tracks were mastered by Bryan Walthall at Stereo Image. "Cured" features a section of modular synth by Dash Lewis of Gardener, and the cover artwork was handled by Eyestone.
Eyestone offers, "Growing up throughout the '80s and early '90s, there wasn't ever a singular source or algorithm by which to form not just one's musical preferences, but awareness of what was out there on the whole. You could read about what someone thought a certain album or band sounded like in various publications big and small, but it would take a considerable amount of effort to actually hear anything that wasn't marketed through the majors.
That said, many film directors of that era used that gap in the matrix toward crafting unique cinematic voices and tones via the inclusion of underground or fringe musicians and recordings in their creations. As a kid, the most powerful technique for me was when a band would pop up in a 'secret' club or 'illegal' gathering within the protagonists' larger arc centered around an epic night out on the town. When done right, those few split seconds where you could see a cool band physically performing under cinematic exaggerations would lend to the euphoria of a world yet unexplored in a young mind.
With 'Bound' and 'Cured,' the conceptual headspace was simply to be the band on stage in that type of 'epic night out' film… where most people watching the movie have no clue who you are, but you succeed in giving them something both gritty and catchy toward driving the spirit of a larger narrative. The length of the songs lends to this concept even more, as they both get to their points very quickly. Even if the protagonist isn't going to the club to see the band specifically and, let's say, is just walking through the room to get information from a seedy character in the back of the room, any given part of either song is going to lend toward the charged energy that the scene requires."
Decibel writes, "In little more than two-and-a-half minutes this pair of tracks somehow manages to call to mind the work of such wildly disparate bands as Husker Du, Integrity, My Bloody Valentine, Drive Like Jehu, and more without losing the sneering heart and kinetic soul of BLEACH EVERYTHING past. It's a brilliant, condensed piece of transcendent avant punk that speaks to listeners on a more fundamental, primal level than ever before."
Stream BLEACH EVERYTHING's "Bound" and "Cured" early via Decibel Magazine RIGHT HERE.
"Bound/Cured" will be issued digitally and physically in the form of an X-ray flexi disc this Friday, January 29th. Find preorders at Bandcamp HERE and the Dark Operative webshop HERE.
Watch for an official video for "Bound" to post in the coming weeks, and stand by for additional new BLEACH EVERYTHING releases to see release later this year. Dark Operative also closed out 2020 with the release of Welcome Idiots: 2012-2018, an LP collecting all the out of print and sold out 7″ EPs, split 7″ releases, compilation tracks, and flexis that BLEACH EVERYTHING released within their first six years.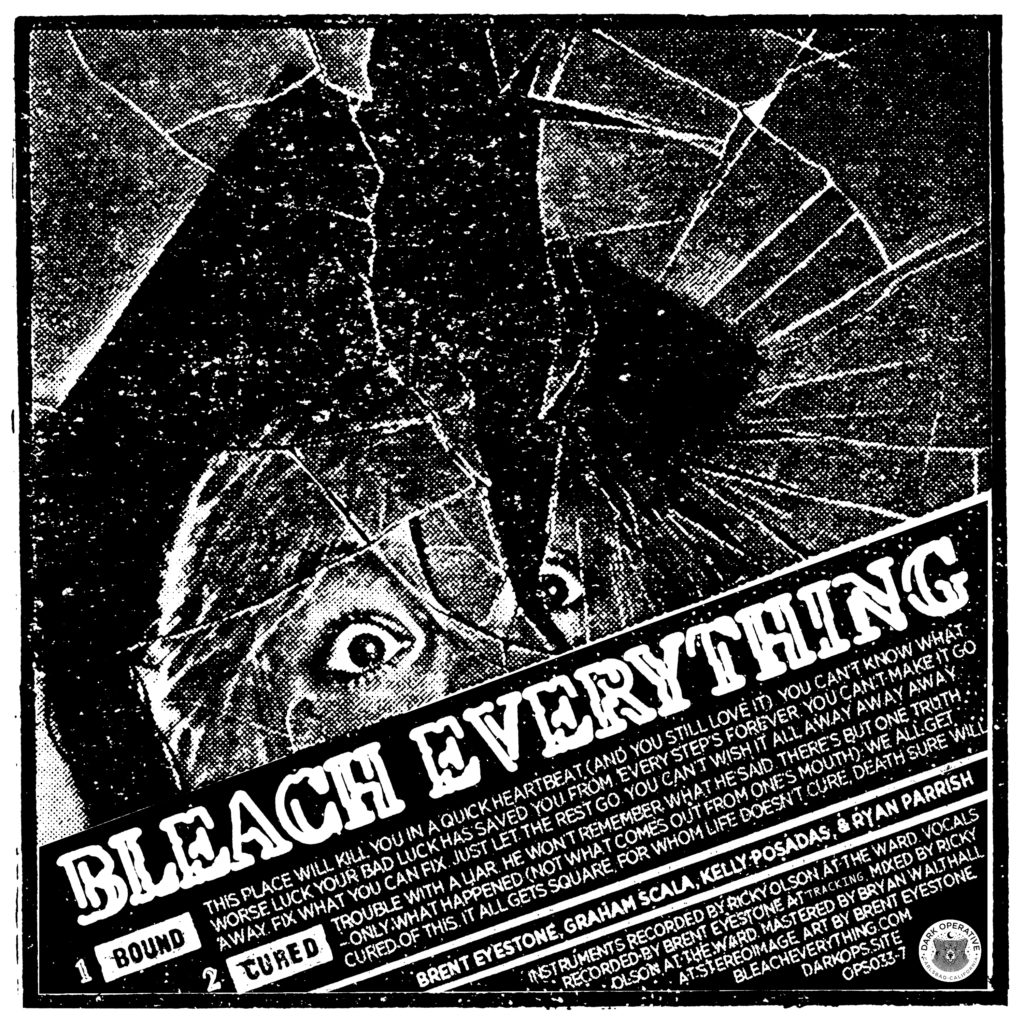 https://www.bleacheverything.com
http://www.facebook.com/BleachEverything
https://twitter.com/bleachrichmond
http://darkops.site
http://darkoperative.bandcamp.com
https://www.instagram.com/darkoperative