SOUTHERN LORD RECORDS METAL DUO BLACK COBRA PERFORMS EXCLUSIVE VENUE SHOW THIS SATURDAY NIGHT PRESENTED BY CLUB MY WAR AT THE RELAX BAR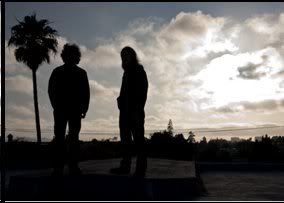 Clocking in on their eighth year together, Bay Area-based metal duo BLACK COBRA has been on a crusade of roaring riffs and roasting rhythms. This pair of prolific, masterful musicians-Rafa Martinez (Acid King, 16) and Jason Landrian (ex-Cavity)-has been battling out their stoner metal wares that have been likened to the heaviness of High On Fire, Buzzoven and the Melvins.
In 2004, the pair cut their first demo, followed by the 2006 release of the 11-song Bestial. A year later, BLACK COBRA released their second album Feather & Stone. Their first release for Los Angeles-based label Southern Lord Records, titled Chronomega, hit store shelves in 2009. Produced by Billy Anderson, the album has garnered serious critical acclaim. Metal Flows In My Veins stated that Chronomega quickly "jumps towards the top of the stoner/doom/sludge heap." Music Emissions noted that "Black Cobra seemingly can do no wrong."
This Saturday evening's show by the blistering duo at the Relax Bar is the only venue-based show that BLACK COBRA will be playing as part of this in-store regional tour to support their vinyl release of Chronomega. It is a show not to be missed-especially if you value and support heavy music. Witness the minimalist brutality of the duo better known as BLACK COBRA.
For more information on BLACK COBRA, please check out http://www.southernlord.com/press/blackcobra/.
Sat., Feb. 13, 2010: Club My War presents BLACK COBRA with Of The Horizon, Harassor, Progeria, Indian Giver and Strangled by Strangulation at the Relax Bar, 5511 Hollywood Blvd., Los Angeles; www.myspace.com/relaxbar. 8 p.m. $10. 21+.
Contact:
eesolis1975@gmail.com
www.myspace.com/relaxbar