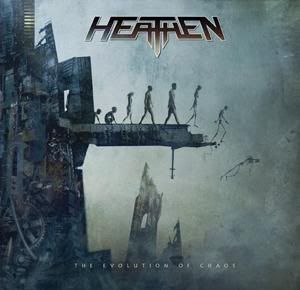 Bay Area thrash bands HEATHEN have posted new album The Evolution of Chaos to its Myspace page: http://www.myspace.com/heathenmetal.
The Evolution of Chaos will finally see its release in the US next Tuesday, February 16th via Mascot Records. The album, which was released in Japan on December 23rd and in Europe on January 25th, has garnered incredible reviews worldwide and recently debuted at #75 on the German charts. The Evolution of Chaos can be pre-ordered at Amazon, CD Universe, The End Records, CM Distro and other online retailers. HEATHEN is currently scheduling a tour of Europe in support of the new album, with dates to be announced soon.
The current HEATHEN lineup includes Dave White (vocals), Lee Altus (guitar; EXODUS), Kragen Lum (guitar; PROTOTYPE), Jon Torres (bass; ANGELWITCH) and Darren Minter (drums).
The Evolution of Chaos Track Listing:
01. Dying Season
02. Control By Chaos
03. No Stone Unturned
04. Arrows Of Agony
05. Fade Away
06. A Hero's Welcome
07. Undone
08. Bloodkult
09. Red Tears Of Disgrace
10. Silent Nothingness